Three years ago, Claudia Garcia of Maui International Real Estate Services Inc. and Kris Musto of Coldwell Banker Island Properties came up with an idea to help their fellow Upcountry residents amid the COVID-19 pandemic. Today, that idea has grown into a full-fledged, community-driven effort that has impacted the lives of thousands of families.
Musto and Garcia are the co-creators of #MakawaoSTRONG, a pandemic-inspired effort that has since evolved into Upcountry Strong, now a nonprofit organization.
Since August of 2020, Upcountry Strong has collected and distributed 95,000 pounds of food to 3,800 households at its year-round distribution events at the Oskie Rice Arena in Makawao. The next food distribution event will be held at Oskie Rice Arena at 9 a.m. on Saturday, Aug. 26. 
"We are part of the solution," said Anne Barber of Maui International Real Estate Services Inc., who serves on the nonprofit's board of directors. "On food distribution days, you see mainly young families and elderly folks. We do have more and more individual calls for food emergencies. I delivered twice now to the same young lady in upper Kula, a single mom with a 6-year-old. She had no food and no wheels, and seeing the little kid's face light up because he sees the food you are bringing them is rewarding."
Barber is one of four Realtors of Association of Maui (RAM) members who currently serve on the Upcountry Maui board. The other RAM members include Garcia, Musto, and Maile Masada of Coldwell Banker Island Properties. 
Barber joined the nonprofit's board two years ago. "I felt I needed to do my part and help our local community," she explained. "I started by volunteering at every food distribution and also gave money every time I had a closing—and I still do."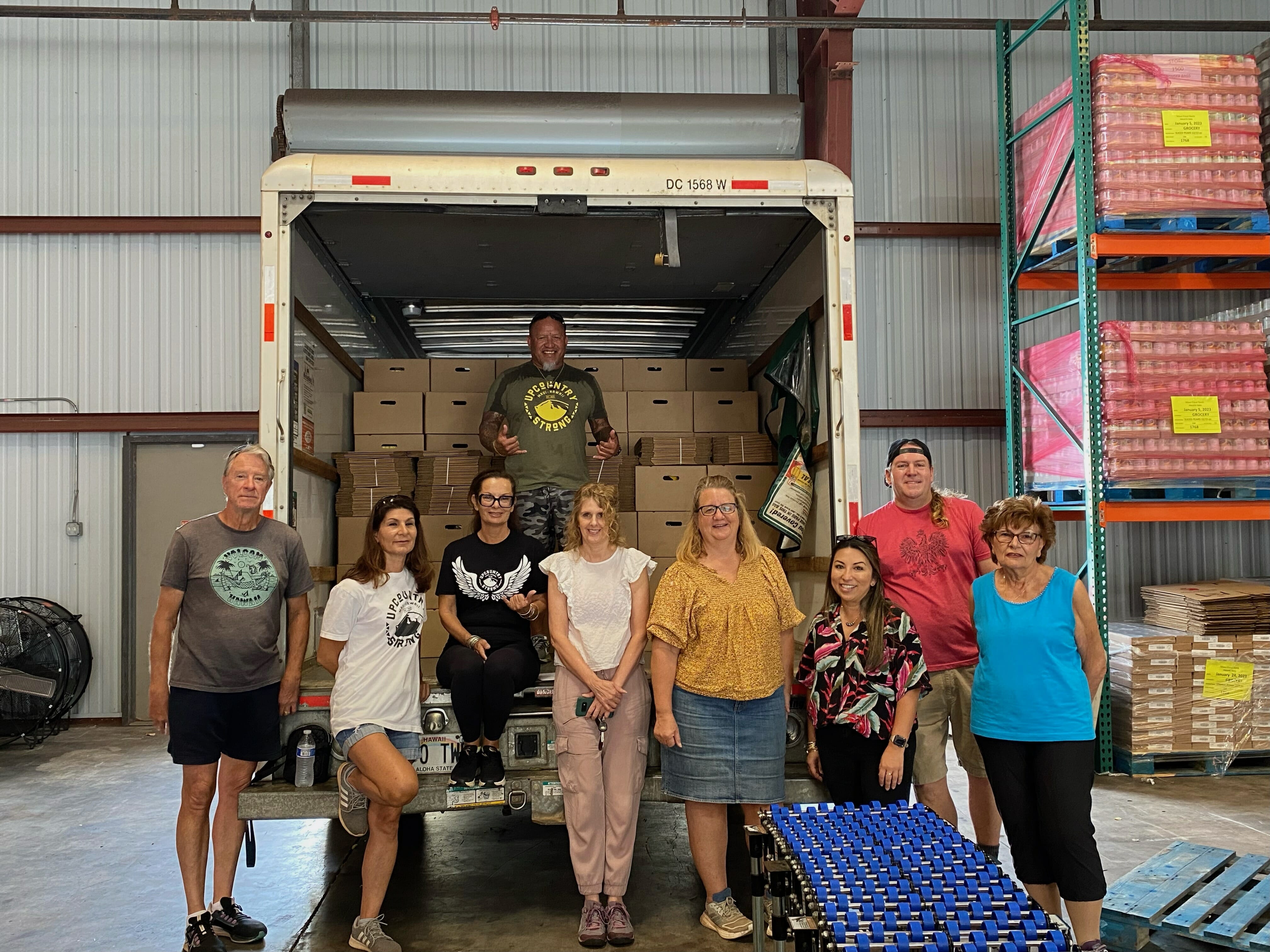 Realtors Association of Maui members Anne Barber (fourth from right), Amanda Kayatani (third from right) and Claudia Garcia (third from left) take a break from loading boxes of food at the Maui Food Bank's warehouse. The boxes were transported to Oskie Rice Arena for one of Upcountry Strong's food distribution events. 
Photo courtesy Claudia Garcia
Barber says the need for Upcountry Strong cannot be overstated. "It is filling a void. There are no organizations in Upcountry Maui doing what we are doing," she said. "We now have six food distributions a year and take individual food emergency calls. With the help of the Maui Food Bank, we each go shopping and deliver food to people in need in Upcountry Maui or on the North Shore. We also give good, healthy food; nothing is wilted or has an expired date of consumption. We give ground beef from Maui Cattle Company, fresh fruits and vegetables with the help of Common Ground Collective and Pukalani Superette, and boxed and canned food with the help of the Maui Food Bank."
Upcountry Strong, Barber said, "Shows that when you put a group of willing people together, we make it happen and it does make a difference in people's lives."  
You can help Upcountry Strong continue to make a difference, either by making a donation or signing up to volunteer. You can also register for the nonprofit's first annual golf tournament fundraiser, which will be held at the Pukalani Country Club on Saturday, Oct. 28.  Sign-in begins at 6 a.m., followed by a 7 a.m. shotgun start. There will be food, non-alcoholic beverages, and prizes. The entry fee is $125 per person, and the deadline to enter is Oct. 7.
For a registration form, stop by Pukalani Superette or contact Kris Musto at (808) 870-0553 or kristinemusto@gmail.com. For more information about Upcountry Strong or to inquire about volunteer or donor opportunities, visit www.upcountrystrong.org.