It was a star-spangled evening at the Ka Hale A Ke Ola (KHAKO) Homeless Resource Centers Wailuku facility on Wednesday, July 7. 
That's when First Hawaii Title and the Kiwanis Club of Kahului co-hosted a Fourth of July-themed dinner at the facility. The fun and festive event had all the trimmings: hamburgers, hot dogs, fries, corn, ice cream, and handheld American flags for each of the dinner guests. All of the leftovers were packed up that evening and taken to KHAKO's West Side facility for dinner the following night.   
The holiday meal was made possible by Realtors Association of Maui (RAM) members and affiliates Anne Diola of Makai Mortgage, Patrick Kilbride of PK's Plants and Lawn Services, Bruce McDonald of Coldwell Banker Island Properties, and Jerrie Shannon of First Hawaii Title. 
Kilbride, Diola, Shannon and McDonald are all members of the Kiwanis Club of Kahului, which has teamed up with First Hawaii Title to host holiday meals at KHAKO for several years. "We have partnered during four holidays yearly, starting with St. Patrick's Day, Mother's Day, July 4th and Christmas," Kilbride explained. "The first Wednesday during these four months we create a theme dinner for the children and their parents. The opportunity to serve a holiday meal to the families living at the shelter is a blessing for us and for them."
McDonald agrees wholeheartedly. "It's nice to assist our needy, especially at the shelter, as it lets them know there's people out there who care and are willing to assist."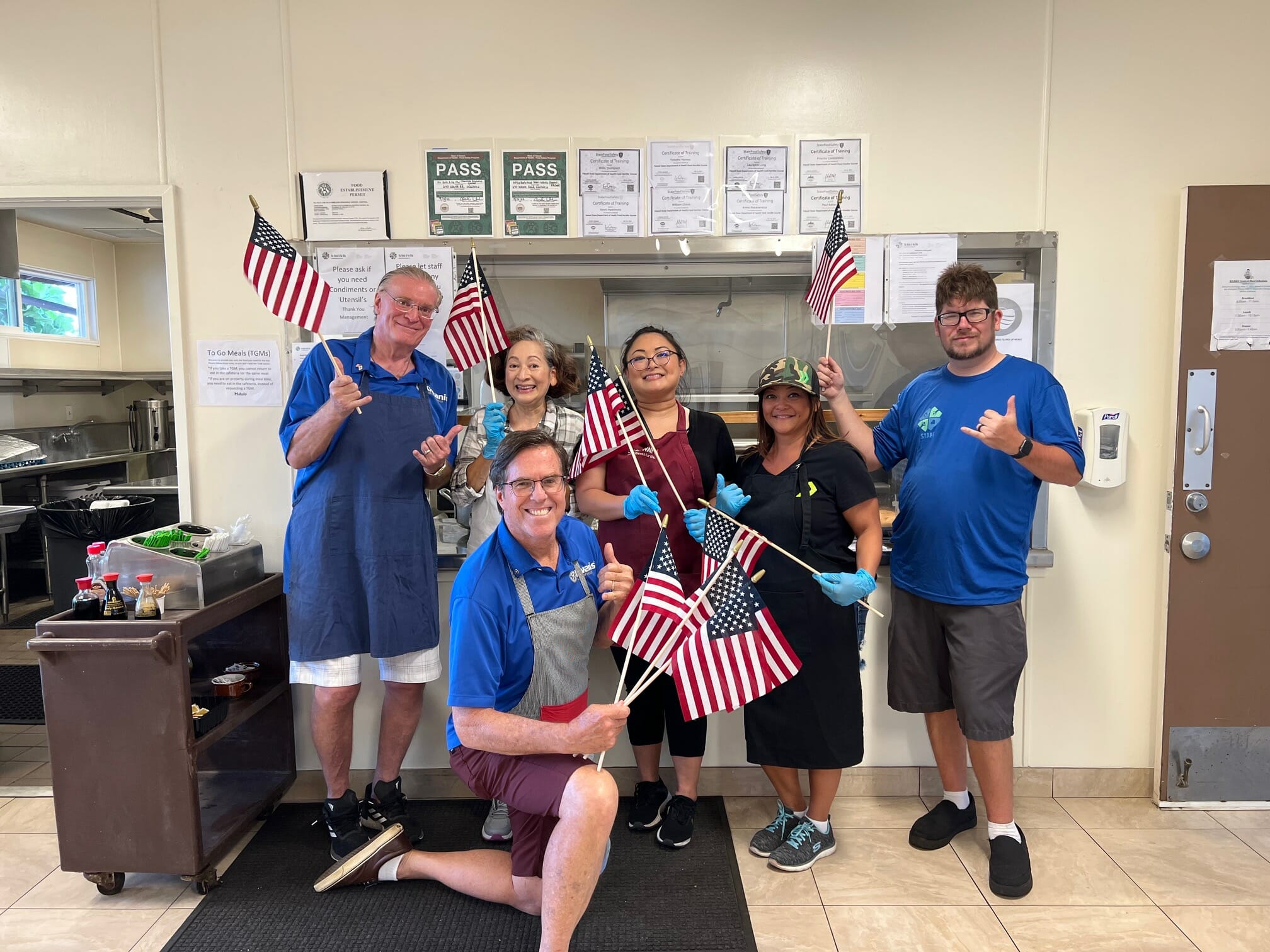 Volunteers (from left) Bruce McDonald, Christina McDonald, Patrick Kilbride, Anne Diola, Jerrie Shannon and Ka Hale A Ke Ola Homeless Resource Centers (KHAKO) Food Service Manager Thomas LaGrave served a Fourth of July-themed dinner at KHAKO's Wailuku facility on Wednesday, July 7. 
Photo courtesy Patrick Kilbride
This isn't the first time RAM members and affiliates have stepped up to support KHAKO. In 2019, they raised nearly $30,000 to help the nonprofit purchase a brand-new playground for its Wailuku facility. In 2020, KHAKO became a beneficiary of the Realtors Association of Maui Community Foundation's Wishing Well…for Maui Students program, which provides school supplies and other items year-round to Maui County's public schools. And since 1989, RAM members have sponsored monthly meals at the nonprofit's two facilities in Lahaina and Wailuku, gathering in KHAKO's kitchens to prepare and serve meals on a designated night. 
Shannon encourages others to consider volunteering at KHAKO. "Do it, because it is a great cause and it makes you happy to see that you've brightened someone else's day," she said. 
KHAKO is a comprehensive resource center that prepares families and individuals for permanent housing while providing emergency shelter, counseling services, addiction recovery management and adult education and training, as well as a primary care medical clinic and childcare facilities. For more information about KHAKO or to inquire about donor opportunities, visit www.khako.org or call (808) 242-7600. 
Realtor means a member of the National Association of Realtors. Do you know a Realtors Association of Maui member who should be recognized for their contributions to the community? If so, send your story idea to Sarah Ruppenthal at missruppenthal@gmail.com.