If you stopped by the Finance Factors office in Kahului on Monday, May 22, you likely noticed the irresistible aroma of freshly baked banana bread, shortbread cookies, butter mochi, vanilla panna cotta, and other mouthwateringly delicious goodies. 
That day, the Realtors Association of Maui (RAM) affiliate company held its 7th annual Maui Food Bank Bake Sale as part of the Hawaii Bankers Association Food Drive. All of the items for sale were prepared by Finance Factors Loan Officer Paula Kobayashi, Regional Branch Manager Michele Crozier and Assistant Customer Service Manager Shanell Miyamoto, along with Crozier's sister-in-law, Carol Higashiguchi, and Kobayashi's daughter Erin. 
And it turned out to be a very sweet fundraiser: By the day's end, Finance Factors had raised nearly $1,300 for the Maui Food Bank. 
Kobayashi encourages other companies to consider hosting their own fundraiser—bake sale or otherwise—for the food bank. "It's a great team effort in helping the Maui Food Bank," she said. "Any help would be greatly appreciated." 
This isn't the first time Finance Factors has stepped up to help the community. Last year, the company held a two-month-long holiday rubber slipper drive for the RAM Community Foundation's (RAMCF) Wishing Well… for Maui Students program.
Wishing Well… for Maui Students (or "Wishing Well" for short) is a program of the RAMCF, a 501(c)3 nonprofit organization. Since 2007, it has donated countless goods, supplies and services to public schools countywide. Run by volunteer RAM members, the program covers every public school on Maui, Molokai and Lanai, along with Ka Hale A Ke Ola Homeless Resource Centers, a nonprofit that shelters students in different grade levels at its Wailuku and Lahaina facilities. 
From Nov. 1 to Dec. 31, Finance Factors collected rubber slippers and a variety of school supplies for the Wishing Well program. In addition to the donations that were dropped off at the company's Kahului office, many of the items were mailed to Maui from Finance Factors offices across the state. The donations included 548 pairs of rubber slippers, 103 backpacks, 600 No. 2 pencils, 576 dry erase markers, stacks of workbooks and composition notebooks, and feminine products.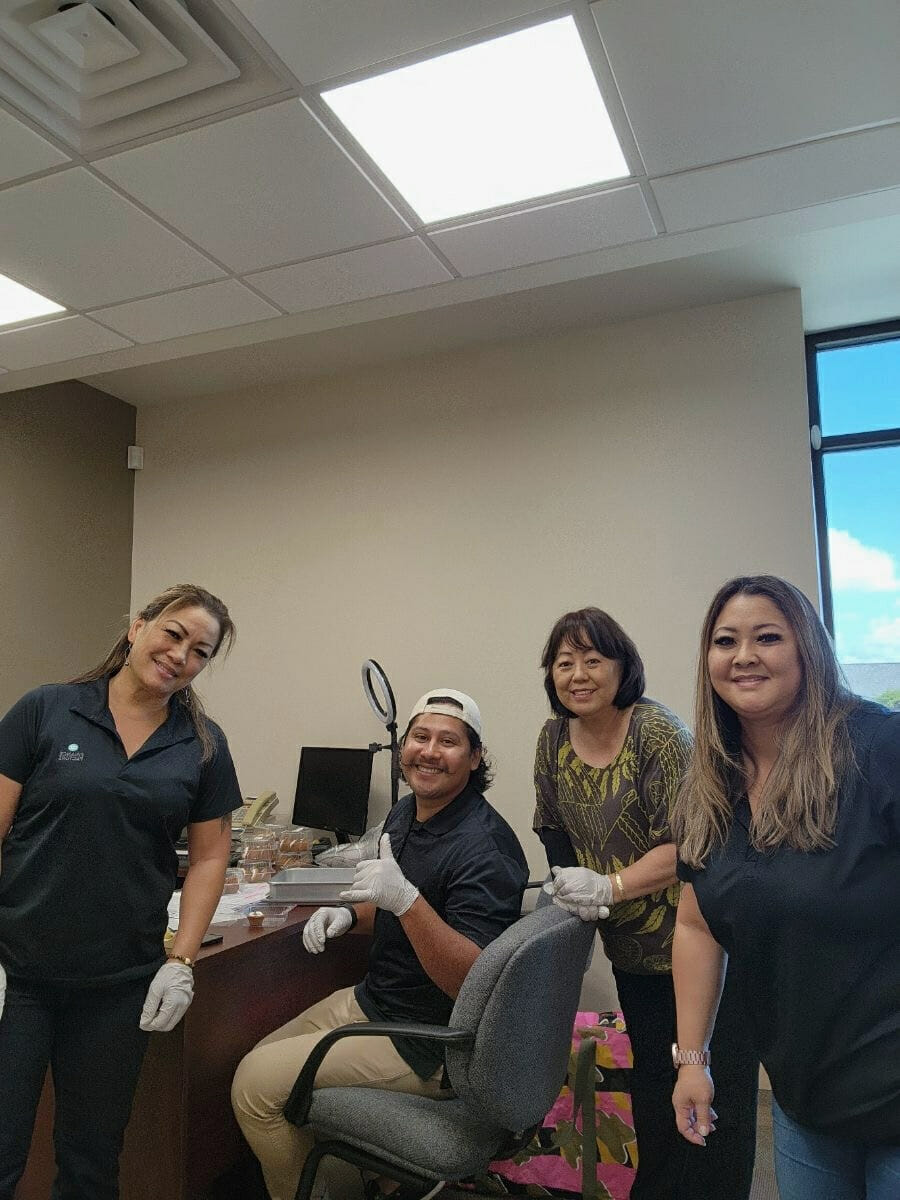 Realtors Association of Maui affiliate members (from left) Michele Crozier, Josue Aranza-Marcos, Paula Kobayashi and Shanell Miyamoto are all smiles as they prepare to sell cookies, pies, banana bread, dog biscuits, and other items last month at Finance Factors' annual bake sale fundraiser benefiting the Maui Food Bank. 
Photo courtesy Paula Kobayashi 
As part of the Wishing Well program, each school has a volunteer coordinator who collects and distributes donated classroom supplies throughout the year. Crozier and Kobayashi are two of those volunteers: Crozier is the Wishing Well coordinator for Makawao Elementary School and Kobayashi is the coordinator for Wailuku Elementary School. 
You can help the Wishing Well program continue to make a difference by making a cash donation or by purchasing requested items. (Or both.) For more information or to make a donation, visit www.ILoveMauiSchools.com or call (808) 283-3969. To learn more about the Maui Food Bank or to inquire about donor or volunteer opportunities, visit www.mauifoodbank.org or call (808) 243-9500. 
Realtor means a member of the National Association of Realtors. Do you know a Realtors Association of Maui member who should be recognized for their contributions to the community? If so, send your story idea to Sarah Ruppenthal at missruppenthal@gmail.com.