The school year is starting to wind down, but students in all grade levels will still need basic supplies like pencils, paper and notebooks in the weeks to come. Unfortunately, many parents can't afford these items and students often go without. Their teachers do what they can to help: According to a recent U.S. Department of Education survey, 94 percent of teachers reported spending their own money on classroom supplies without reimbursement. 
That's where the Wishing Well… for Maui Students program steps up to help.
Wishing Well… for Maui Students (or "Wishing Well" for short) is a program of the Realtors Association of Maui Community Foundation (RAMCF), a 501(c)3 nonprofit organization. Since its inception in 2007, the program has donated countless goods, supplies and services to public schools countywide. Run by volunteer Realtors Association of Maui (RAM) members and fueled by the generosity of Maui County residents and visitors, the Wishing Well program covers every public school on Maui, Molokai and Lanai, along with Ka Hale A Ke Ola Homeless Resource Centers, a nonprofit that shelters students in different grade levels at its Wailuku and Lahaina facilities. 
"Our mission is to improve the educational experience for all of Maui County's public schools," said Sarah Sorenson of Whale's Tail Realty, who founded the program 16 years ago. "Making sure students have basic school supplies is of utmost importance."
You can help the Wishing Well program continue to make a difference for local students, teachers, and parents. Whether it's cash, school supplies or office equipment, every little bit helps. Most-wished-for items include composition and spiral notebooks, sheet protectors, graph paper, colored pencils, dry erase pens, binders, paper clips, handheld calculators, electric pencil sharpeners, staplers, and plastic baggies of all sizes. Sorenson says she also receives requests for children's books for readers at any level, which are particularly useful for special education, preschool, and English as a Second Language (ESL) teachers.
And the No. 1 most-needed item? Rubber slippers, particularly sizes 5-14, Sorenson said. Throughout the school year, students often arrive on campus wearing broken slippers—or none at all. Others may lose or break theirs during the day and have no replacement.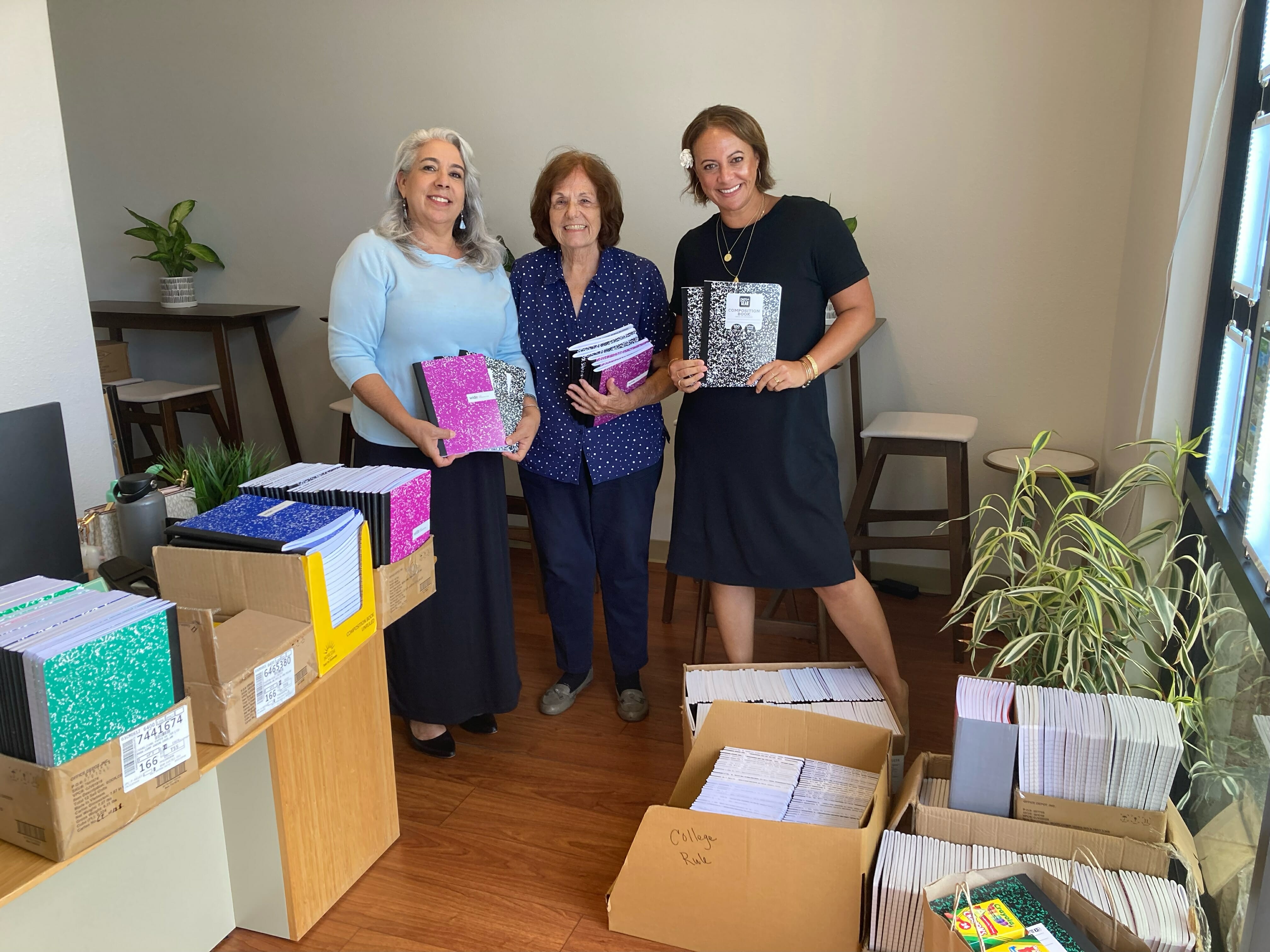 Realtors Association of Maui members (from left) Michelle Bosque, Sarah Sorenson and Erin Clapper pose with composition notebooks collected by Better Homes and Gardens Real Estate Advantage Realty Valley Isle in July 2022 for the Realtors Association of Maui Community Foundation's Wishing Well… for Maui Students program. 
Photo courtesy Better Homes and Gardens Real Estate Advantage Realty Valley Isle
Other items like office chairs, area rugs, flat-screen TVs, folding chairs, file cabinets, bookcases and storage units are also frequently requested, so if you need to offload any gently used office supplies or furniture, call (808) 283-3969 to schedule a pickup service.
"Contributions will allow us to continue to assist our Maui County public school teachers and students year-round," Sorenson said. "As my favorite author, Dr. Seuss, once said: 'Unless someone like you cares a whole awful lot, nothing is going to get better, it's not.' Caring about others can make a difference to so many."
To learn more about the Wishing Well program or to inquire about donor opportunities, visit www.ILoveMauiSchools.com or call (808) 283-3969. If you're a Maui County public school teacher with a wish list for your classroom, contact Sorenson at (808) 283-3969.
Do you know a Realtors Association of Maui member who should be recognized for their contributions to the community? If so, send your story idea to Sarah Ruppenthal at missruppenthal@gmail.com.