As you can imagine, Santa Claus has a pretty busy schedule in December. But that didn't keep him from paying a visit to the Ka Hale A Ke Ola (KHAKO) Homeless Resource Centers Wailuku facility on Wednesday, Dec. 7.  
That evening, Santa and several members of the Realtors Association of Maui (RAM) and Kiwanis Club of Kahului delivered some Christmas magic to families staying at the shelter. The very merry event included gifts, dinner, photos with Santa, and live music performed by local singer-songwriter Brooks Maguire. 
"The RAM and Kiwanis group made another amazing and wonderful event for the families and singles at the shelter," said Monique Ibarra, executive director of KHAKO. "We thank them so much for feeding them delicious food and making the festivities so bright and joyful. They have hearts of gold and we appreciate all of them so much." 
Several RAM members took part in the festivities, including Pearl Gore of First Hawaii Title; Naomi Petterson of Maui Realty Company, who currently serves as president of the Kiwanis Club of Kahului; Bruce McDonald of Coldwell Banker Island Properties, who is the incoming president and two-time past president of the club; and Patrick Kilbride of PK's Plants and Lawn Services, who currently serves as the club's vice president.
As Santa's helper elves, the group of RAM members served dinner and distributed stuffed bears donated by the Friends of the Children's Justice Center of Maui. They also set up a photo station with a Christmas-themed backdrop so the kids could take a photo with Santa before dinner was served. The highlight of the event, McDonald said, "Was being able to assist those in need of friendly aloha." 
For Petterson, "The highlight was seeing the children's reactions to Santa and the gifts," she said. "Each child had a different response, but just the magic of the holidays and Santa kept everything in positive spirits."
Kilbride agrees. "Feeling and seeing the joy on the parents' faces as they watched their children sitting next to Santa was exceptionally gratifying to me," he said. 
It was Gore's first time volunteering at KHAKO and she says it won't be the last. The highlight of the evening, she said. "Was watching everyone enjoying their meals and having an excellent time [and] the smiles and gratitude on their faces." 
Gore encourages others to consider volunteering at KHAKO. "You will gain appreciation of what you have and be grateful for what you have and not take anything for granted," she said. The greatest reward, she said, "[Is] the contentment in your heart that you were able to put a smile on their faces and make their day a lot better."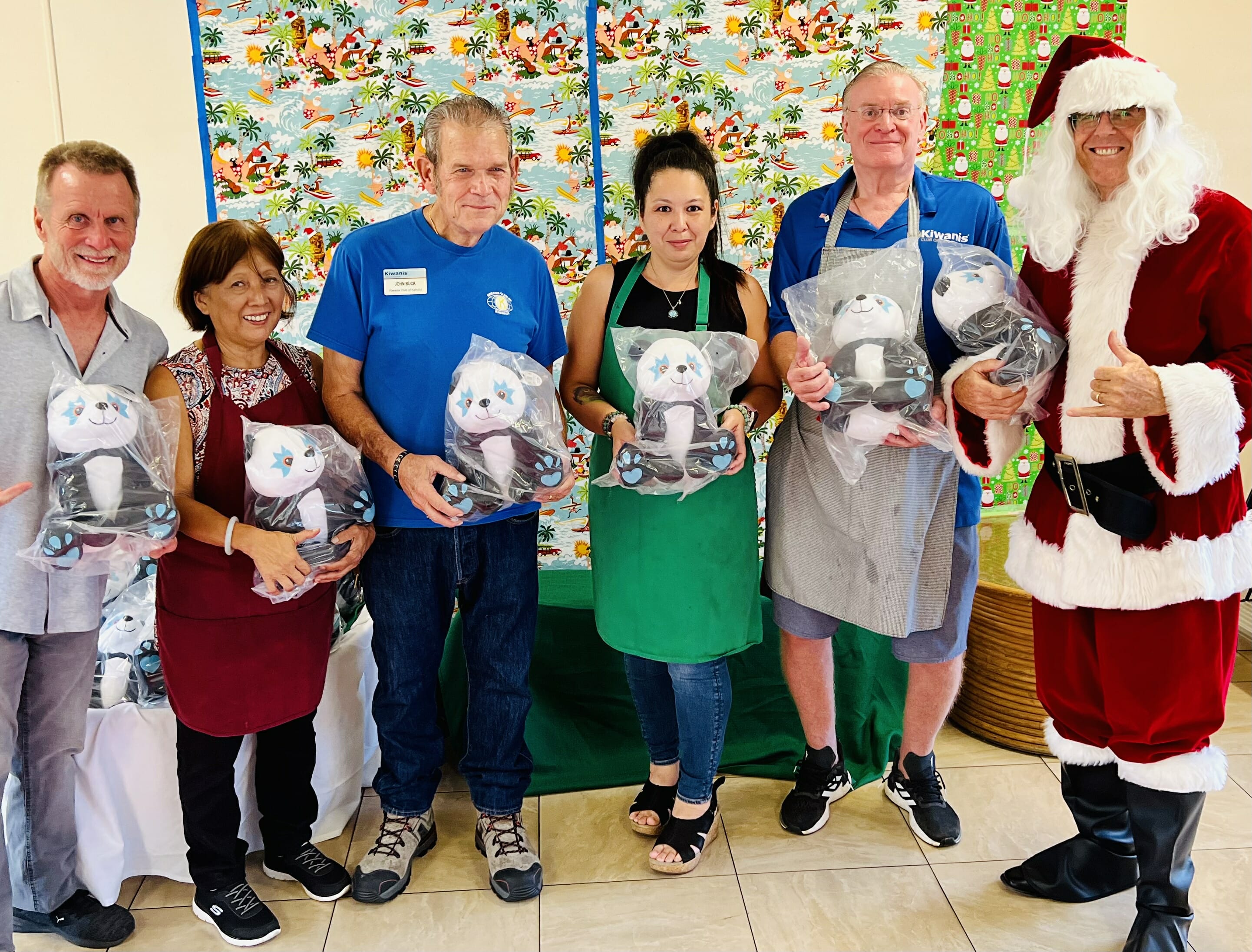 Maui singer-songwriter Brooks Maguire (from left), Realtors Association of Maui (RAM) member Pearl Gore, volunteer John Buck, and RAM members Naomi Petterson, Bruce McDonald and Patrick Kilbride helped make very merry memories for families staying at the Ka Hale A Ke Ola Homeless Resource Centers Wailuku facility on Dec. 7.  
Photo courtesy Patrick Kilbride
Like Gore, Kilbride hopes others will support KHAKO in any way they can. "Letting the KHAKO families know there are people like you who want to support them in their moments of need is the kindest act of love you will be able to provide them," he said. "Your support will cause a lifetime of sensational memories in your own heart and in the hearts of all the families you help at KHAKO."
Petterson says it's more than just giving back to others. "There is something powerful in recognizing others at where they currently are in life and being able to provide a moment of support," she said. "When you get down to the details, we are all beautiful spirits just trying to do our best with what we have at the moment. Whether that be skillsets, finances, or even compassion for ourselves and others. We are all in this together."
KHAKO is a comprehensive resource center that prepares families and individuals for permanent housing while providing emergency shelter, counseling services, addiction recovery management and adult education and training, as well as a primary care medical clinic and childcare facilities. The nonprofit provides thousands of meals to men, women and children every year and volunteers are always needed to lend a hand at its two facilities. To learn more about food donation or volunteer opportunities, call (808) 446-8137. For more information about KHAKO or to inquire about donor opportunities, visit www.khako.org or call (808) 242-7600.
Do you know a Realtors Association of Maui member who should be recognized for their contributions to the community? If so, send your story idea to Sarah Ruppenthal at missruppenthal@gmail.com.