How to claim your free Realtor.com Profile
Any RAM REALTOR member with an active MLS membership can sign up for a professional dashboard on Realtor.com®. Access to this free dashboard provides the ability to claim your Realtor.com® profile, edit and enhance your listings on Realtor.com®, track listing performance, manage leads, and more to maximize your exposure and grow your business.
How Do I know if I have a realtor.com profile already?

Go You can try to search your name on Google to see if it shows your Realtor.com profile link in the search results, or you can also try logging in with your MLS email and resetting the password if you don't remember. Using the Realtor.com to search by Agent name is also another to verify if you already have a free profile created.
To Sign Up

Go to dashboard.realtor.com OR Realtor.com® > click Sign Up link in the upper right corner of the page. In the Real estate professional? section > click blue Sign Up button. For detailed sign up instructions, watch the video below.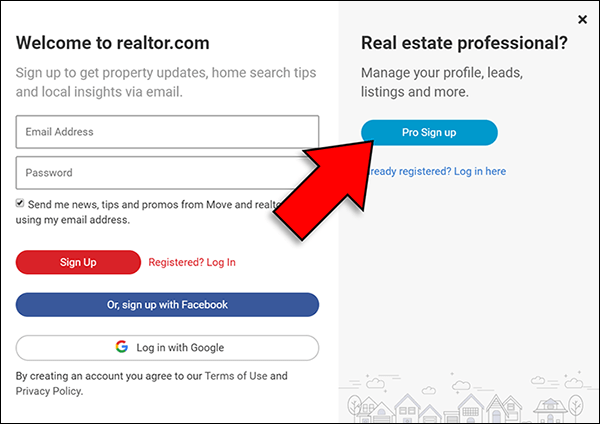 Completing the Sign Up registration:
Email address: Used for account management. This is a unique identifier for the account, i.e. multiple accounts cannot have the same email address. This should not be a lead-routing email address.
Password: Must contain at least 8 characters including 1 uppercase, 1 lowercase, and 1 number.
Phone number: Used solely for password recovery. This number will not be shared with third parties.
On the next page, enter your MLS information:
Location of your MLS: Select the state where the MLS office is located.
Your MLS Name: This is a filtered list based on the selected U.S. state/territory. If you cannot find the MLS, select "All" in the location drop-down to see the full MLS list.
Your MLS Agent ID: Enter the public identifier assigned to you by your MLS board. This is most likely the ID that you use to designate yourself as the listing agent when entering your listings in MLS. It is sometimes referred to as your Public Agent ID, Agent Number, or Member Number.
Your Name: Enter your name as you would like it to be displayed within the application.
If you do not know your Agent MLS ID, you can use an active listing to find your information.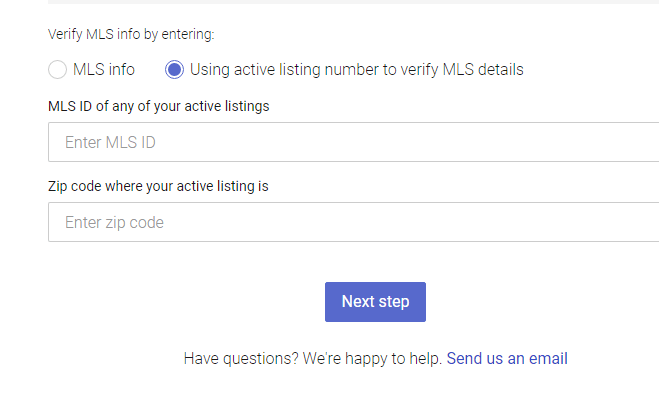 Just enter the MLS ID of any of your active listings. This can be looked up on Realtor.com®. In the example below, the ID would be 18-762.
Now enter the listing zip code. In the example above, the MLS is numbering properties based on the fact they were entered into the MLS in 2018. There are several MLSs that have this same numbering scheme, making the zip code required to actually identify the listing.
If the listing ID matches, you will receive an email to assist you in completing your account.
Once your account is set up, you will see a confirmation screen showing an image of where you can change your account settings, specifically email address, phone number and password once you are in the application.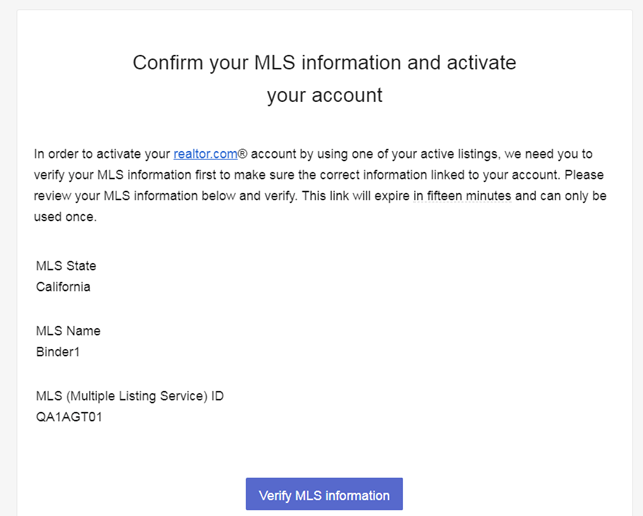 To Sign In
Go to dashboard.realtor.com OR go to Realtor.com® > select Log In from the upper right corner of the page. In the Real estate professional? Section > click blue Log In button.  Enter your email address and password to sign in to your account.