Listings entered into Paragon MLS are primarily done to 1) market a new property for the seller/s and make it Active, or 2) to report a recent sale that wasn't listed in MLS for sale. RAM MLS has prepared a short guide on entering Listings with suggestions to help you ensure your new listing is marketed effectively online, shows up in a variety of different search methods by buyers and agents, and of course, to help you to avoid receiving that dreaded Data Checker Error email.
Data Input Forms
RAM has created fillable .pdf forms for each Property Type, and include a section for the seller and broker to sign after reviewing for Accuracy.    These forms should contain the same exact fields that you will be entering on the listing, identify required and non-required fields.    To find the Input Forms in Paragon you go to the top right and choose MLS Documents.  In the Documents list go to the Data Input Forms section.
Partial Listings – As soon as you start entering information into your new listing, Paragon will give you the option to Save it as a Partial.  This will assign a temporary code and make it a Partial, allowing you come back later to finish entering the rest of the info. A Partial listing left in the system for several weeks or months will eventually be removed by the system, but you will receive a system email reminder before that happens.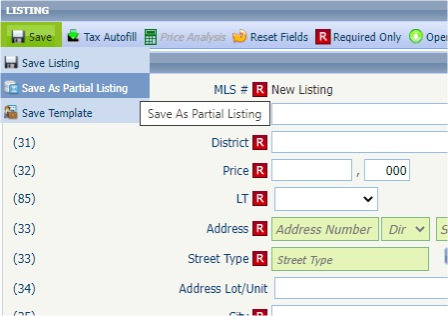 MLS Status Requirements
It is vital that all listings are input and updated within 2 business days from the date of change. In this instance, business days will mean days that the RAM offices are open. Weekends and office observed holidays will not count. If you are not sure whether the office will be open for a Holiday, check our Class and Events calendar or look for notices on the Paragon Homepage or a recent Thursday Things email.
Fines are issued to the office for not reporting Status Changes in a timely manner, or for publicly marketing an unlisted property ($75-$1500). You can find more details about Late Reporting in the MLS Rules and Regulations by going to Section 1.0 Listing Procedures and Section 1.4 Change of Status of Listing (see below):
Section 1.4 Change of Status of Listing
Status changes, including final closing of sales, to be reported within two (2) business days to the MLS by the listing broker.  If negotiations were carried on under Section 3.1(a) or 3.1(b) hereof, the cooperating broker shall report accepted offers and prices to the listing broker within twenty-four (24) hours after occurrence and the listing broker shall report them to the MLS within twenty-four (24) hours after receiving notice from the cooperating broker.
All Users are required to report all sales (listed or unlisted, including assisted sales) in which they participate (as a principal or agent) to RAM within 2 business days of closing.
RAM MLS rules also require that a Waiver form if the seller wants to opt out of having you enter the listing MLS, and includes a requirement that it can't be marketed to the public.   Please make sure to understand our Clear Cooperation rules so you aren't marketing an unlisted property to the public.
Section 1.01 Clear Cooperation
Within one (1) business day of marketing a property to the public, the listing broker must submit the listing to the MLS for cooperation with other MLS participants. Public marketing includes, but is not limited to, flyers displayed in windows, yard signs, digital marketing on public facing websites, brokerage website displays (including IDX and VOW), digital communications marketing (email blasts), multi-brokerage listing sharing networks, and applications available to the general public. (Adopted 11/19)
Common Input Errors
Input errors that happen on a listing could be just a simple case of a typo, or overlooking a checkbox.  RAM operates an automated Data Checker system that helps to identify late status changes, incorrect addresses, and certain words and phrases not permitted in the Public Remarks.  RAM MLS members also have the ability to report errors on any listing that they have a concern with. Under the Actions button at the top of a Detail Listing report you can choose Data Checker: ReportIt. This allows you to submit an anonymous alert to the MLS staff, who will review your notes and work quickly to ensure the listing is following the MLS rules.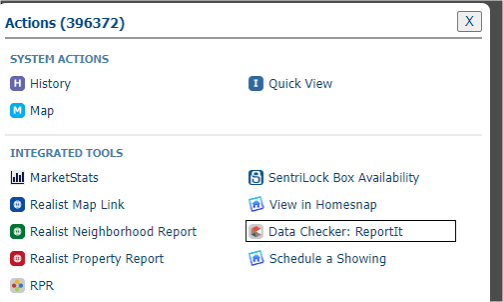 I received a Data Checker Warning, what do I do now?
Notifications from Data Checker are sent by email to the listing agent.  Sometimes these notices are simply courtesy reminders to double check the address or TMK number on your listings, but in some cases the email notices will give you 2 days to fix a violation, or even an Automatic Fine for something that was done.   The penalty policy for violating the MLS rules can be found on Page 41-42 of the RAM MLS rules, referred to as Schedule A. Schedule A and the MLS rules are modeled after the National Association of REALTORS model rules and further developed by the MLS Committee and RAM Board of Directors in order to support RAM's mission to protect the consumer and to enhance our member's opportunity to conduct their business successfully, with integrity and competence.
If you happen to receive one of these Data Checker emails, we encourage you to read the notice and understand the next steps that may need to be done.   The email might ask you to review a certain data field on the listing to ensure it is accurate, or is asking to change something. If you received a fine it is important to fully understand the rule to avoid  future violations. RAM also grants the listing agent the right to request that a fine be waived and has a specific form in the MLS Documents section for this purpose. If you are still unclear about any of our Data Checker notices, please don't hesitate to contact the MLS office by email or phone with any questions. betterdata@ramaui.com or 808-270-4647 .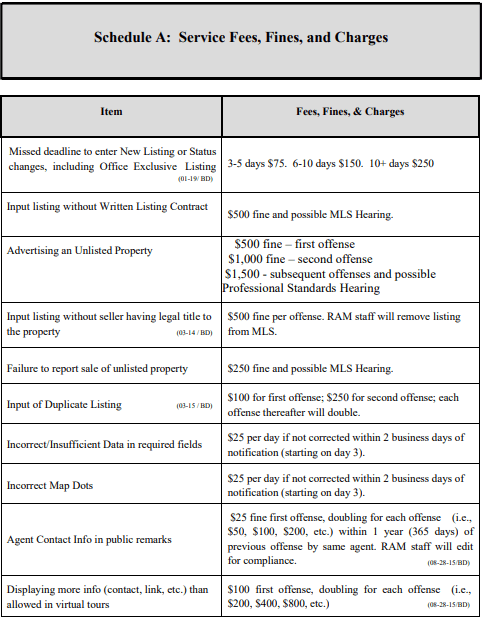 Paragon Training Videos
To learn more about Paragon, access a variety of Paragon Training Videos through InfoHub! Log into your InfoHub through RAM's homepage, select the 'Resources' tab, then view the training videos under the 'Education' folder. Video topics include information about the Collab Center, enhancing mapping, Paragon Connect, and much more!
InfoHub Login Link: https://realtorsassociationofmauiram.growthzoneapp.com/MIC/Login.
If you have questions about this article, please reach out to Vincent at Vincent@ramaui.com.