REALTOR® gives time, talent to alma mater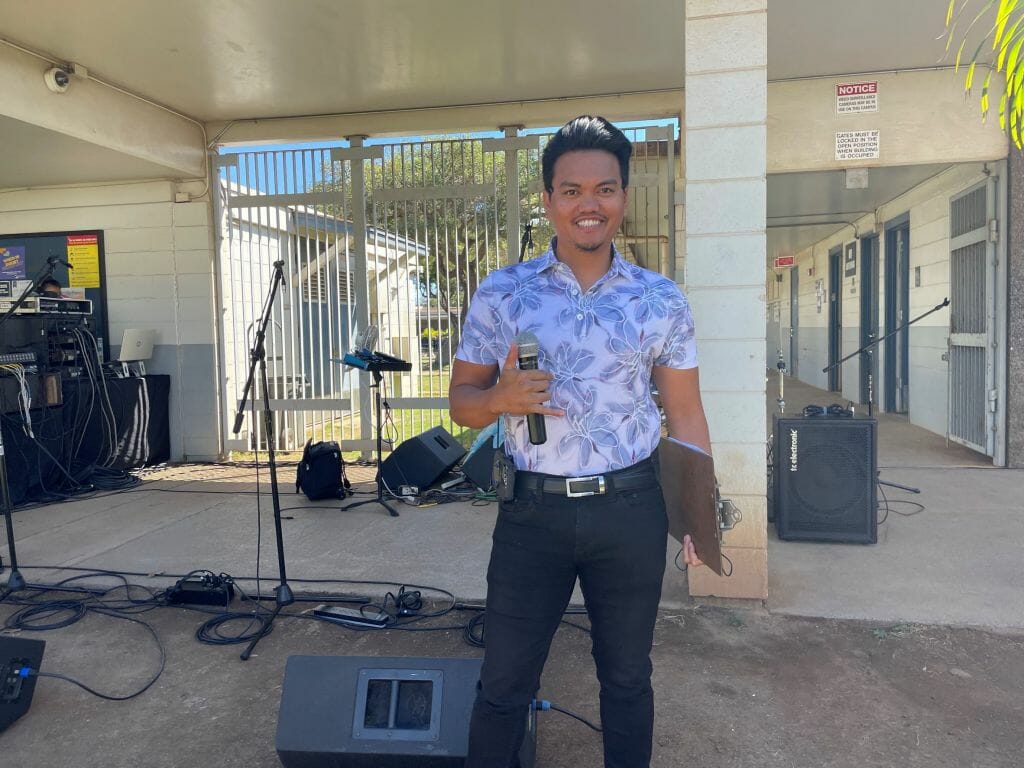 He may have graduated from Maui High School in 2008, but Genesis Buduan's school spirit has never faded.
Buduan, a Realtor with Coldwell Banker Island Properties, has fond memories of his days as a Maui High School Saber. "My fondest memories would probably have to be the pep rallies and events like boys cheerleading and lip sync competitions," he said. "Those were events that really seemed to bring all of the kids together, no matter the age or grade."
Last month, he seized an opportunity to give back to his alma mater by volunteering to emcee Maui High School's "A Golden Homecoming," an all-day event that celebrated the school's 50th year on the Kahului campus. "It was both exhilarating and nerve-racking, because this is not something that I normally do, but I wanted to help," Buduan explained. "I felt that with most of us being cooped up indoors for two years that this event was going to mean a lot to a lot of people, so the least I could do to help was show up and participate. We celebrated our 10-year high school reunion four years ago and it was a blast, so I could only imagine what the 50th golden anniversary would look like … I just had to be a part of it."
As far as fun and memorable events go, this one ticked all the boxes. Among other things, there were food trucks, a classic car show, campus tours, photo displays, and live music by local bands Nuff Sedd and Homestead. "The highlight for me personally was the flash mob at the end of the event," Buduan said. "I loved it because there were at least 50 dancers, including myself, who were in on it … and then the next thing you know, almost everyone in the immediate area who didn't even know the dance began dancing."
"A Golden Homecoming" was presented by Maui High School and the Maui High School Foundation, which hosts fundraising campaigns and activities throughout the year to support projects and programs that enhance the overall experience at the school. It also distributes funds, manages funds and endowments, develops alumni relations, and awards scholarships to deserving Maui High School graduates with the express purpose of helping them achieve academic excellence. This year, the foundation will award a minimum of $25,000 in scholarships to members of Maui High School's graduating class of 2022.
"I think what the Maui High School Foundation is doing and has done is a beautiful thing," Buduan said. "For me, I'm all for supporting the foundation because they are all about supporting you, me, and the future generations to come. And the only way to efficiently continue this is to continue supporting one another."
Buduan encourages others to consider taking part in alumni events at their own alma maters. "An event is only as good as the participants that attend—and the more the merrier," he said. "I arrived with a positive mindset that it was going to be a blast, and that everyone who attended was there with expectations to have a great time. And when you have that many people with the same positive mindset, you can expect the party to be memorable."
Buduan also has some advice for the members of Maui High School's incoming freshmen class, who will be transitioning from middle to high school in the fall. "Just like volunteering to speak in front of a giant crowd, it can be nerve-racking and exciting," he said. "Just focus on the excitement. Excitement brings you joy and joy will give you motivation. This is just the beginning of you being given the opportunity to create who you are and who you want to be. Find a crowd who encourages you to do better and to be better."

The Maui News – March 21, 2022