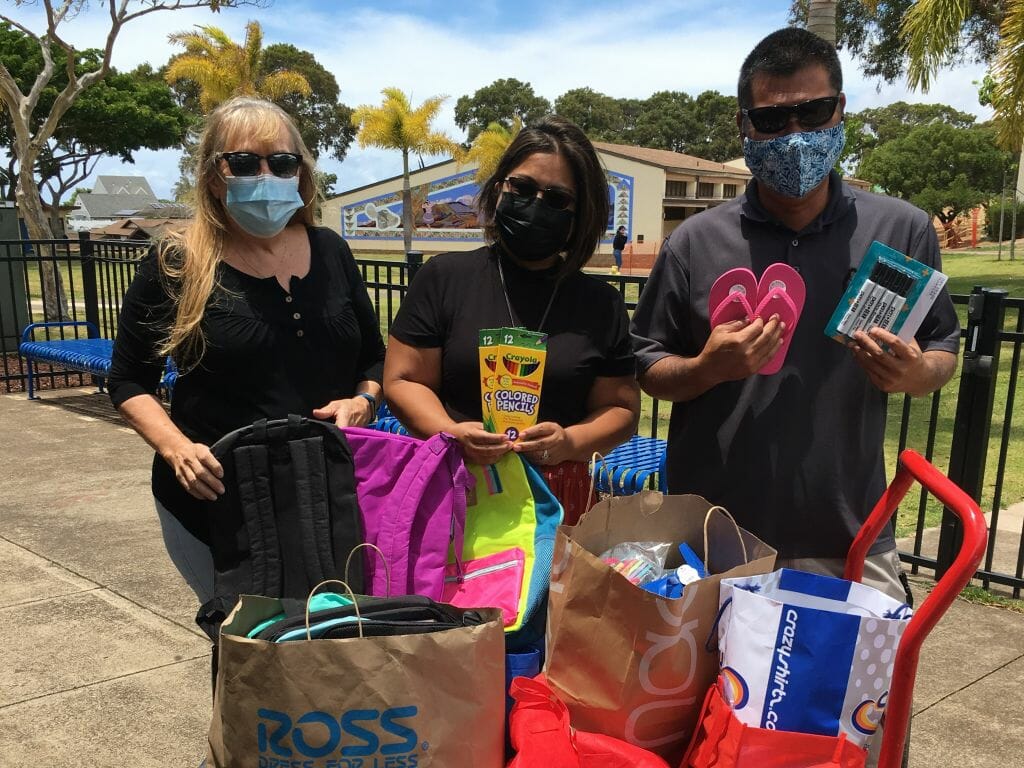 Maybe you've already heard the statistic: According to the U.S. Department of Education, 94 percent of teachers reported spending their own money on classroom supplies without reimbursement. Why? Because many of their students can't afford to purchase these items.
That's why Sharon Robinson of Movement Mortgage collects school supplies year-round for Pukalani Elementary School and Kula Elementary School as a volunteer coordinator for the Realtors Association of Maui Community Foundation's Wishing Well… for Maui Students program.
"I have a niece that was a schoolteacher and I knew how much she always spent for her students," she said. "When I heard about the Wishing Well program, I had to join so we could help teachers stop spending their own money."
Her niece, Melissa Ramos, is now the vice principal of Pukalani Elementary School. She says her aunt has made an immeasurable difference through the Wishing Well program. "She always reaches out to see what our teachers and students need to have an engaging learning experience," Ramos said. "She knows how teachers often spend their own money to make learning experiences happen and wants to help as much as possible for teachers to keep their money for their own needs."
Wishing Well… for Maui Students is a program of the Realtors Association of Maui Community Foundation (RAMCF), a 501(c)3 nonprofit organization. Since 2007, it has donated countless goods, supplies and services to public schools countywide. Run by volunteer RAM members and fueled by the generosity of the community, the program covers every public school on Maui, Molokai and Lanai, along with Ka Hale A Ke Ola Homeless Resource Centers, a nonprofit that shelters students in different grade levels at its Wailuku and Lahaina facilities. Each school has a volunteer coordinator who collects and distributes classroom supplies—pencils, paper, notebooks and everything in between—throughout the year.
Ramos says the program has been a game-changer for Pukalani Elementary School teachers, students and their parents. "There are times our families are not able to provide all school supplies," she said. "Through the Wishing Well program, our students are able to have supplies, slippers and backpacks. Teacher wishes, such as classroom furniture or art supplies, have also been fulfilled and this helps teachers to teach in a positive and welcoming environment."
That's what inspires Robinson to continue collecting wished-for supplies for not just one, but two Upcountry Maui schools. "We have so many homeless children on Maui and the teachers have been buying their supplies that the families can't afford," she said. "It is very rewarding to know that you are helping the teachers be able to spend their money for their families."
And the greatest reward of all? "Seeing the excitement when a teacher understands that we are truly here to help them get whatever supplies they need and they can stop spending so much of their money," Robinson said. "They truly appreciate it."
You can help Robinson and her fellow Wishing Well coordinators continue to make a difference by making a cash donation or purchasing requested items. (Or both.) Wished-for items include primary composition books, art construction paper, rubber slippers in varying sizes, view binders in varying sizes, copy paper and new or gently used office chairs. Items like file cabinets, bookcases, storage units, desks and office chairs are frequently requested, so if you own a business and need to offload any gently used office supplies or furniture, contact the Wishing Well program for a pickup service. For more information or to make a donation, visit www.ILoveMauiSchools.com or call Sarah Sorenson at 283-3969.
The Maui News - November 8, 2021