RAM member helps Central Maui students succeed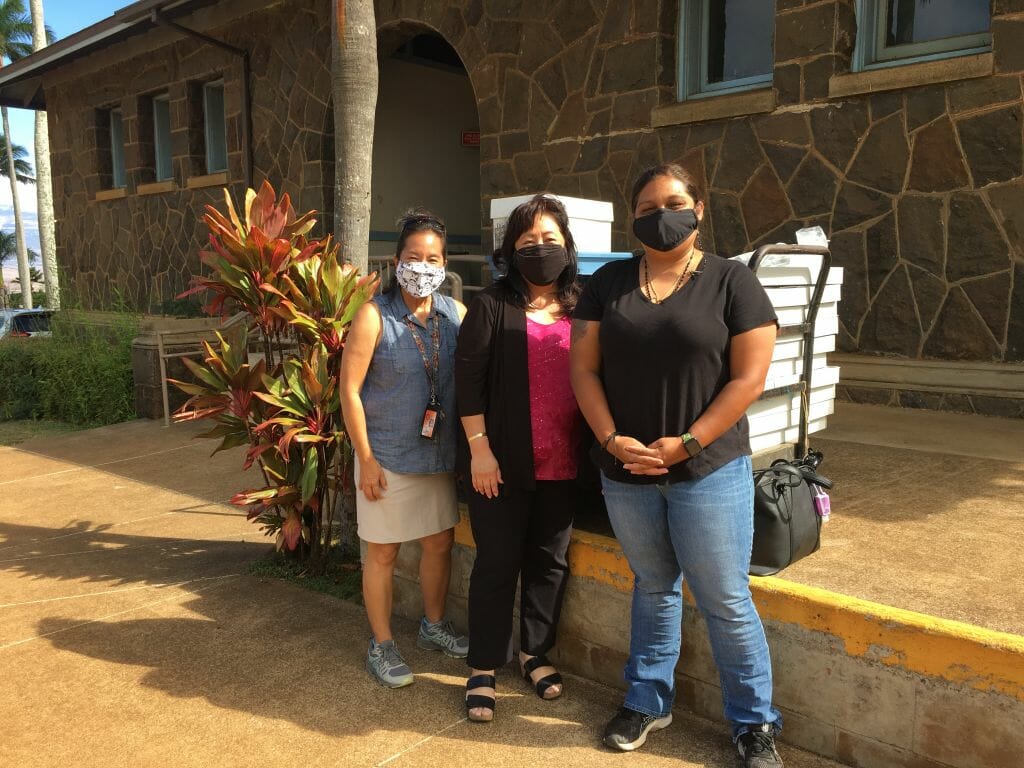 The back-to-school shopping season is long over, but there are students who still need basic supplies like pencils, paper and notebooks. The reality is, many parents can't afford these items and students often go without. Their teachers routinely step in to help: According to a recent U.S. Department of Education survey, 94 percent of teachers reported spending their own money on classroom supplies without reimbursement.
That's why Realtors Association of Maui (RAM) volunteers collect school supplies year-round for Maui County's public schools through the Realtors Association of Maui Community Foundation's Wishing Well… for Maui Students program.
Wishing Well… for Maui Students is a program of the Realtors Association of Maui Community Foundation (RAMCF), a 501(c)3 nonprofit organization. Since 2007, the Wishing Well program has donated countless goods, supplies and services to public schools countywide. Run by volunteer RAM members and fueled by the generosity of the community, the program covers every public school on Maui, Molokai and Lanai, along with Ka Hale A Ke Ola Homeless Resource Centers, a nonprofit that shelters students in different grade levels at its Wailuku and Lahaina facilities.
Each school has a volunteer Wishing Well coordinator (and in some cases, a pair of coordinators) who collects and distributes donated school supplies year-round. The RAM member coordinators include Malia Ashlock, Traci Bean, Michelle Bosque, Michele Crozier, Sue DeLoria, Kim Delmore, Penni Egger Gloria Ezera, Amy Johnson, Jill Kaiser, Paula Kobayashi, Jeannie Kong-Evarts, Rosalind Link, Melissa Montgomery, Kris Musto, Darryl and Jane Ng, Suni Novotny, Kay Okamoto, Barb Potts, Ricardo Ralha, Anna Revilla, Sharon Robinson, Melissa Salvador, and the program's founder, Sarah Sorenson.
Paula Kobayashi of Finance Factors signed up to be the coordinator for Wailuku Elementary School in October of 2019. She has a special connection to the school: it's her alma mater. "I always believe in giving back to our community," she said. "The Wishing Well program gave me the opportunity to assist my old school."
Since then, Kobayashi has worked with Miki Mochizuki, Wailuku Elementary School's Parent-Community Networking Center coordinator, to fulfill teachers' wish lists. "Paula is an amazing individual who continues to give back to the community over and over again," Mochizuki said. "She is our guardian angel, always looking out for us."
Mochizuki says the Wishing Well program has made a big impact at Wailuku Elementary School. "If a student shows up to class without school supplies, most teachers purchase the supplies for these students," she said. "At our school, the majority of our students qualify for free/reduced lunches and many of them do not purchase any school supplies at the beginning of the year. It has been a blessing to be a recipient of the Wishing Well program, which has donated many items to our school."
Those items range from crayons and paper clips to filing cabinets and rolling desk chairs. (And just about everything in between.) "We are not limited to only school supplies, but will also accept used office furniture," Kobayashi explained. "Our office moved to a new location in June and we donated desks, filing cabinets, office chairs and mats. Our affiliate, Finance Insurance, also moved in May and donated desks, office chairs, bookshelves, lateral filing cabinets, partitions and office supplies. All of these items were donated to Wailuku Elementary School."
Items like new or gently used office chairs, desks, file cabinets, bookcases and storage units are frequently requested, so if you own a business and need to offload any office supplies or furniture, Kobayashi encourages you to contact the Wishing Well program. "The schools all need help with supplies," she said.
And for anyone considering volunteering for the program, Kobayashi said, "Being a coordinator is simple and does not take up too much of your time, but the rewards are gratifying and heartwarming."
You can help Kobayashi and her fellow Wishing Well coordinators continue to make a difference by making a cash donation or purchasing wished-for items. Requested items include packages of construction paper, new packages of batteries (especially AAA and AA), binder clips, spiral notebooks, compasses and protractors (individual or sets), small handheld calculators, college-rule composition books, sandwich, quart and gallon-size baggies, paper clips, scissors, staplers, boxes of staples and small liquid soap or sanitizing pump bottles. For more information or to make a donation, visit www.ILoveMauiSchools.com or call Sarah Sorenson at 283-3969.
The Maui News – November 1. 2021