REALTORS help Maui students make their mark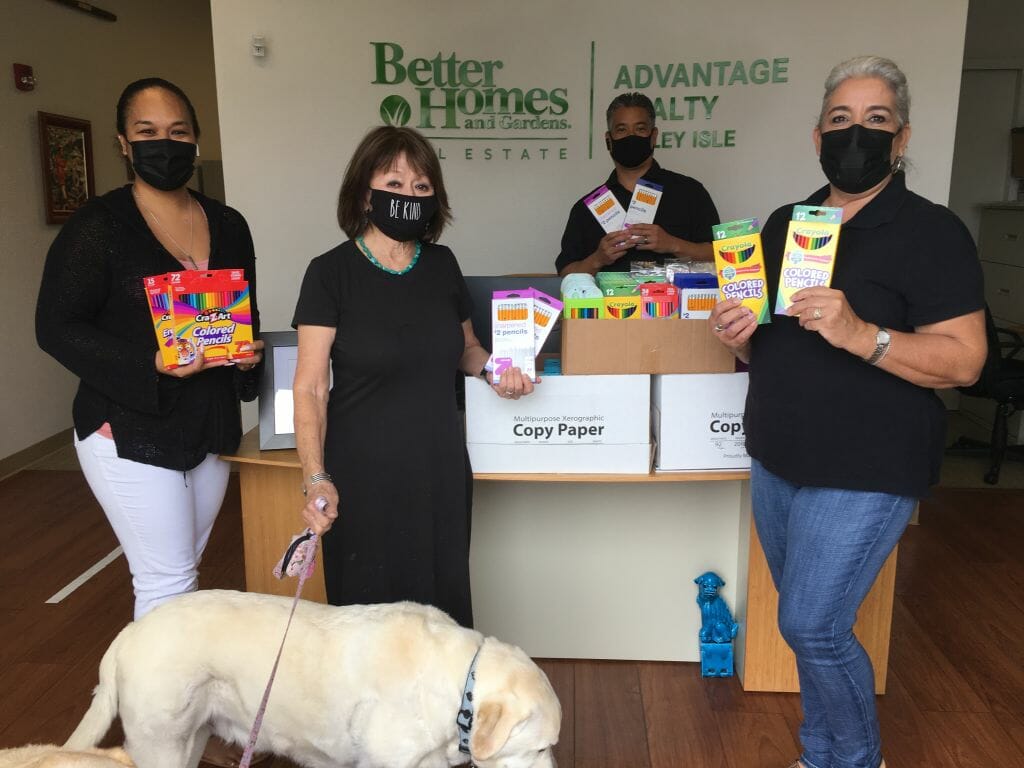 Did you know that an average pencil has enough graphite to draw a 35-mile-long line? Or that one Ticonderoga pencil can write up to 45,000 words?
When you think about it, a single pencil holds so much potential. No wonder it is one of the most commonly used and most-wished-for school supplies.
With that in mind, the Realtors of Better Homes and Gardens Real Estate Advantage Realty Valley Isle recently collected nearly 10,000 No. 2, mechanical and colored pencils for the Realtors Association of Maui Community Foundation's Wishing Well… for Maui Students program.
"Education is a really important part of a child's life," said Better Homes and Gardens Real Estate Advantage Realty Valley Isle Principal Broker-Owner Leslie-Ann Yokouchi. "We're happy to support any way we can."
Since its inception in 2007, the Wishing Well program has donated goods, supplies and services to public schools countywide. Run by volunteer Realtors Association of Maui (RAM) members and fueled by the generosity of the community, the program covers every public school on Maui, Molokai and Lanai, along with Ka Hale A Ke Ola Homeless Resource Centers, a nonprofit that shelters students in different grade levels at its Wailuku and Lahaina facilities. Each school has a volunteer Wishing Well coordinator (and in some cases, a pair of coordinators) who collects and distributes donated school supplies year-round.
One of those coordinators is Better Homes and Gardens Real Estate Advantage Realty Valley Isle Realtor-Broker Michelle Bosque, who, along with her colleagues, took part in the company's recent pencil drive for the Wishing Well program. "Before the COVID-19 era, during July and August, we were able to be physically be present outside of OfficeMax, Walmart and [the now-closed] Kmart to help collect school donations for the students, as well as teacher supplies," she said. "The pandemic has interrupted that ability."
So, when Better Homes and Gardens Real Estate Advantage Realty Valley Isle Realtor-Broker Erin Clapper suggested the company hold a school supply drive for its summer community service project, Bosque said, "We were all on board."
"We were trying to think of something easy for our agents to purchase but something still practical and useful," Clapper explained. "We asked for the top five most requested items and took pencils and ran with it. We blasted the request out on our social media platforms and several agents' clients donated to the cause, too. We're happy to play a very small part in supporting Maui's keiki."
Ten-thousand pencils later, the company is helping to improve the educational experiences of students across Maui County. "It is hard for many to believe that the basic supply all students need is a No. 2 pencil—and yet there are still many families struggling to purchase multiple packets of pencils for each child, plus all of the other supplies teachers request," said Wishing Well founder Sarah Sorenson. "Having the Better Homes and Gardens Real Estate Advantage Realty Valley Isle office collect so many of these various pencils will help so many."
Bosque encourages others to consider supporting the Wishing Well program in any way they can. "It is an amazing program that allows regular people like us to bless the children and teachers of Maui County with supplies needed for classroom learning, monetary donations to help with lunch funds, and even slippers and shoes for the students who need help," she said.
You can help the Wishing Well program continue to make a difference by coordinating your own school supply drive, purchasing requested items or making a cash donation. (Or all of the above.) Requested items include packages of construction paper, new packages of batteries (especially AAA and AA), binder clips, spiral notebooks, compasses and protractors (individual or sets), small handheld calculators, college-rule composition books, sandwich, quart and gallon-size baggies, paper clips, scissors, staplers, boxes of staples and small liquid soap or sanitizing pump bottles. Items like new or gently used office chairs, desks, file cabinets, bookcases and storage units are frequently requested, so if you own a business and need to offload any office supplies or furniture, contact the Wishing Well program to schedule a pickup service. For more information or to make a donation, visit www.ILoveMauiSchools.com or call Sorenson at 283-3969.
The Maui News – October 25, 2021