Helping future female pilots reach for the sky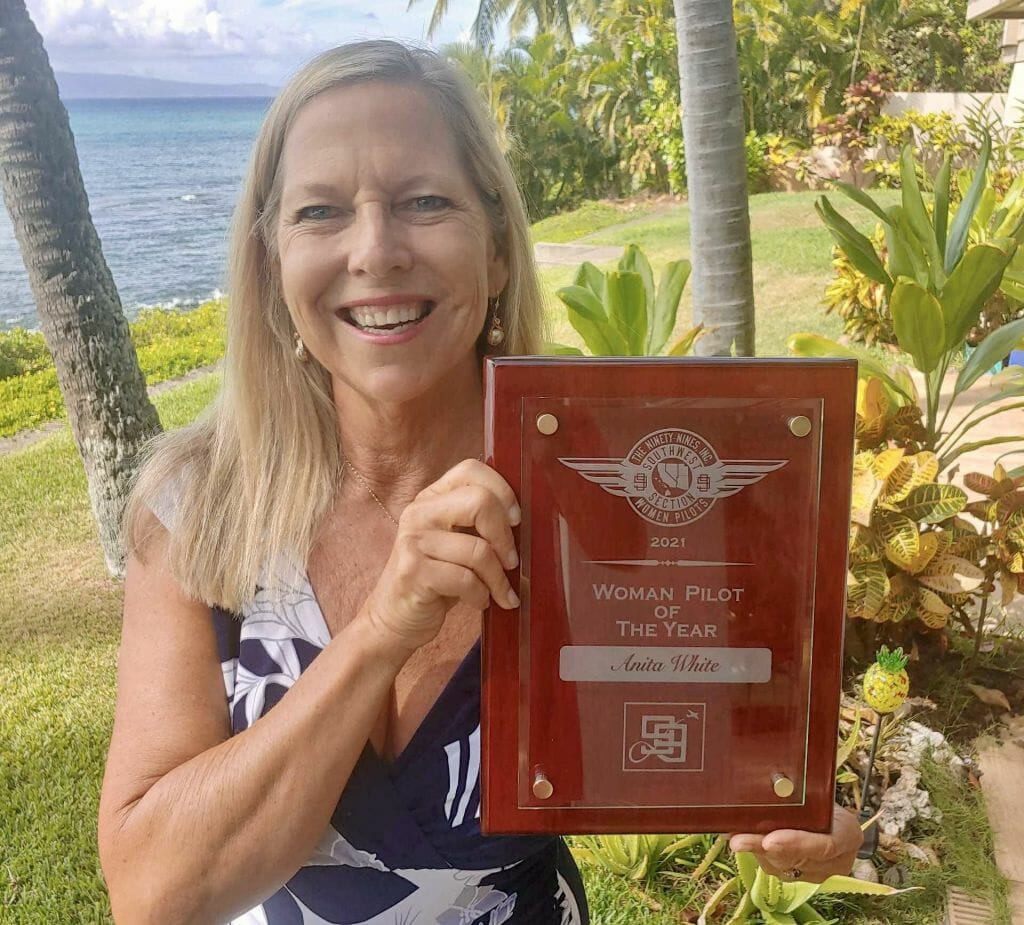 For Anita White, there's nothing more thrilling than being at the controls of an airplane. But there's one thing that comes close: When she hears a young girl say she wants to be a pilot someday.
White, a pilot and Realtor with Island Sotheby's International Realty, helps up-and-coming female aviators take flight as a founding member of the Maui 99s. The Maui 99s is a chapter of The Ninety-Nines, Inc., an international nonprofit organization that promotes the advancement of women in aviation through education, scholarships and mutual support.
Earlier this month, White was honored as the nonprofit's 2021 Southwest Section Woman Pilot of the Year for her aviation achievements and community involvement. The Southwest Section is composed of 1,600 members in five states: Hawaii, California, Arizona, Utah and Nevada. "I am extremely honored to receive this award," White said.
Founded in 1929 by 99 licensed female pilots (Amelia Earhart was elected the first president), The Ninety-Nines, also known as The 99s, has thousands of members in more than 40 countries. Local chapters sponsor educational programs like aerospace workshops for teachers, airport tours for students, fear-of-flying clinics, and flight instructor revalidation seminars. Members also participate in National Intercollegiate Flying Association student competitions and Girl Scouts Aviation Day programs. Apart from stoking interest in a high-flying career, 99s chapters help fledgling pilots navigate the often complex and costly flight training process. Members include professional, recreational, retired and rookie pilots, as well as flight instructors, mechanics and technicians. They come from different walks of life, but have one thing in common: A passion for flying.
White's path to becoming a member of The 99s began when she learned to fly at the age of 11. In 1989, she moved to Maui and received both her pilot's license and real estate license. She went on to become a certified flight instructor and a Big Island volcano tour pilot for Mokulele Airlines. In 2008, White joined the Aloha 99s, a Honolulu-based chapter of The Ninety-Nines; it was the only chapter in Hawaii at the time. In 2019, White and five other female pilots started Maui's own chapter of The Ninety-Nines; White currently serves as the chapter's treasurer. With a growing membership, the 501(c)3 nonprofit aims to promote aviation education and offer mentoring, support and scholarships to women aviators on the Valley Isle.
According to the Federal Aviation Administration's Aeronautical Center, there were 691,691 active pilots in the United States in December of 2020. Of them, only 58,541, or 8.4 percent, were women. White is doing her part to increase that number and open more women's eyes to the possibilities of a career in aviation through the Maui 99s. Among other things, she has mentored female pilots (several of whom now fly professionally), participated in youth STEM events, made career-day classroom visits, and taught local Girl Scouts the science of flight as part of the annual Girl Scouts Aviation Day program. In May, she flew a Cessna 172 from Maui to Lanai to give a Lanai High School graduating senior her first flying experience before she joined the U.S. Air Force. (There is no flight school on Lanai, so White and fellow pilot Elizabeth L'Heureux brought the flight school there.)
The COVID-19 pandemic has put many of the Maui 99s' activities on hold over the past year and a half, but the group continues to raise funds for its annual scholarship program, which helps aspiring female pilots get off the ground, both literally and figuratively. Donations to the scholarship program are always welcome.
Are you a female pilot—or would like to become one?The Maui 99s is accepting new members and there's only one requirement to join: A desire to fly. For more information about the Maui 99s or to inquire about membership or donor opportunities, email mauichapter99s@gmail.com or visit www.maui99s.com or www.facebook.com/maui99s. To learn more about the history and mission of The Ninety-Nines, visit www.ninety-nines.org.
The Maui News – September 2021