REALTORS® help high school students succeed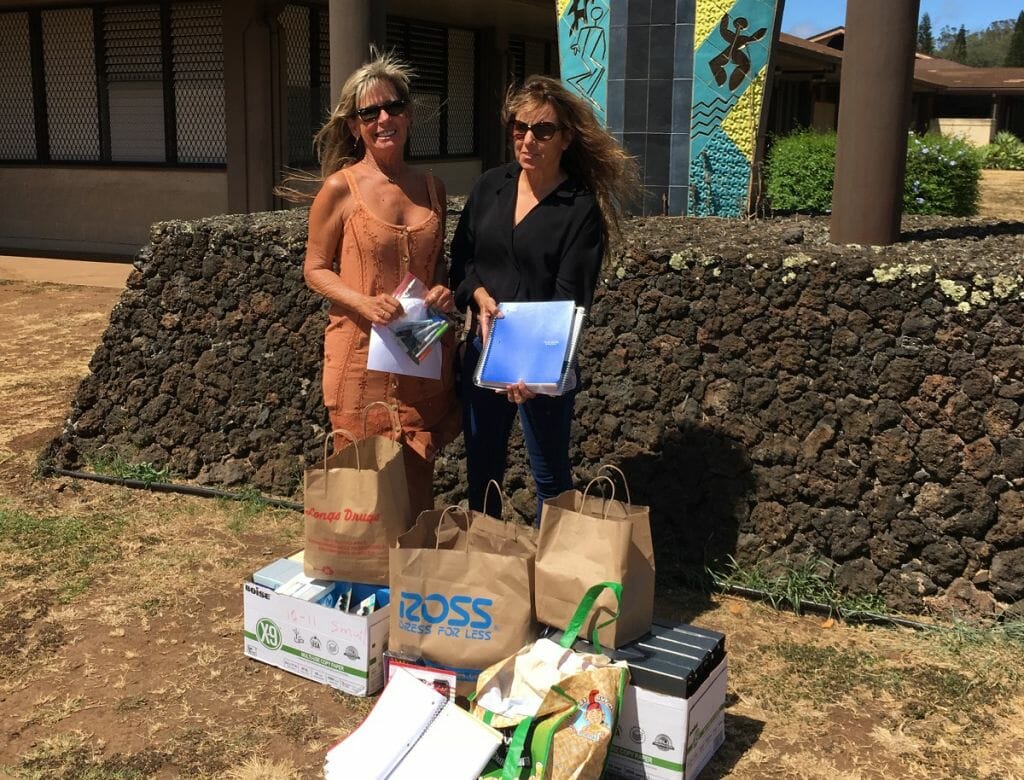 Tougher classes. More homework. Higher expectations. High school can be an overwhelming time for many students. And without basic tools like pens, pencils, binders or notebooks, it can be even more challenging.
That's why Penni Egger of Island Sotheby's International Realty and Kris Musto of Coldwell Banker Island Properties collect school supplies throughout the year for the teachers and students of King Kekaulike High School.
Egger and Musto are volunteer coordinators for Wishing Well… for Maui Students, a program of the Realtors Association of Maui Community Foundation (RAMCF), a 501(c)3 non-profit organization. Since 2007, the Wishing Well program has donated countless goods, supplies and services to public schools countywide. Run by volunteer Realtors Association of Maui (RAM) members and fueled by the generosity of the community, the program covers every public school on Maui, Molokai and Lanai, along with Ka Hale A Ke Ola Homeless Resource Centers, a nonprofit that shelters students in different grade levels at its Wailuku and Lahaina facilities.
Each school has a volunteer Wishing Well coordinator (and in some cases, a pair of coordinators) who collects and distributes donated school supplies year-round. The RAM member coordinators include Egger, Musto, Malia Ashlock, Traci Bean, Michelle Bosque, Michele Crozier, Sue DeLoria, Kim Delmore, Gloria Ezera, Amy Johnson, Jill Kaiser, Paula Kobayashi, Jeannie Kong-Evarts, Rosalind Link, Melissa Montgomery, Darryl and Jane Ng, Suni Novotny, Kay Okamoto, Barb Potts, Ricardo Ralha, Anna Revilla, Sharon Robinson, Melissa Salvador and the program's founder, Sarah Sorenson.
Musto has been a volunteer coordinator since the program's inception. Two of her three children are King Kekaulike High School alumni; her youngest is now a senior at the high school. "As a mom, the thought of any child in need is so hard for me, so if I can help, I'm more than happy to do it," she said.
Over the years, Musto said, "I saw firsthand how many kids were in need and how many selfless teachers spend their own money to assure that all the kids had the basics like notebooks, slippers, etc. I am beyond grateful for the amazing teachers we have Upcountry and this is my way to try to give back to them for all they gave to my children."
Like Musto, Egger's two eldest children are King Kekaulike High School graduates; her two youngest are now juniors at the school. And like Musto, "I see firsthand how hard our teachers are working and how much help they need from us," Egger said. "For me, it is really about the kids… when you see the student that didn't have the correct notebook or colored pencils or markers and you have the ability to donate them and later see their amazing smile… it's the best."
You can help Egger and Musto and their fellow Wishing Well coordinators continue to make a difference by making a contribution to the program. "Your donation doesn't need to be big or elaborate—anything helps," Musto said. "Whether a $25 check or maybe some notebooks you see while shopping at Target or Walmart, it all makes a difference to our Maui students and to those amazing teachers that we are so lucky to have."
Apart from changing students' learning environments, the COVID-19 pandemic has left many parents and teachers financially stressed. "We need help, especially now… our kids and teachers need it more than ever," Egger said. "A huge mahalo to all of those who have helped and contributed over the years, and if you haven't, please do. This is Maui, these are our kids… let's take care of them together."
You can make a cash donation or purchase wished-for items like pens, pencils, highlighters, dry erase markers, binders, notebooks, paint brushes, construction paper, scissors, compasses, Post-it-notes, paper clips, index cards, protractors, metric rulers, scientific calculators, batteries, and graph paper. Items like office chairs, file cabinets, bookcases and storage units are frequently requested, so if you own a business and need to offload any office supplies or furniture, contact the Wishing Well program for a pickup service. For more information or to make a donation, visit www.ILoveMauiSchools.com or call Sarah Sorenson at 283-3969.