On the morning of Saturday, June 10, a group of Realtors Association of Maui (RAM) members, affiliates and staff hit the beach. But instead of lounge chairs and umbrellas, they brought protective gloves and heavy-duty garbage bags. That morning, they split into three groups and embarked on a litter-finding mission at three separate locations: Kanaha Beach Park in Kahului, Sugar Beach in Kihei, and Papalaua Wayside Park in Wailuku. 
The June 10 cleanup coincided with the National Association of Realtors (NAR) Realtor Volunteer Days event, which ran June 4-12. Held annually in early June, the weeklong event is part of NAR's Realtors Are Good Neighbors program.
The volunteers who participated in the RAM-sponsored beach cleanup included Josue Aranza Marcos, Jessica Baker, Chris Bannowsky, Chris Birkholm, Joshua Broady, 2022-23 RAM President Karin Carlson, Erin Clapper, Linda Cobb, Kelly Moore-Coullahan, Cara Crimmons, RAM Government Affairs Director Jason Economou, Lili Eyler, Bruce Faulkner, Dave Futch, Len Gale, Lindsey Gorsuch, Tiffany Hyde, Lena Kamai, Amanda Kayatani, Patrick Kilbride, Bob Lightbourne, Daesha-Marie Mata, Jayce Mawson, Samantha Sinclair, Alysha Nichols-Sparkman, Lynette Pendergast, Darla Phillips, Gray Ringsby, Mark Short, Amy Sword, U'ilani Todd, Mike Trotto, Stacey Vinoray, Dave Wagner, Sam Wilson, and Jyoti Young.
"The beach cleanup at Sugar Beach was a lot of fun," Carlson said. "It was so enjoyable to be at the beach early in the morning and to see people walking, the canoe clubs paddling, people learning to ride foil surfboards, and to pick up trash."
Kayatani was also at Sugar Beach that morning and says she didn't think twice about signing up. "This year I made a commitment to volunteer at least once a month, which has been a joy," she said. "I love the beach… it wasn't even a question, just sign me up."
Futch volunteered at Kanaha Beach and says it was a great way to spend a Saturday morning. "We feel a sense of respect for the 'aina when we leave the place better than when we arrived," he said. "There is a great deal of satisfaction seeing the huge pile of rubbish, knowing that we have saved our beaches and wildlife from harm."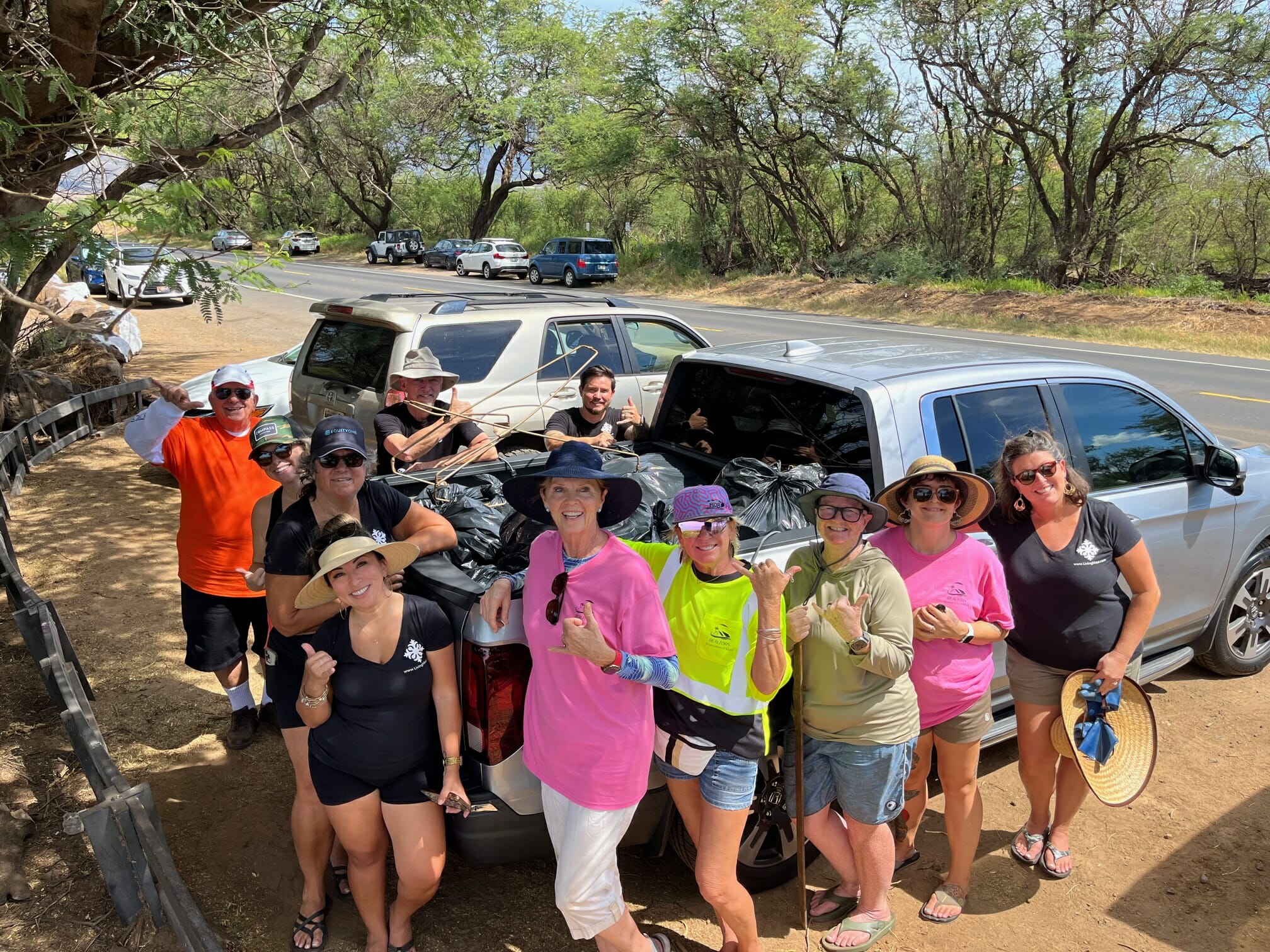 Realtors Association of Maui (RAM) members pose with the bags of trash they collected at Sugar Beach in Kihei during a RAM-sponsored beach cleanup on June 10. The cleanup was part of the annual National Association of Realtors Realtor Volunteer Days event, which ran June 4-12. 
Photo credit: Mark Short
Kayatani says RAM's beach cleanup is an example of how one person can make a difference. "I'm super grateful to be a part of the RAM community," she said. "We had such a good time comparing what we found."
Futch encourages other organizations or groups to consider coordinating their own beach cleanup. "Be good, do good, and you'll feel good," he said. "The camaraderie with others who are also caring individuals is also quite rewarding—it's like linking to a community of good people."
Kayatani agrees. "Just do it! Make it happen," she said. "We have to take care of our precious island."
Realtor means a member of the National Association of Realtors. Do you know a Realtors Association of Maui member who should be recognized for their contributions to the community? If so, send your story idea to Sarah Ruppenthal at missruppenthal@gmail.com.