Last month, the Maui Food Bank received a special delivery: 46,000 pounds of food and $550 in monetary donations collected through the 31st annual National Association of Letter Carriers "Stamp Out Hunger" Food Drive. 
This year's food drive was held on Maui on Saturday, May 13. That day, mail carriers picked up donations from postal patrons' mailboxes on their delivery routes. On May 18, a group of volunteers gathered at the Maui Food Bank warehouse in Wailuku to sort and box up the donated food items. Among them were Anne Diola of Makai Mortgage LLC, Jolanta Frazier of Coldwell Banker Island Properties, and Laura Mendolia of Ho'okele Title & Escrow. 
"In the two-and-a-half hours we were at the warehouse, we were able to process 46,000 pounds of food to reach the homes of those in need in Maui County," Mendolia explained. "It was a real joy to see and be a part of the process to help those in our community."
Diola agrees wholeheartedly. "It was super fun, high energy, and it felt like time flew by quickly," she said. "I'd say the highlight is how much food we sorted through. I believe we sorted over 6,000 pounds of food in under three hours."
For Frazier, volunteering at the food bank was an uplifting experience. "The highlight for me was meeting the volunteers and witnessing the generosity of everyone involved," she said. "The passion and dedication they demonstrated in their desire to help others were truly inspiring. Moreover, I was amazed by the impeccable organizational skills of the Maui Food Bank staff during the warehouse process. They made the entire experience smooth and enjoyable. Being in that room, surrounded by the incredible items of food donated, and feeling the love and compassion from everyone present was simply priceless."
Frazier encourages others to consider volunteering. "The Maui Food Bank relies on the support of individuals like us, and every contribution matters," she said. "Don't hesitate—reach out and sign up for volunteering or make a donation or both. I assure you; you will not regret it. Your involvement will bring you immense fulfillment and satisfaction, knowing that you are making a positive difference in the lives of others."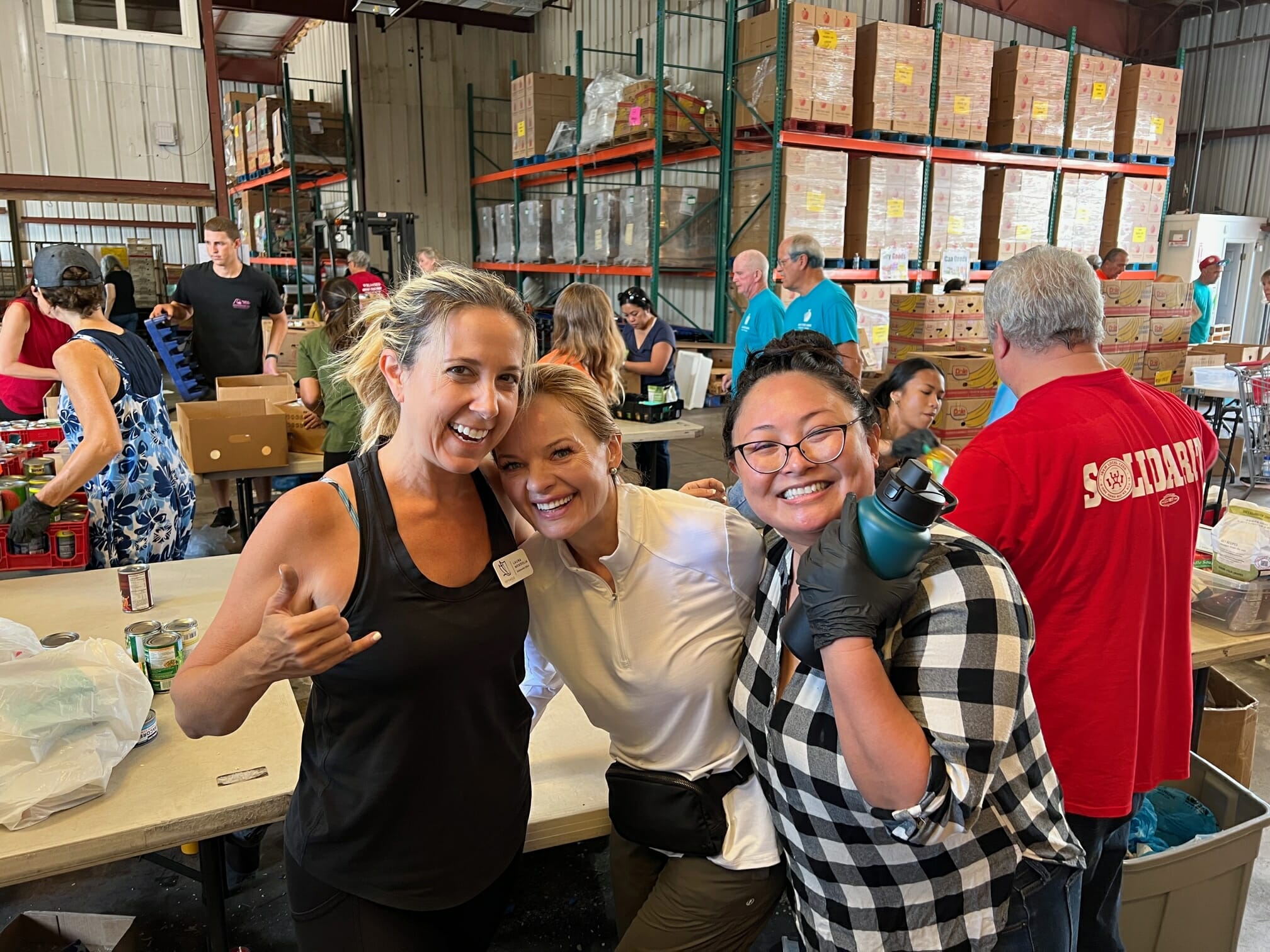 Realtors Association of Maui members (from left) Laura Mendolia, Jolanta Frazier and Anne Diola were among the volunteers who sorted and packed donated food items collected through last month's 31st annual National Association of Letter Carriers "Stamp Out Hunger" Food Drive.
Photo courtesy Patrick Kilbride
Mendolia couldn't agree more. "You will leave the day with a full heart and a feeling of major impact helping those less fortunate in our community," she said. 
Diola also hopes others will support the Maui Food Bank in any way they can. "Please donate, and if you're not able to do so financially, please volunteer," she said. "No one should ever have to worry about their next meal.  Maui Food Bank is a powerhouse to prevent food insecurities for our Maui residents and they truly need our support to continue these virtuous efforts."
To learn more about the Maui Food Bank or to inquire about donor or volunteer opportunities, visit www.mauifoodbank.org or call (808) 243-9500. 
Realtor means a member of the National Association of Realtors. Do you know a Realtors Association of Maui member who should be recognized for their contributions to the community? If so, send your story idea to Sarah Ruppenthal at missruppenthal@gmail.com.