Academic scholarships can make the dream of college a reality for many students. Not only do they help make higher education possible for those who can't afford to pay out of pocket, but they also spare college graduates the stress of beginning their professional lives with a heavy load of student debt. 
Josh Jerman of Hawaii Life Real Estate Brokers is among the many Realtors Association of Maui members who support college-bound students every year. For the past 19 years, he and his wife, Souksamlane, also with Hawaii Life Real Estate Brokers, have offered annual scholarships through the Josh and Souk Jerman Foundation Scholarship program. To date, the program has awarded more than $69,000 in scholarships to Maui, Moloka'i and Lāna'i students who plan to return home after college to contribute to the community.
The Foundation typically awards $1,000 scholarships to up to five recipients, but this year, there were 10 awardees. "The past three years have been challenging in so many ways for students," Jerman said. "They showed resilience in the face of adversity, which is why we decided to give ten $1,000 scholarships this year. We wish each of the recipients the best of luck and we look forward to seeing them contribute to Maui Nui in the future." 
The 2023 scholarship recipients are Taylor Aloy of Kamehameha Schools Maui, Kathleen Baniqued of Lahainaluna High School, Niko Banto of Maui Preparatory Academy, Taliah Cabatu of Maui High School, Helena Colletta of Seabury Hall, Mansa Devaki of Seabury Hall, Olapaholunape Duvachelle of Moloka'i High School, Jacob Garcia of Kamehameha Schools Maui, Kaitlin Kitagawa of King Kekaulike High School, and Yuna Lee of Maui Preparatory Academy. 
In the fall, Banto will attend Babson University with plans to major in entrepreneurship. "This scholarship means so much to me and my family, as it gives me an opportunity to continue my education," he said. "Not only that, but I greatly respect that Josh and Souk Jerman are giving back to the entire community through college scholarships, which is an amazing act of philanthropy."
Kitagawa is heading off to Santa Clara University with her sights set on a degree in biomedical engineering. "I am truly honored to have been chosen for this generous scholarship," she said. "It will help me reduce the financial burden on my family as I pursue education towards my dream career as a biomedical engineer, living and working on Maui."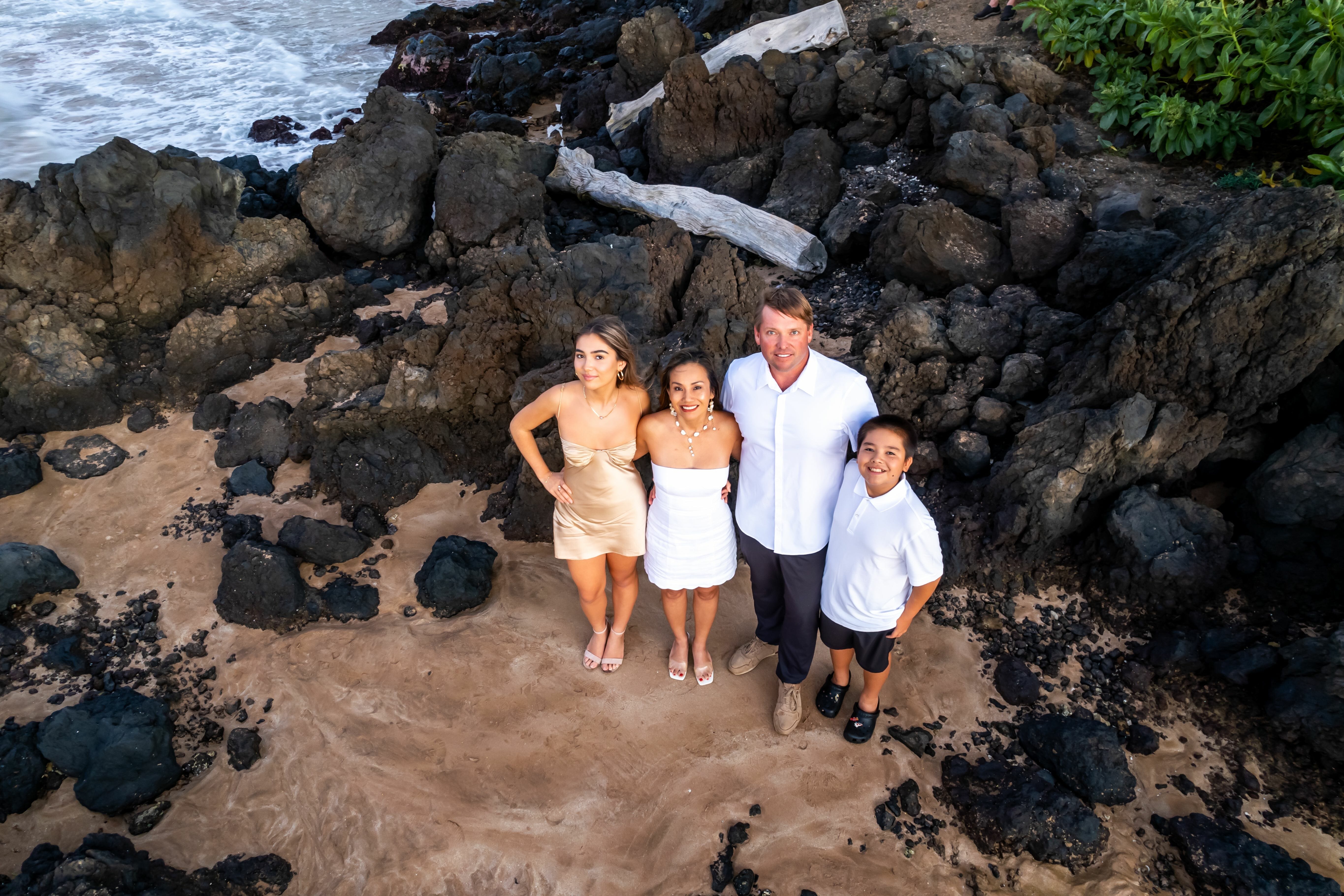 Josh and Souksamlane Jerman, pictured here with their children, Nick and Teah, are among the many Realtors Association of Maui members who offer academic scholarships to Maui County students every year. 
Photo credit: Sean Michael Hower
Colletta will be attending Monmouth University, where she will study marine and environmental biology and policy. "I would like to say a big 'mahalo' to Josh and Souk Jerman! You both are so inspirational and generous," she said. "Thank you for supporting Maui students by investing in our future. It is because of people like you that so many of us are able to pursue our passions and continue our education at higher levels."
Devaki will attend the University of California, Berkeley with plans to study molecular cell biology with an emphasis in neurobiology and business. "To Josh and Souk Jerman, I would like to convey my deepest gratitude for providing students with such platforms to be recognized and propel them to further their interests," she said. "Your generosity is truly appreciated."
To learn more about the Josh and Souk Jerman Foundation Scholarship program, visit http://jermanfoundation.org. 
Realtor means a member of the National Association of Realtors. Do you know a Realtors Association of Maui member who should be recognized for their contributions to the community? If so, send your story idea to Sarah Ruppenthal at missruppenthal@gmail.com.