Believe it or not, the school year is nearly over. Even so, students will still need basic classroom supplies like pencils, paper and notebooks in the weeks to come and when they return to campus in the fall. Unfortunately, these items can be cost-prohibitive for many families, so students often go without. 
That's where the Wishing Well… for Maui Students program steps up to help.
Wishing Well… for Maui Students (or "Wishing Well" for short) is a program of the Realtors Association of Maui Community Foundation (RAMCF), a 501(c)3 nonprofit organization. Since its inception 16 years ago, the program has donated school supplies and other items to public schools countywide, along with Ka Hale A Ke Ola Homeless Resource Centers (KHAKO). It may not be a school in the conventional sense, but KHAKO shelters students in different grade levels at its Wailuku and Lahaina facilities. 
"When children come to KHAKO, it can be an adjustment, especially if they were living in a car or on the beach," said Sarah Sorenson of Whale's Tail Realty, who founded the Wishing Well program in 2007. "Their circumstances are beyond their control. Making sure a child has a bed to sleep in, footwear for gym class, and a backpack filled with school supplies might mean they will graduate and become a productive member of the community. The sky is the limit for each child—if they just are given a chance with the basics."
Sorenson and Jill Kaiser of Hawaii Life Real Estate Brokers serve as the Wishing Well coordinators for KHAKO. Throughout the year, they round up school supplies, pairs of rubber slippers, and other items for children staying at KHAKO's two facilities. Many of these kids arrive at KHAKO with little to no belongings, which is why there is always a need for donations.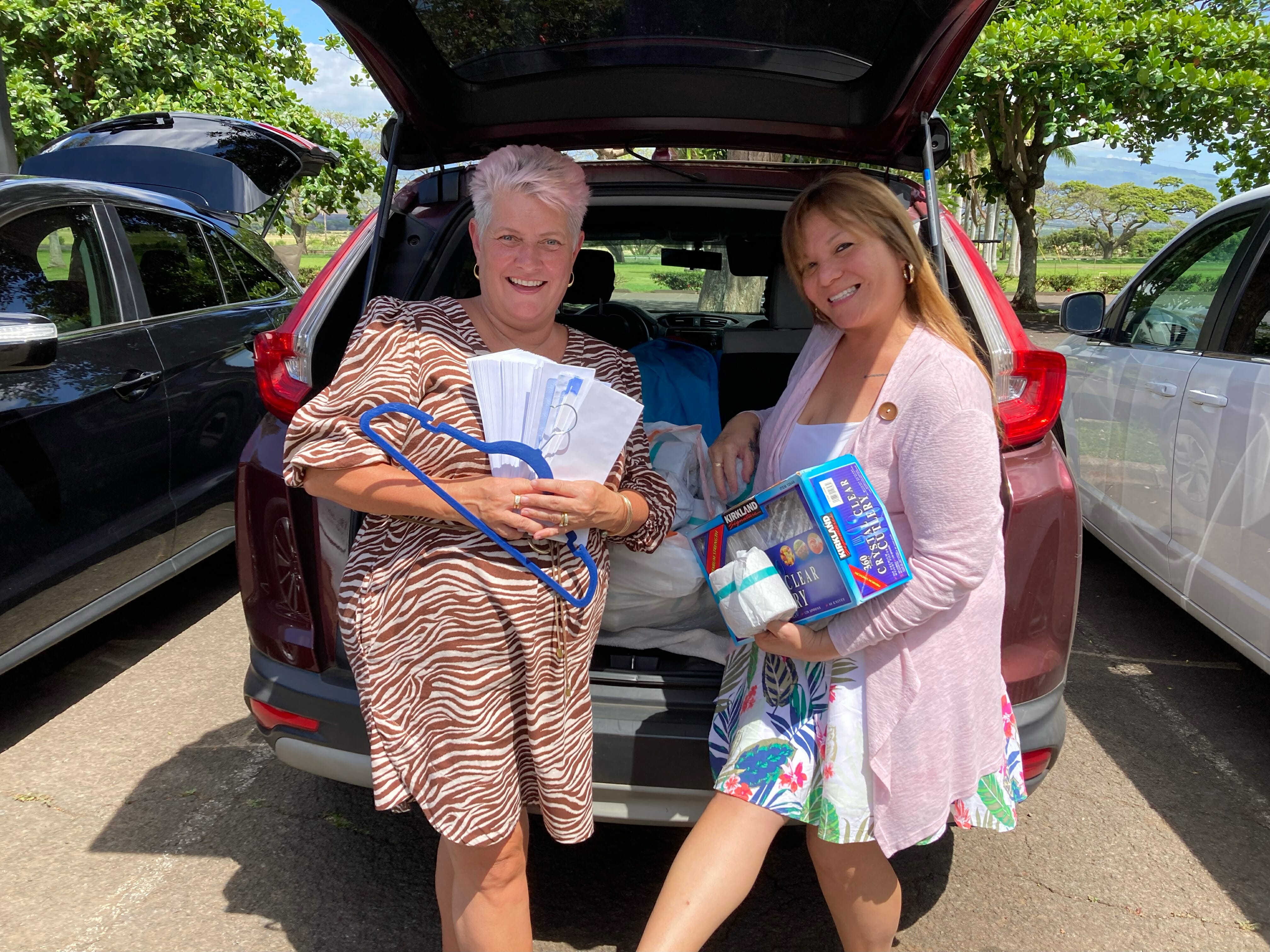 Realtors Association of Maui member Jill Kaiser (left) and Ka Hale A Ke Ola Children's Services Coordinator Misty Bannister pose with some of the donated items collected through the Wishing Well… for Maui Students, a program of the Realtors Association of Maui Community Foundation. 
Photo courtesy Sarah Sorenson
Some of the most-needed items include kids' clothing, socks, new or very gently used shoes (particularly athletic shoes), backpacks, all types of school supplies, board games, sidewalk chalk, playground equipment, and tablets or laptops to be used at the shelter for educational purposes. There is also a need for brand-new car seats, playpens, strollers, baby diapers and wipes, toilet paper, twin sheets (both fitted and flat), lightweight blankets, and brand-new pillows. 
Donations of gift cards are always welcome, as well as daily or monthly Maui Bus passes. Tutors are also needed for all grade levels and subjects, as well as sponsors who can cover the costs for children to attend a summer activity or camp. 
For a list of immediate needs and wished-for items, contact Sorenson at whales@maui.net or Kaiser at jill@hawaiilife.com. For more information about the Wishing Well… for Maui Students program, visit www.ILoveMauiSchools.com or call Sorenson at (808) 283-3969. 
Realtor means a member of the National Association of Realtors. Do you know a Realtors Association of Maui member who should be recognized for their contributions to the community? If so, send your story idea to Sarah Ruppenthal at missruppenthal@gmail.com.