Author and poet Richelle E. Goodrich once wrote: "There is strength in numbers, yes, but even more so in collective goodwill."
Case in point: The Realtors of Aloha Group Maui, a part of Keller Williams Island Living. 
Those Aloha Group Maui Realtors include Kathy Becklin, Anthony Freda, Cheri Miller, Keri Nicholson, Suni Novotny, Magdalena O'Donnell, Myra Plant, Barbara Potts, Lee Potts, Courtney Stice, Sarah Twitchell, and Heather Zidell.
Collectively and individually, the Aloha Group Maui team gives back to the community in myriad ways. They support many worthy causes and nonprofits, including the Maui Food Bank, Salvation Army, Habitat for Humanity Maui, 100 Women Who Care Maui, Women Helping Women, Ka Hale A Ke Ola Homeless Resource Centers, Lahaina Complex Education Foundation, People for Educational Equality, and the Realtors Association of Maui Community Foundation's Presidential Scholarship Fund and Wishing Well… for Maui Students program, among others. 
Aloha Group Maui also participates in the annual Aloha BackPack Buddies Bocce Ball Fundraising Tournament benefitting the Maui Food Bank's Aloha BackPack Buddies program, which provides healthy weekend meals to students from food-insecure homes throughout Maui County. Nicholson, Becklin, O'Donnell and Lee Potts competed in the 2023 tournament last month, and Nicholson has represented the Aloha Maui Group team for three consecutive years with an annual $1,000 donation. 
Becklin is a co-founder of Grow Some Good, a nonprofit that creates hands-on, outdoor learning experiences for local students. Like Becklin, Barb Potts founded a nonprofit, People for Educational Equality (PFEE), in 2009. The purpose of PFEE is to provide services, products and assistance, financial and otherwise, to below-par schools and students that need improvement as evidenced by underfunding, poor test scores, and subpar graduation rates. 
Additionally, Potts serves on the Lahaina Complex Education Foundation board of directors. The foundation's mission is to provide financial support to Lahaina Complex schools so all students, particularly underrepresented students, can reach their potential. Potts is also a member of 100 Women Who Care Maui, group of 100-plus women who donate $100 apiece to collectively raise $10,000 (or more) for a worthy cause—all in the space of a single hour.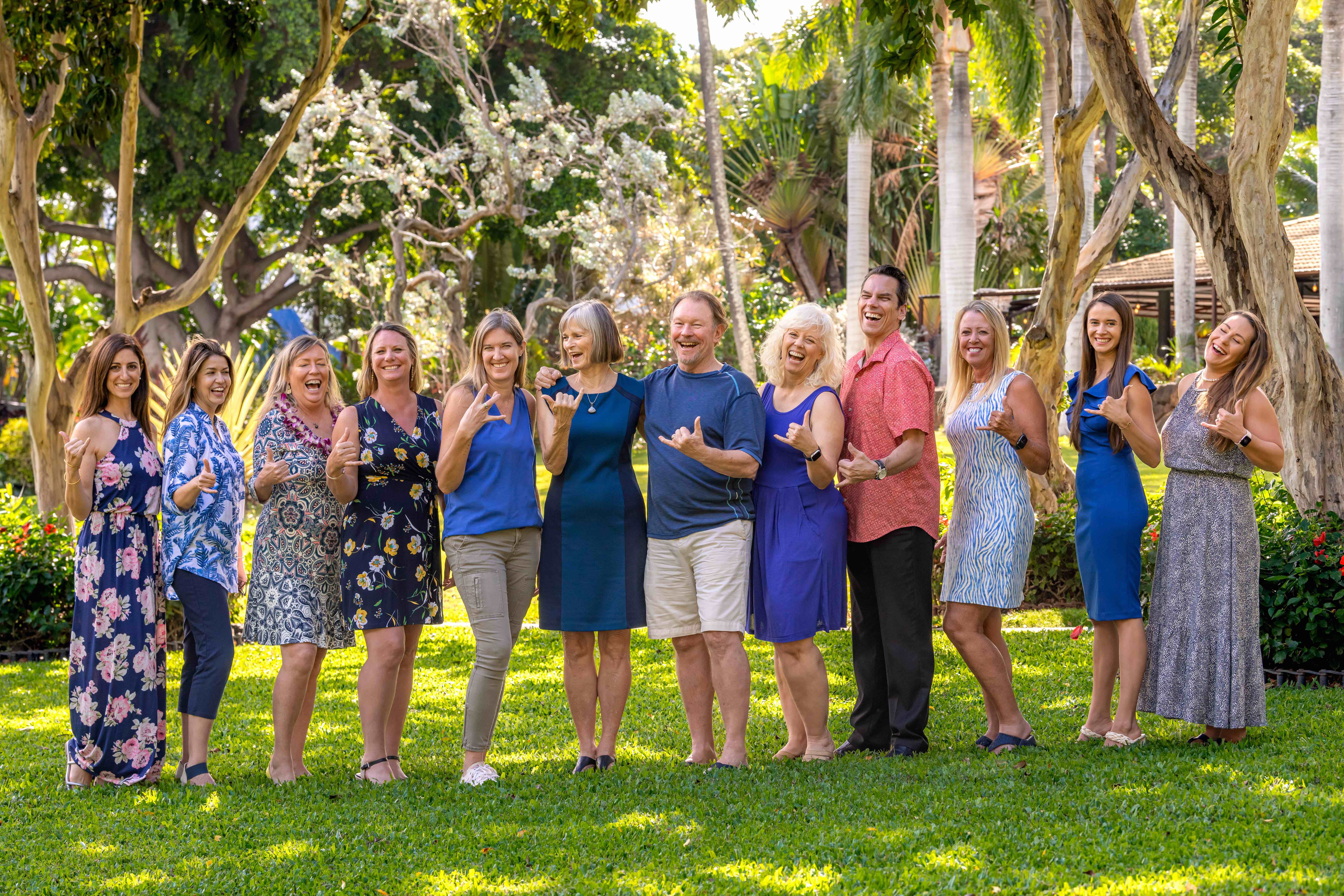 Aloha Group Maui team members (from left) Heather Zidell, Suni Novotny, Myra Plant, Keri Nicholson, Stephanie Kirkham, Barbara Potts, Lee Potts, Kathy Becklin, Anthony Freda, Cheri Miller, Magdalena O'Donnell, and Courtney Stice are doing their part to make Maui a better place.  
Photo courtesy Aloha Group Maui
And on top of all that: With every closing, Aloha Group Maui donates to KW Cares, a program that assists Keller Williams associates facing hardship due to an unexpected tragedy, such as a house fire or a natural disaster.  
"We are all grateful and feel fortunate to live, work, play and experience the aloha of our Maui community," Potts said. "Our team calls it 'Community Aloha.' We encourage our team members to give back in both time and money, and they embrace that on their own. Many Realtors in the Maui community give generously to a variety of organizations and causes. That community aloha spirit is contagious. We recognize that and we encourage new Realtors, along with other professionals in the real estate community like lenders, escrow companies, inspectors and many others to give back as well." 
Do you know a Realtors Association of Maui member who should be recognized for their contributions to the community? If so, send your story idea to Sarah Ruppenthal at missruppenthal@gmail.com.