Mike Trotto of Pali Kai Realtors lives by one acronym: STO. 
"STO stands for Service To Others," he explained. "I will do whatever I can do to help."
Among other things, Trotto is a founding member of Na Hale O Maui, a first-of-its-kind community land trust that helps create affordable housing for Maui County residents while keeping housing affordable in perpetuity. Trotto joined the nonprofit's board of directors in 2011 and is currently serving his fourth two-year term; he has also served as the board's president. 
With the motto "changing lives, one home at a time," Na Hale O Maui puts affordable homeownership within reach of residents by securing and preserving a permanent supply of affordable housing alternatives for low- and moderate-income households. The grassroots membership-based organization is Hawaii's first community land trust and has made the dream of homeownership come true for more than 50 families since its inception in 2006. 
Like other community land trusts, Na Hale O Maui separates the value of a house from the value of the land underneath and around it. It then sells only the house and retains ownership of the land in trust forever. The homeowner has exclusive use of the land, known as sustainable leasehold property, which can be inherited by family members. The cost of the land is reduced or eliminated, which makes the house more affordable, while also ensuring long-term stability and security for the homeowner. And the key words here are "affordable," "permanent" and "forever." When you buy a community land trust home, it will remain permanently affordable—forever. 
"Na Hale O Maui is providing affordable homes in perpetuity to the residents of Maui," Trotto explained. "The 'in perpetuity' is what sets us apart from other affordable housing initiatives."
Prospective homeowners must meet eligibility requirements and complete Na Hale O Maui's four-step program to be added to the list of qualified homebuyers. The nonprofit hosts free homebuyer seminars that cover the four steps to owning a community land trust home, the fundamentals of community land trust homeownership, and the basics of securing the right mortgage. The best part of being involved with Na Hale O Maui, Trotto said, "Is turning over the keys to a new homeowner… it's one of my greatest joys."  
Trotto is also a volunteer substitute driver for Hale Kau Kau ("House of Meals"), a nonprofit organization that works to alleviate hunger by providing nutritious meals to South Maui's hungry and homebound. Founded in 1991 and headquartered at St. Theresa Church in Kihei, Hale Kau Kau serves free dinners unconditionally to anyone who comes to the kitchen at mealtime. The nonprofit also delivers free, hot and nutritious meals to elderly, ill and disabled homebound residents year-round. Since its inception 32 years ago, the nonprofit has served and delivered more than 1.5 million meals to individuals and families in need throughout South Maui.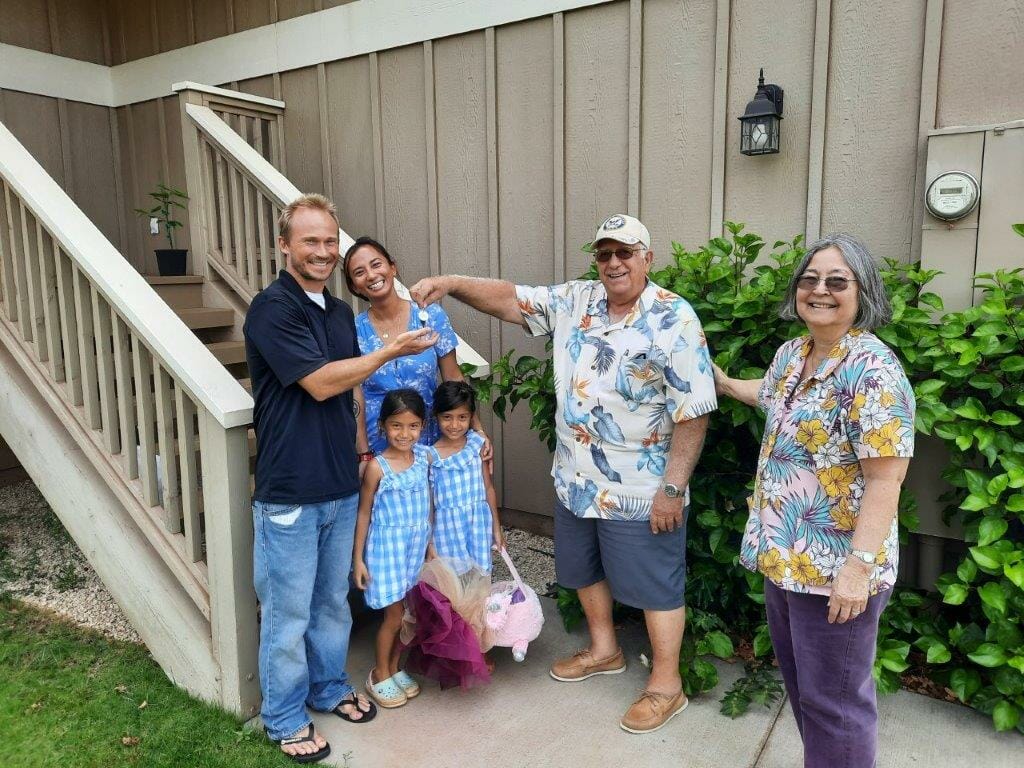 From right: Realtors Association of Maui (RAM) member and Na Hale O Maui Executive Director Cassandra Abdul, RAM member and Na Hale O Maui board member Mike Trotto are all smiles as they hand over the keys to the Luckey family—Tad, Aubrey and twins Aurora and Avery—who became new homeowners through Na Hale O Maui last spring. 
Photo courtesy Cassandra Abdul 
As a substitute driver, Trotto fills in whenever he is needed. He is one of several Realtors Association of Maui (RAM) members who volunteer to deliver meals for the program. His fellow volunteers include Kathy Worley of Pali Kai Realtors, Randy Antonio of Keller Williams Realty Maui, Wesley Barut of Maui Tropical Realty, and 2022-23 RAM President Karin Carlson of Hawaii Life Real Estate Brokers. 
Trotto encourages others to support Hale Kau Kai in any way they can, either as a volunteer or donor. The same goes for Na Hale O Maui, which will host a golf tournament fundraiser on July 23 in Makena. Details are forthcoming and interested players, sponsors, or volunteers can contact Na Hale O Maui for more information. 
To learn more about Na Hale O Maui or to inquire about membership or donor opportunities, visit www.nahaleomaui.org, email info@nahaleomaui.org or call (808) 244-6110. For more information about Hale Kau Kau or to inquire about donor or volunteer opportunities, visit www.halekaukau.org or call (808) 875-8754.