On a sunny afternoon in 1989, a tradition began in an old Catholic church on the edge of a cane field in Pu'unene. That day, a group of local Realtors crowded into the church's kitchen and cooked a hot meal for the men, women and children staying in the building, which had been converted into a shelter by Ka Hale A Ke Ola (KHAKO) Homeless Resource Centers three years earlier. After dinner, the Realtors cleaned up and headed home. They did it again the following month—and every month after that. 
More than three decades later, the Realtor-coordinated dinners are still going strong. 
On the evening of Wednesday, March 22, a group of volunteers from Coldwell Banker Island Properties donned matching pink aprons and took over the kitchen at KHAKO's West Side facility. There, they prepped and served hamburgers, hot dogs, baked beans, chips, and chocolate chip cookies to nearly two dozen people; there were plenty of leftovers set aside for those who could not attend the dinner service. 
The team of volunteers included Juliette Le Heron, Cari Tilley, Elise Valceschini, and Chris and Peggy Lyn Speicher, whose company, Speicher Group, sponsored the meal. 
The most rewarding part of the evening, Peggy Lyn said, "Was seeing how truly grateful the recipients of the meals are. These are mostly working folks who are doing their best and just need a little help during this rough patch in their lives. Seeing Maui through a whole different lens that I never even knew existed was eye-opening for me. It made me think more about being much more grateful for all that we have and also made me think more about how we can continue to contribute to support our Maui community."
Valceschini echoed Speicher's sentiment. "The most rewarding thing for me was seeing how a small act of kindness can brighten someone's day," she said. 
That's why she encourages others to help KHAKO in any way they can. "I highly recommend volunteering or sponsoring a dinner at KHAKO," she said. "This simple gesture can be very helpful to those in need. It opened my eyes to another side of our community here on Maui and how small acts of kindness can have a big impact on others."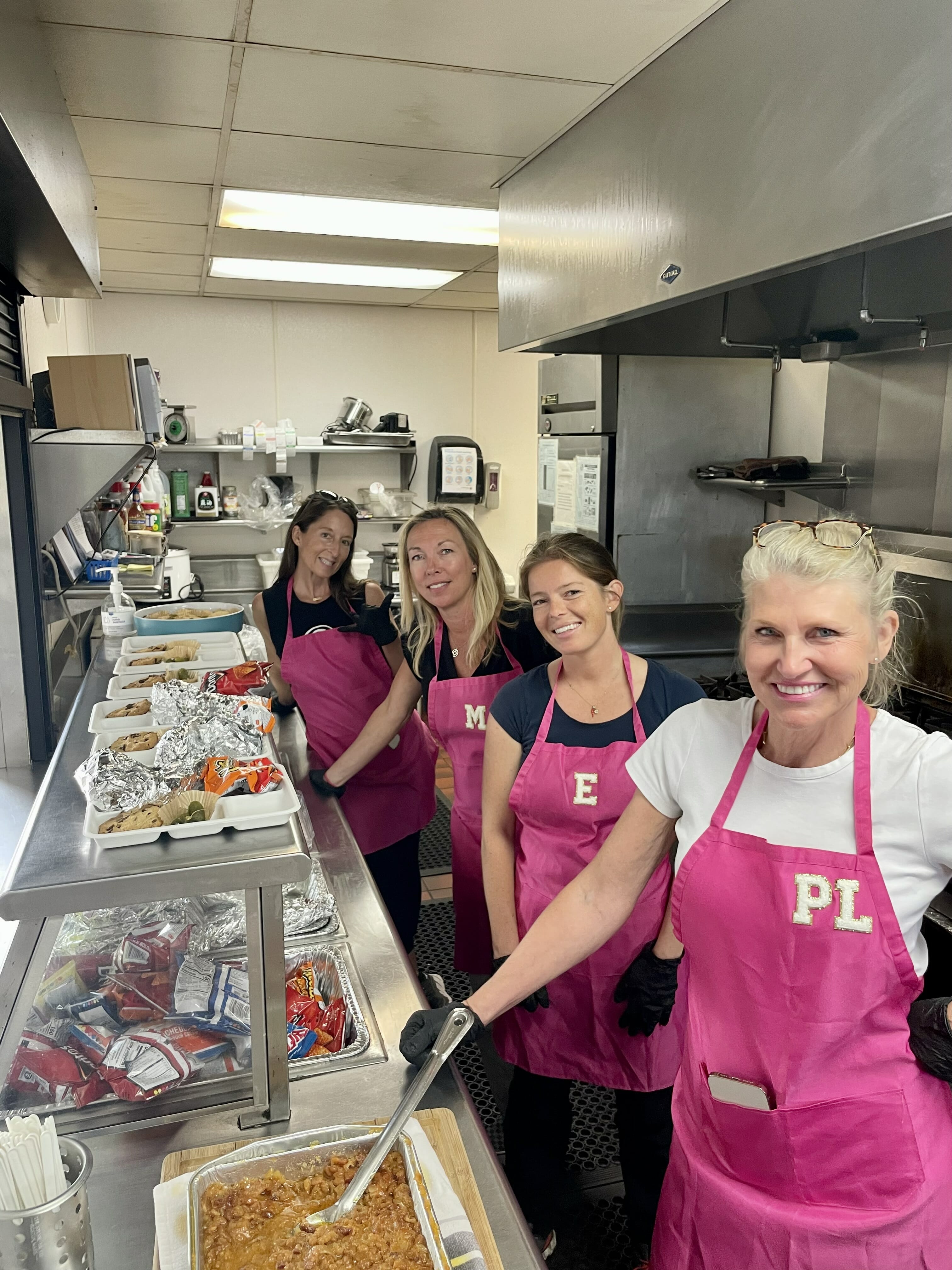 Realtors Association of Maui members (from left) Juliette Le Heron, Cari Tilley, Elise Valcheschini, and Peggy Lyn Speicher are all smiles as they prepare dinner for residents staying at the Ka Hale A Ke Ola Homeless Resource Centers West Side facility on March 22.  
Photo courtesy Chris Speicher
Beyond sponsoring and serving meals, Realtors Association of Maui (RAM) members have stepped up to support KHAKO in other ways. During the holidays, they coordinate festive parties, deliver gifts to children, and arrange surprise visits from Santa Claus. In 2019, they raised nearly $30,000 to help the nonprofit purchase and install a brand-new playground at its Wailuku facility. And through the RAM Community Foundation's Wishing Well…for Maui Students program, RAM members routinely donate, collect and deliver school supplies and other items to students staying at KHAKO's two locations.    
KHAKO is a comprehensive resource center that prepares families and individuals for permanent housing while providing emergency shelter, counseling services, addiction recovery management and adult education and training, as well as a primary care medical clinic and childcare facilities. The nonprofit provides thousands of meals to men, women and children every year and volunteers are always needed to lend a hand at its two facilities. For more information about KHAKO or to inquire about volunteer or donor opportunities, visit www.khako.org or call (808) 242-7600.
Do you know a Realtors Association of Maui member who should be recognized for their contributions to the community? If so, send your story idea to Sarah Ruppenthal at missruppenthal@gmail.com.