For the past 12 years, green-clad bocce ball players have taken the field on a designated morning in March for the annual St. Patrick's Day-themed Aloha BackPack Buddies Bocce Ball Fundraising Tournament. 
The ultra-festive event raises money for the Maui Food Bank's Aloha BackPack Buddies program, which provides healthy weekend meals to students from food-insecure homes throughout Maui County. Under the direction of tournament coordinator and Realtors Association of Maui (RAM) affiliate member Patrick Kilbride, the annual event raised more than $156,000 for the program in its first decade; Kilbride said the goal is to raise $700,000 in the second decade. 
This year, there were two tournaments in Wailea: One was held on Saturday, March 4 at Manoli's Pizza Company; the other took place on Saturday, March 11, at Mulligans on the Blue. The winning team on March 4 was the MFD Flame Throwers, whose members included retired Maui Fire Department Captain Kono Davis of Island Sotheby's International Realty and Lahaina firefighters Aaron Kahaloa, Manu Kaina, and Keali'i Murray. All were first-time players, said Davis, who captained the team. "I've played sports with these fine gentlemen and knew they would bring their A game to a tournament like this," he explained.  
The winning team on March 11 was Great Balls of Fire, whose members included Brad Lambert, Alex Abreu, Jeff Simon and Tim Stice, all of Hawaii Life Real Estate Brokers. Like Davis, it was Lambert's first tournament; he also served as team captain. "I was invited to play by our team sponsor, David Richardson, a former three-time champion of the tournament from 2015 to 2017," he explained. 
On Friday, March 17, the two teams faced off in the first-ever Wailea-wide championship game at Mulligans on the Blue. It was a nail-biting final showdown, with the MFD Flame Throwers ultimately crowned the winning team. "It went back and forth, until we were able to squeeze out the victory at the end," Davis said. "So many great players came out; it could've been anyone's game. But to win was amazing. The highlight of the day for us was knowing it was for such a great cause and I was so happy to be a participant."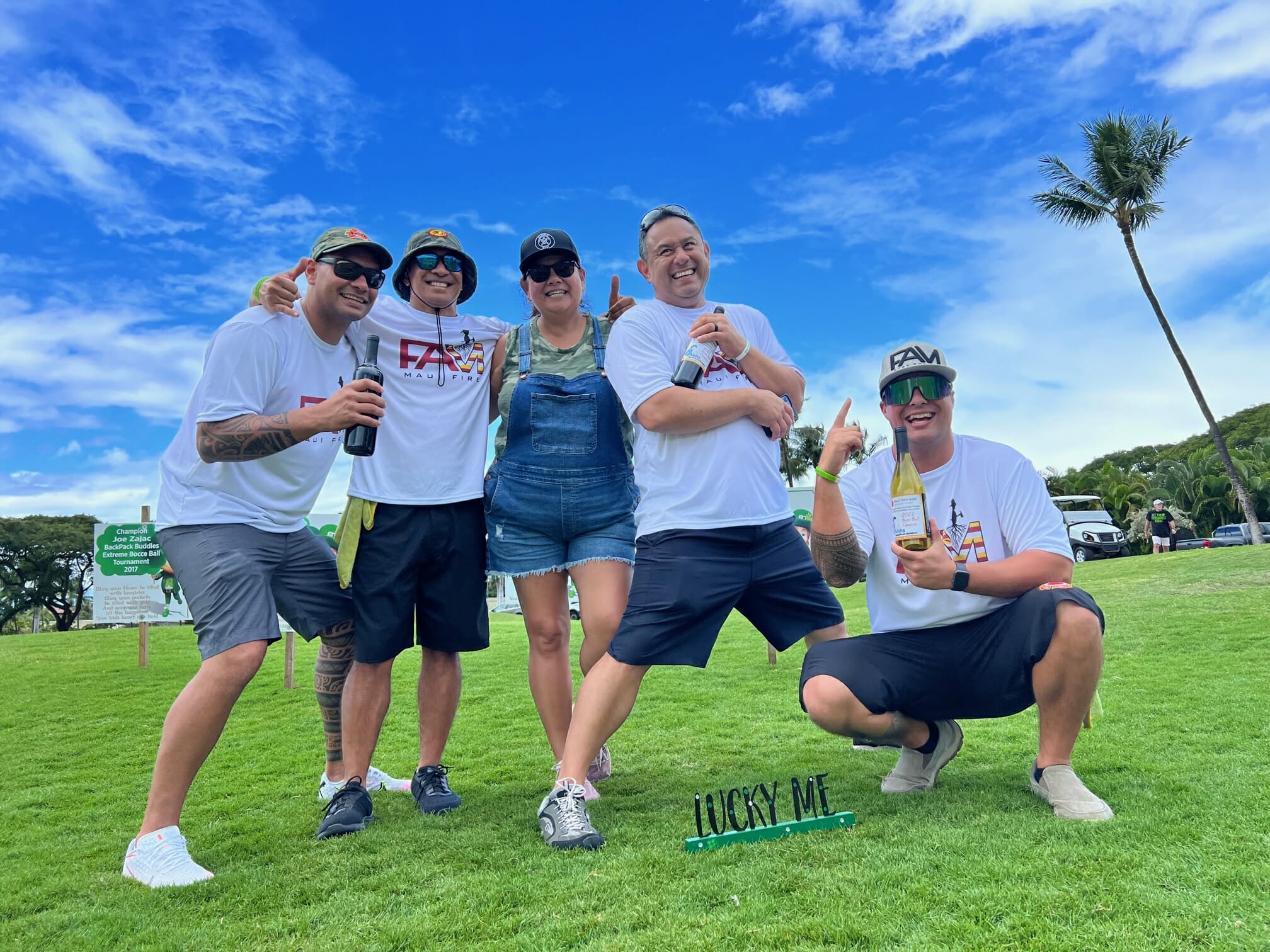 MFD Flame Throwers team members (from left) Aaron Kahaloa, Manu Kaina, team sponsor Georgie Tamayose, Kono Davis and Keali'i Murray celebrate their victory at the Aloha BackPack Buddies Bocce Ball Fundraising Tournament on March 4; it was the first of two tournaments held in Wailea this year. The team went on to win the Wailea-wide championship game on March 17. 
Photo courtesy Patrick Kilbride 
Lambert wholeheartedly agrees. "It was really incredible to have a relaxed day of fun and bocce with our colleagues knowing that we were contributing to the children of Maui," he said. "I hope to see the tournament continue to expand over the coming years with more teams and sponsors joining the excitement and serving our kids."
It's a sentiment shared by Georgie Tamayose of Island Sotheby's International Realty, who sponsored the MFD Flame Throwers. "Island Sotheby's Realty has been a financial sponsor for this event every year; however, this is the first year that I personally sponsored a team," she said. "My brother and real estate partner, Kono Davis, pulled together a team of humble yet hungry-to-win firefighters. They won the championship game in Wailea, but what really got them was how this tournament provides. This fundraiser to feed hungry children on Maui is one of a kind. Patrick Kilbride's coordination, hard work and dedication to feed Maui's kids is unmatched. It makes the MFD Flame Throwers wanting to play in the 2024 tournament. "
To learn more about the Maui Food Bank's Aloha Backpack Buddies program, visit mauifoodbank.org/aloha-backpack-buddies. 
Do you know a Realtors Association of Maui member who should be recognized for their contributions to the community? If so, send your story idea to Sarah Ruppenthal at missruppenthal@gmail.