Imagine what would happen if each of us set aside a few hours on a Saturday morning to clean up a local beach. What could be accomplished in those few hours?  
A lot. 
Case in point: The Surfrider Foundation Maui Chapter's beach cleanup on Saturday, Feb. 25. That morning, a group of volunteers gathered near the Jack in the Box restaurant in Wailuku. There, they armed themselves with trash bags, donned protective gloves, and set out on a litter-finding mission along Kahului Beach Road. (The Surfrider Foundation Maui Chapter says the area is one of the most productive sites for cleanups because it is a funnel for ocean debris that is pushed onto the shoreline by the wind and waves.) By noon, the group had filled a large green dumpster with a discarded mattress, some old tires, and several bags of trash. (Island Ice and Water Company sponsored the Feb. 25 cleanup and covered the cost of the dumpster.)
Among the volunteers cleaning the beach that day was Chris Bannowsky of eXp Realty. He, along with his wife, Maggie, and their sons, Kyle and Brody, collected four bags of trash in nearly three hours. Bannowsky said it was a great way to spend a Saturday morning. "The growing amount of plastic that we see here inspires me to want help clean it up and provides an opportunity to teach my kids about volunteering, the environment, and giving back to the community," he said. 
And on top of that, he said, "It's always nice to see people working together to make a visible difference that everyone can appreciate."
It's not the first time the Bannowsky family has taken part in one of the nonprofit's beach cleanups. "This is our third time volunteering for the Surfrider Foundation," Bannowsky said. "And we always try to pick up at least a little bit of trash every time we go to the beach."
He encourages others to consider participating in a Surfrider Foundation Maui Chapter beach cleanup. "You don't have to stay all day; it's surprising how much you can collect in an hour or two," he said. "Bring a hat, sunscreen, and a water bottle. The organization provides gloves and bags."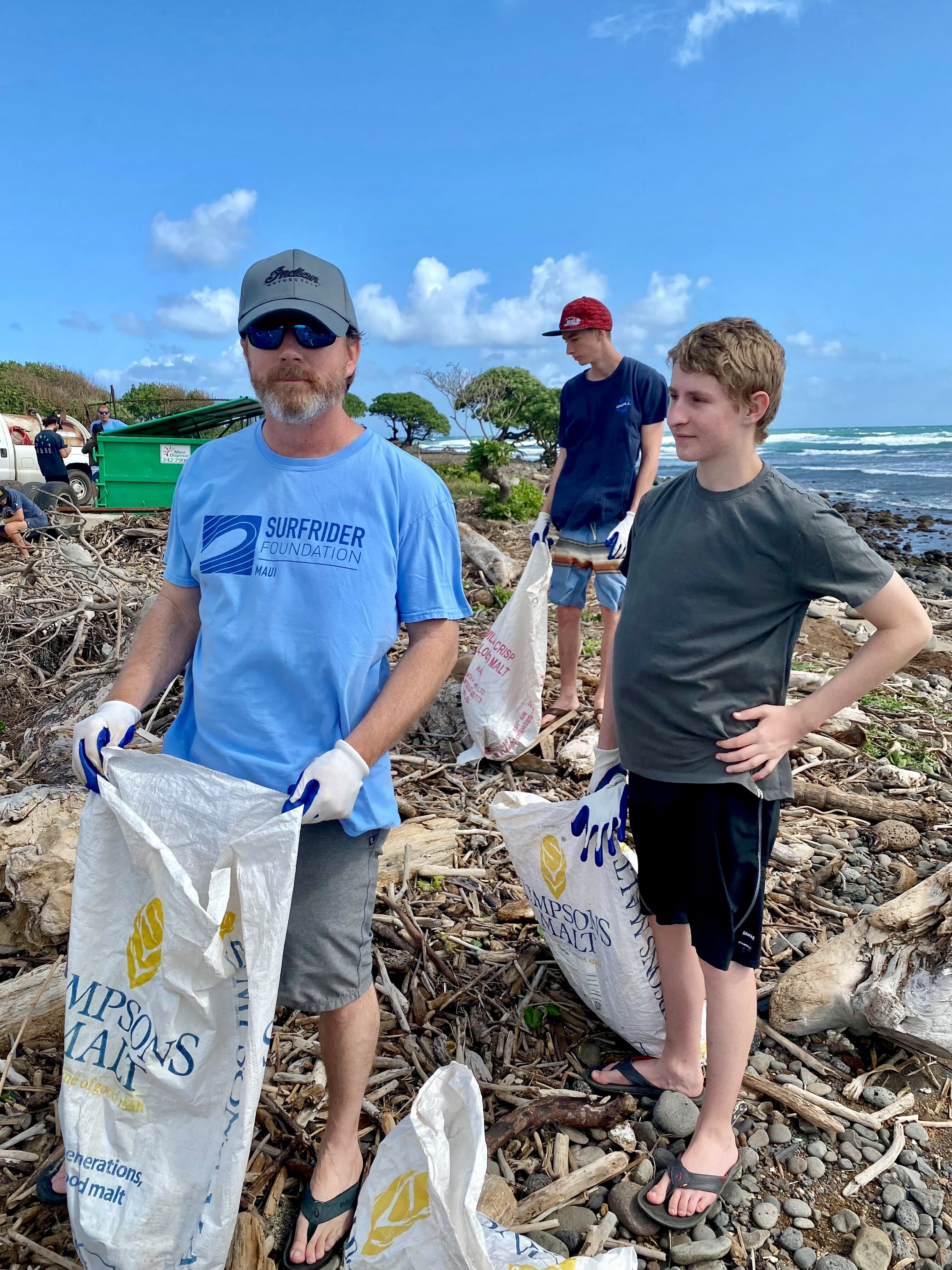 Realtors Association of Maui member Chris Bannowsky (left) holds a bag of trash he collected during a Surfrider Foundation Maui Chapter-coordinated beach cleanup along Kahului Beach Road late last month. He participated in the cleanup with his sons, Kyle (background), and Brody (right). 
Photo courtesy Chris Bannowsky 
Headquartered in San Clemente, California, the Surfrider Foundation is a nonprofit environmental organization that (among many other things) works to protect the ocean, preserve coastlines, and ensure beaches are accessible. It has volunteer-based chapters in coastal communities across the United States; in Hawai'i, there are chapters on O'ahu, Kaua'i, Hawai'i Island, and Maui. 
In addition to regular beach cleanups, the Surfrider Foundation Maui Chapter hosts events to commemorate International Surfing Day, which is observed every year on the third Saturday of June. On this unofficial holiday, the global surfing community pays tribute to the world's oceans, waves, and beaches through coastal cleanups, paddle-outs, and other surf-centric activities. The theme of International Surfing Day is "The Beach Belongs to Everyone" and more than 200 events are held annually worldwide. 
For more information about International Surfing Day, visit https://www.surfrider.org/isd. To learn more about the Surfrider Foundation Maui Chapter or to inquire about donor or volunteer opportunities, visit maui.surfrider.org or www.facebook.com/SurfriderFoundationMauiChapter. For more information about sponsoring a beach cleanup in 2023, email beachcleanups@maui.surfrider.org.
Do you know a Realtors Association of Maui member who should be recognized for their contributions to the community? If so, send your story idea to Sarah Ruppenthal at missruppenthal@gmail.com.