If one of your New Year's resolutions for 2023 is to make a difference in your community, here's an idea: Support the Maui Food Bank. 
Right now, as you read this, someone—it could be a friend, neighbor, classmate, or co-worker—is grappling with food insecurity in Maui County. The U.S. Department of Agriculture defines food insecurity as a lack of consistent access to enough food for an active and healthy life. It is a daily reality for many Maui Country residents. 
That's why the Realtors of Equity One Real Estate collect donations for the Maui Food Bank year-round at their Makawao office. The company began hosting holiday food drives several years ago, and in 2020, the Makawao office became the food bank's first designated Upcountry drop-off location. (Miyake Concrete, also located in Makawao, was the second.) 
In addition to collecting cash, checks, and nonperishable food items at their office, the Realtors have volunteered at the Maui Food Bank's Wailuku warehouse. Most recently, a group of seven Equity One Real Estate agents helped fill 800 bags with food on Feb. 14; they will return to fill another 800 bags at a later date. The volunteers included Susan Anton, Sharloma Cleveland, Amanda Kayatani, Gerrianne Sakamoto, Candace Shaw, Alysha Nichols-Sparkman, and Andrena White. 
The 1,600 bags will be distributed to local students through the Maui Food Bank's Aloha BackPack Buddies program, which provides healthy weekend meals to students from food-insecure homes throughout the year. 
"Valentine's Day is a day to show love, so we thought it couldn't have been a better day to show up and help pack those bags for the children of Maui County," Kayatani said. "Our agents will be back again to help with the next round."
Additionally, Equity One Real Estate is sponsoring a team to play in the upcoming Aloha BackPack Buddies Bocce Ball Fundraising Tournament, an annual event that raises money for the Maui Food Bank's Aloha Backpack Buddies program.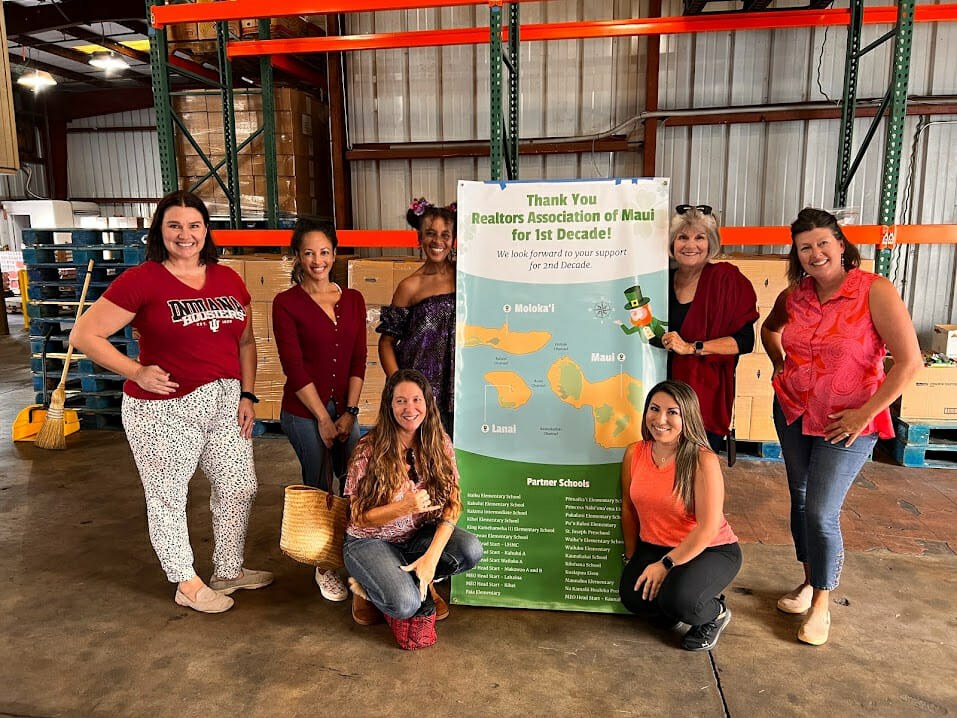 Realtors Association of Maui members (top, from left) Candace Shaw, Sharloma Cleveland, Susan Anton, Andrena White, Amanda Kayatani, Gerrianne Sakamoto, Alysha K Nichols-Sparkman filled 800 bags with food at the Maui Food Bank's Wailuku warehouse on Valentine's Day. 
Photo courtesy Amanda Kayatani
Now in its 12th year, the St. Patrick's Day-themed tournament draws dozens of Realtors Association of Maui (RAM) members, who participate as players, donors, sponsors, and volunteers. In its first decade, the event netted more than $156,000 for the Aloha BackPack Buddies program. Last year's tournament raised more than $50,000 and organizers say they hope to raise between $75,000 and $85,000 per year for the remainder of the second decade. 
Both on and off the bocce field, the Realtors of Equity One Real Estate will continue to do their part to help fill the food bank's shelves. "Equity One supports Maui Food Bank's commitment that no one in Maui County will go hungry and their mission of compassion, integrity and aloha," Kayatani said. "Our Makawao office is a drop-off location for nonperishable items. It warms our hearts to see all of the friendly faces that come by to drop off items."
You can drop off donations from 8 a.m. to 4 p.m. Monday through Friday at the Equity One Real Estate office located at 3681 Baldwin Ave. in Makawao. To learn more about the Maui Food Bank, to inquire about volunteer or donor opportunities, or for a list of food drop-off and distribution locations island-wide, visit www.mauifoodbank.org or call (808) 243-9500. For more information about the Aloha Backpack Buddies program, visit mauifoodbank.org/aloha-backpack-buddies. 
Do you know a Realtors Association of Maui member who should be recognized for their contributions to the community? If so, send your story idea to Sarah Ruppenthal at missruppenthal@gmail.com.