As the saying goes, there is strength in numbers. That's the idea behind 100 Women Who Care Maui, group of 100-plus women who donate $100 apiece to collectively raise $10,000 (or more) for a worthy cause—all in the space of a single hour. 
Here's how it works: Four times a year, the group meets for an hour at a different venue on Maui. Members can fill out a nomination form for a local nonprofit, charity or cause and place it a bowl. Three names are then drawn by random and the three nominators—or representatives from the nonprofit or charity they nominated—will each make a short presentation. After that, all of the members in attendance will vote via secret ballot for one of the three nominees. The top vote-getter will receive the collective donation, which varies depending on the number of members. (The current membership stands at 222.) Since 2014, the group has raised more than $363,000 for worthy causes, with every dollar remaining in Maui County. 
On Dec. 7, 2022, Mechelle Lindsey of eXp Realty attended her first-ever 100 Women Who Care Maui meeting at Gannon's in Wailea. She arrived that evening with a nomination form in hand; she dropped it in the glass bowl, found a seat, and waited. There were 12 nominations in the bowl, and Lindsey said she never imagined hers would be picked on her first try. 
But it was. 
Lindsey's nominated nonprofit, the Maui Historical Society, was selected to receive the $19,600 donation. (That amount may increase, as members who missed the December meeting may make an additional donation when the group meets again in March.) The Maui Historical Society operates Hale Ho'ike'ike ("House of Display") at the Bailey House, a mission home-turned-museum in Wailuku that was built on what was once the royal compound of Kahekili, Maui's last ruling chief. It is the former residence of missionary teachers Edward and Caroline Bailey and one of the first Western-style buildings in Hawai'i. The Maui Historical Society opened Hale Ho'ike'ike as a museum in 1957 and it is now home to Maui's largest collection of pre-contact Hawaiian artifacts, as well as 19th century missionary artifacts, furniture and artwork. Behind the scenes, the Maui Historical Society operates an archival resource center at the museum that includes historic photographs, maps, manuscripts, documents, biographies, genealogy records, and thousands of rare objects. Apart from being a repository for cultural and historical treasures, the museum is also a gathering place where residents and visitors can take part in hands-on workshops, presentations, concerts, and other community events.
For the past six years, Lindsey has volunteered for the Maui Historical Society as a museum docent. Among other things, she leads guided tours, runs the gift shop, and helps with special events. "I love learning about the history of Maui and sharing it with others," she said.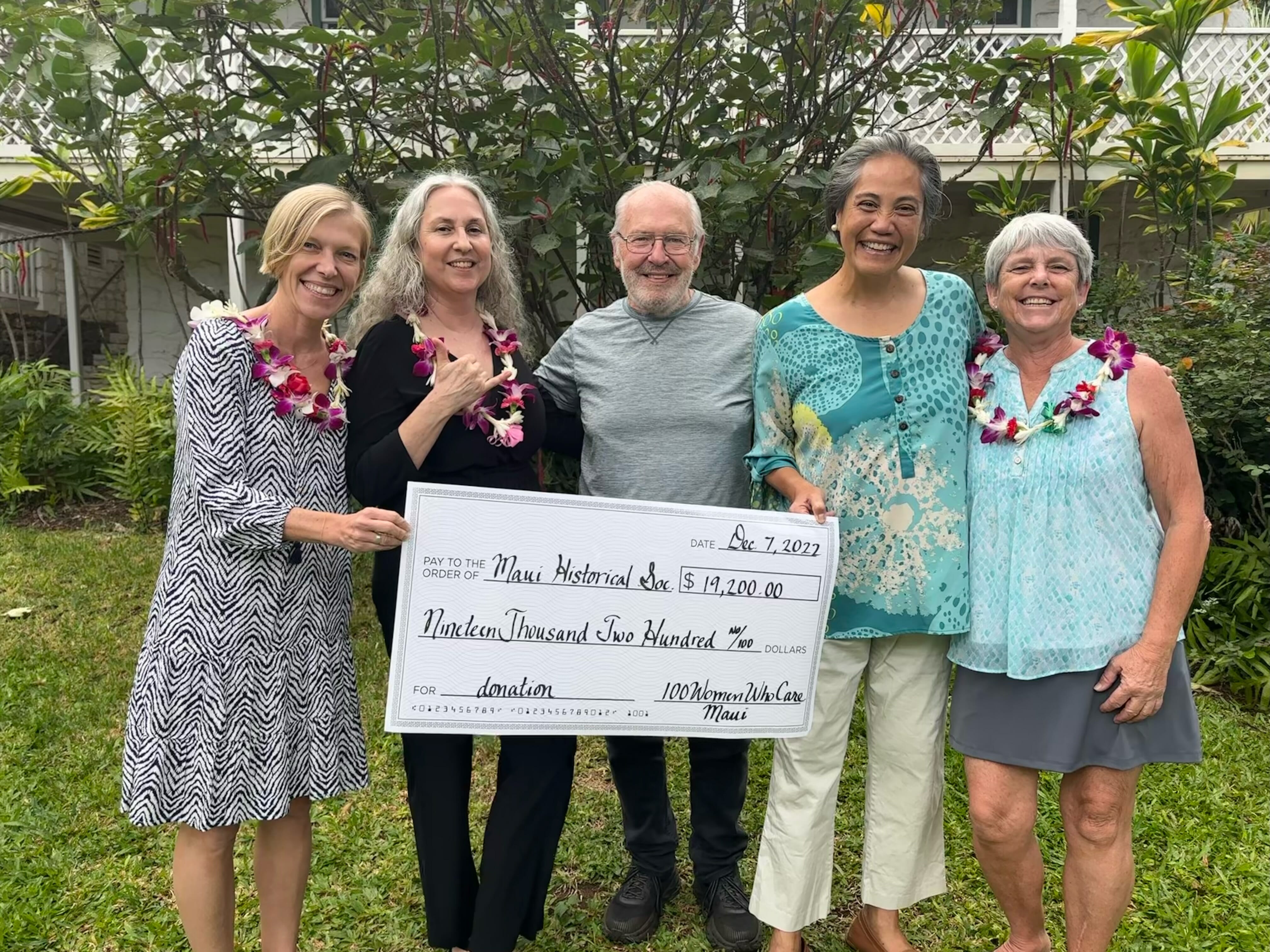 From left: 100 Women Who Care Maui Co-organizer Debbie Benton, Realtors Association of Maui member Mechelle Lindsey, Maui Historical Society Volunteer Coordinator Kimo Guequierre, Maui Historical Society Executive Director Sissy Lake-Farm, and 100 Women Who Care Maui Co-organizer Linda Lafragiola pose with the 100 Women Who Care Maui donation to the Maui Historical Society.  
Photo courtesy Mechelle Lindsey
The 100 Women Who Care Maui donation will help the Maui Historical Society continue to preserve Maui's past and Lindsey says she's grateful to have played a part in making that happen. She encourages others to consider supporting the museum, either as a donor or volunteer. "It is a living, breathing part of the community," she said. 
The next 100 Women Who Care Maui meeting is scheduled for March 7 at the Maui Country Club in Paia. For more information, visit www.100WomenWhoCareMaui.org.
Are you a history buff, genealogical sleuth, or do you have a knack for sharing information with others? Volunteers are always needed at Hale Ho'ike'ike. To learn more about volunteer or donor opportunities, email info@MauiMuseum.org or visit www.MauiMuseum.org.