The school year is well underway and the back-to-school shopping season is long over, but students will continue to need basic supplies like pencils, paper and notebooks in the months to come. The reality is, many parents can't afford these items and students often go without. Their teachers routinely step in to help: According to a recent U.S. Department of Education survey, 94 percent of teachers reported spending their own money on classroom supplies without reimbursement. 
That's why Realtors Association of Maui (RAM) affiliate company Finance Factors held a two-month-long school supply drive for the RAM Community Foundation's Wishing Well… for Maui Students program. 
From Nov. 1 to Dec. 31, the mortgage lending company collected school supplies and other items at its office in Kahului; many of the items were mailed to Maui from Finance Factors offices across the state. "Donations were made by co-workers, clients, Realtors, friends and family," said Finance Factors Regional Branch Manager Michele Crozier, who coordinated the school supply drive with Finance Factors Loan Officer Paula Kobayashi. 
The donations included 548 pairs of rubber slippers, 103 backpacks, 600 No. 2 pencils, 576 dry erase markers, stacks of workbooks and composition notebooks, and feminine products. Crozier attributes the success of the school supply drive to those who supported it, including Kobayashi, Shanell Miyamoto, Corinne Tanna and the Finance Factors marketing team, and the company's affiliates. 
"It felt so humbling that Finance Factors offices throughout Hawaii responded to Paula and Michele's request for assistance," said RAM member and Wishing Well founder Sarah Sorenson. "The supplies they collected will fill in the gaps of items we often run out of and will help us get through the second half of the school year. We've never had offices on the other islands support the Wishing Well program. It was heartwarming, to say the least." 
Wishing Well… for Maui Students is a program of the Realtors Association of Maui Community Foundation (RAMCF), a 501(c)3 nonprofit organization. Since 2007, the Wishing Well program has donated countless goods, supplies and services to public schools countywide. Run by volunteer RAM members and fueled by the generosity of the community, the program covers every public school on Maui, Molokai and Lanai, along with Ka Hale A Ke Ola Homeless Resource Centers, a nonprofit that shelters students in different grade levels at its Wailuku and Lahaina facilities. 
It was the company's first school supply drive for the Wishing Well program, but Crozier says it very likely won't be the last. "Yes, it was our very first drive and we were so grateful for the support," she said. "Our company always encourages and supports our community involvement.  So, I do see more drives in the future."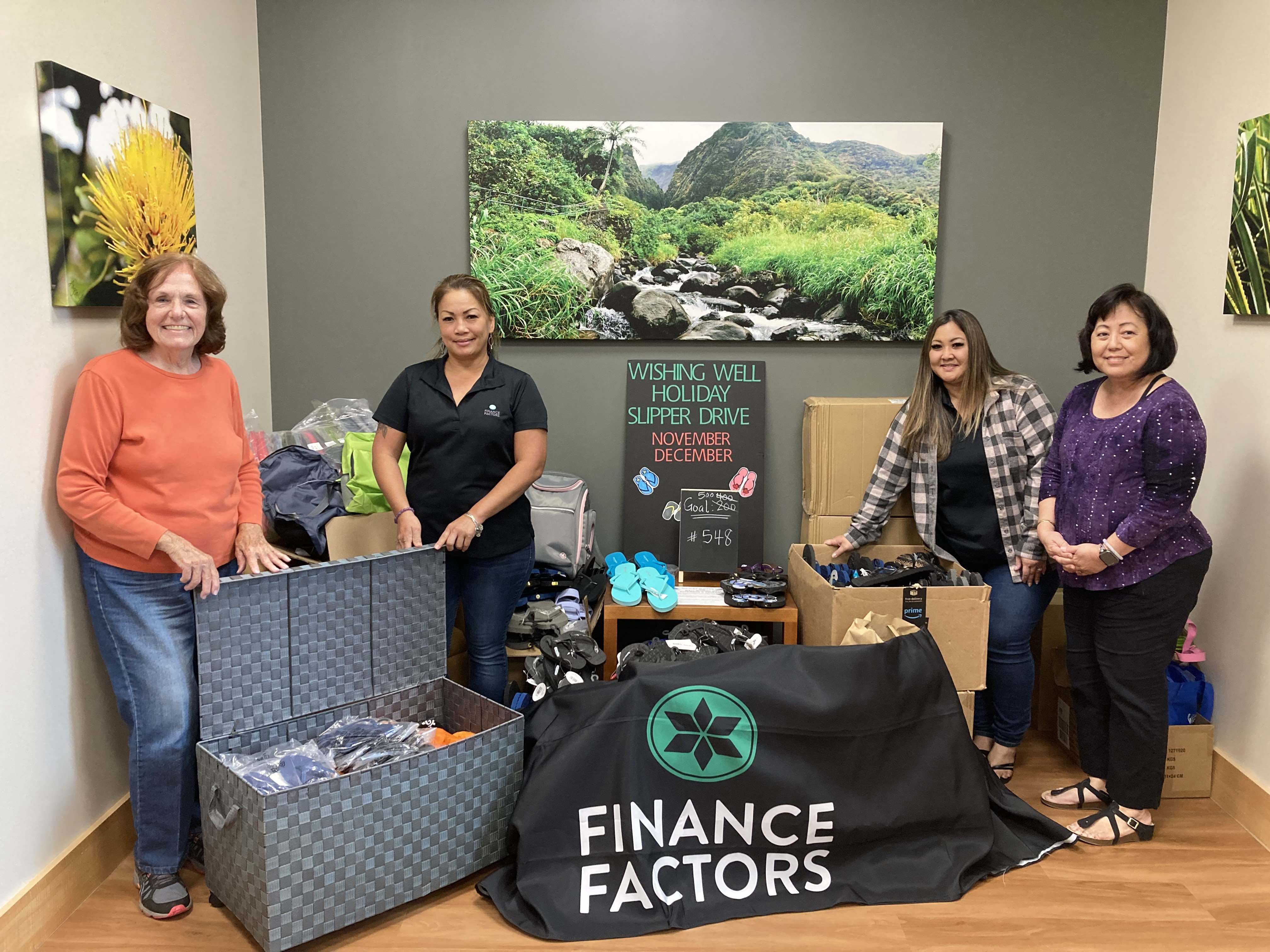 Realtors Association of Maui (RAM) members Sarah Sorenson, Michele Crozier, Shanell Miyamoto and Paula Kobayashi pose with some of the donated school supplies collected by Finance Factors last month for the Wishing Well…for Maui Students, a program of the Realtors Association of Maui Community Foundation. 
Photo courtesy Sarah Sorenson 
Each school has a volunteer coordinator who collects and distributes donated classroom supplies—pencils, paper, notebooks, staplers and everything in between—throughout the year. Crozier and Kobayashi are two of those volunteers: Crozier is the Wishing Well coordinator for Makawao Elementary School; Kobayashi is the coordinator for Wailuku Elementary School. 
Both encourage others to contribute to the Wishing Well program in any way they can. Like Finance Factors, local businesses can host a school supply drive of their own. "Please host a drive," Crozier said. "Our public schools, teachers and the keiki will greatly benefit… through donations, we're able to improve educational opportunities for the keiki of Maui county's public schools."
You can help the Wishing Well program continue to make a difference by making a cash donation or purchasing requested items. (Or both.) Wished-for items include primary composition books, No. 2 and colored pencils, ballpoint pens, dry erase and Crayola-style markers, and new or gently used office chairs. Items like file cabinets, bookcases, storage units, desks and chairs are frequently requested, so if you own a business and need to offload any gently used office supplies or furniture, contact the Wishing Well program for a pickup service. For more information or to make a donation, visit www.ILoveMauiSchools.com or call Sarah Sorenson at 283-3969. 
Do you know a Realtors Association of Maui member who should be recognized for their contributions to the community? If so, send your story idea to Sarah Ruppenthal at missruppenthal@gmail.com.