For the 12th year in a row, green-clad bocce ball players will take the field in Wailea for the annual St. Patrick's Day-themed Aloha BackPack Buddies Bocce Ball Fundraising Tournament in March. 
The tournament benefits the Maui Food Bank's Aloha BackPack Buddies program, which provides healthy weekend meals to students from food-insecure homes throughout the academic year. Since it began in 2012, the program has received support from a long list of Realtors Association of Maui (RAM) members, both on and off the bocce ball field. 
And this year, there's not one, but two opportunities to play for a good cause. There will be two tournaments in Wailea: One will take place on Saturday, March 4 at Manoli's Pizza Company, the other on Saturday, March 11 at Mulligans on the Blue. The winning team from each tournament will face off in a 20-minute bocce ball match on March 17 at Mulligans on the Blue; the winner of that match will be crowned the first Wailea-wide championship team.

Under the direction of tournament committee chair and RAM affiliate member Patrick Kilbride, the wildly popular, ultra-festive event typically draws 20 cleverly named teams. In its first decade, the annual tournament netted more than $156,000 for the Aloha BackPack Buddies program. Last year's tournament raised more than $50,000 and Kilbride says the goal is to raise and donate between $75,000 and $85,000 per year for the remainder of the second decade.
This year's dual tournaments will feature 20 teams who are ready to engage in some fun and friendly competition. A number of RAM members will be in attendance, either as players, donors, sponsors or volunteers. 
Among them is Todd Hudson of Keller Williams Realty Maui, who has participated in the tournament since its inception and has been a team captain for the past eight years (and counting). "It's all about the kids," he explained. "It's such an amazing cause that I've been lucky to donate to for many years even prior to the bocce ball tournament."
Hudson says the best part of the event is the group of people who participate in it. "After COVID, I really forgot how much fun it was to be in a large crowd setting with friends who have been in our community for so many years," he said. "Last year was the most special of all of them because I felt like I took for granted being able to hang out in a great environment with great people for a cause that does so much for our community. So, yes, it's the people for sure."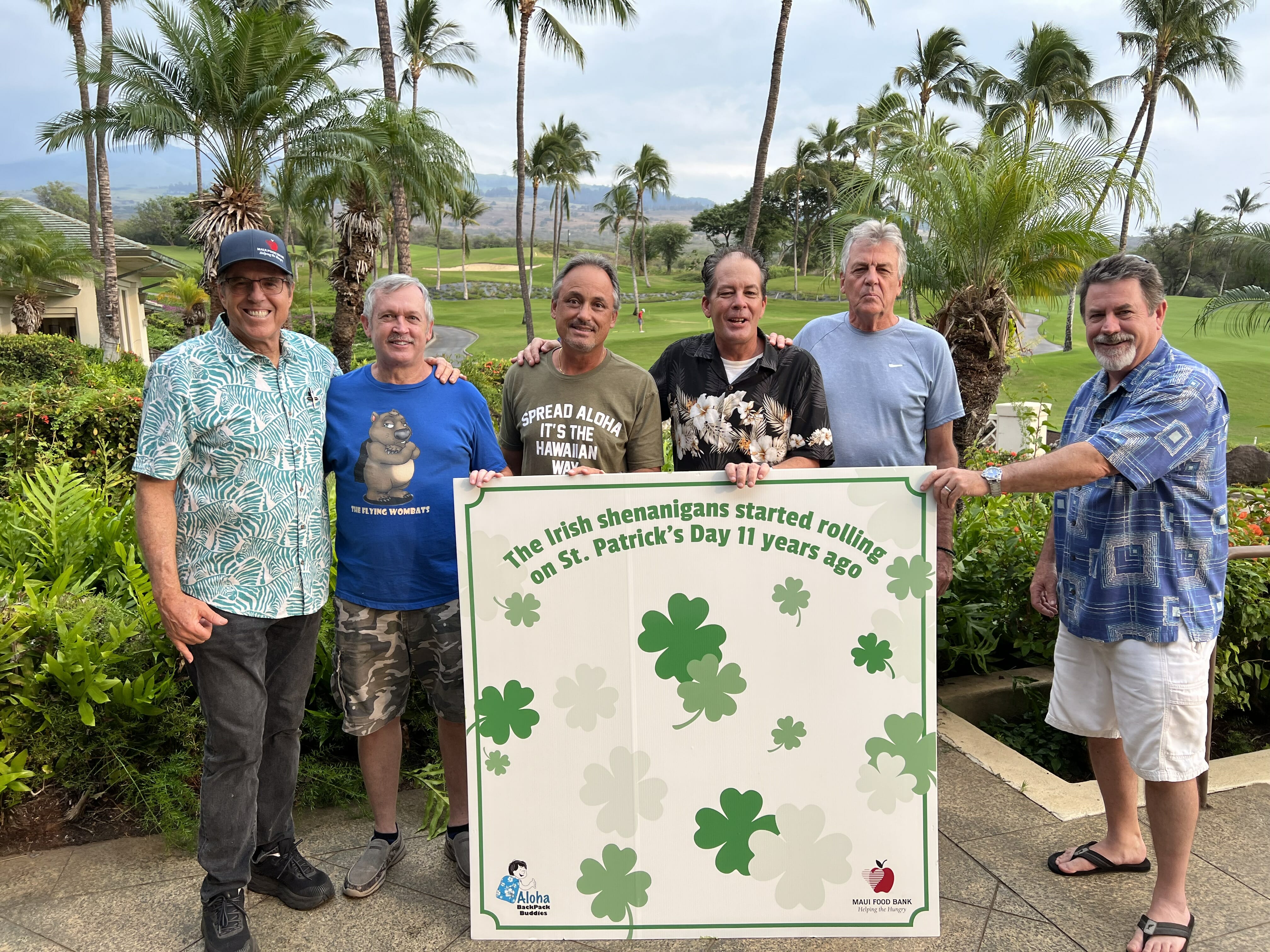 Realtors Association of Maui members (from left) Patrick Kilbride, Lee Wheeler, Alan Birnie, Joe Zajac, Dave Richardson and Rob Manning are gearing up for the 2023 Aloha BackPack Buddies Bocce Ball Fundraising Tournament. The fun and festive tournament is held every year in March and benefits the Maui Food Bank's Aloha Backpack Buddies program. 
Photo courtesy Patrick Kilbride
Like Hudson, RAM affiliate member Rob Manning is a team captain and has participated in the tournament every year, with the exception of one. (He was on the mainland.) "The event itself is just a lot of fun and it raises money for a fabulous cause," he said. "The costumes, the energy and the competition all add to the overall flavor of the day." 
Hudson encourages others to participate in this year's event, either as a player, sponsor or volunteer. "It truly is a win-win all the way around and it's a lot of fun," he said. "The results of the game don't matter; the results from the total donations are the true win." 
Manning agrees wholeheartedly. "If someone's thinking about getting involved, they absolutely should," he said. "Whether they're a player, a sponsor or a volunteer, they will have a ball. They will be helping out local kids who really need and appreciate the assistance. When you can have this much fun and help out a great cause… that's a serious win-win." 
If you'd like to be a part of this year's Aloha BackPack Buddies Bocce Ball Fundraising Tournament, visit https://mauifoodbank.org/event/bocce-ball-tournament. For more information about the Aloha Backpack Buddies program or to make a donation, visit mauifoodbank.org/aloha-backpack-buddies. To learn more about the Maui Food Bank or for a list of food drop-off and distribution locations islandwide, visit www.mauifoodbank.org.
Do you know a Realtors Association of Maui member who should be recognized for their contributions to the community? If so, send your story idea to Sarah Ruppenthal at missruppenthal@gmail.com.