It may be small, but it's nearly impossible to miss. 
Mounted atop a wooden post near the entrance of Kihei Charter School, the bright pink box is guaranteed to catch the eye of any passerby. Those who stop to peer through the glass door of the birdhouse-like structure will discover a trove of books waiting to be read. At this miniature library, there are no library cards, sign-out sheets, or due dates—only free books. 
Installed late last month, the community book-sharing box on Lipoa Parkway is one of two registered Little Free Libraries sponsored by the Haleakala Chapter of the Daughters of the American Revolution (DAR). 
In addition to patriotism, historic preservation and service to veterans, literacy is one of the chapter's focus areas, explained Barbara Kenrich of Coldwell Banker Island Properties. Kenrich, who currently serves as Regent of the Haleakala Chapter, helped install the group's first Little Free Library at the Villas at Kehalani neighborhood in 2021. A third DAR-sponsored Little Free Library is slated to be installed at the Ka Hale A Ke Ola Homeless Resource Centers Wailuku facility in early 2023. 
Based in St. Paul, Minnesota, Little Free Library is a leader in the "take a book, leave a book" community library movement. The nonprofit's mission is to build community, inspire readers, and expand book access through its network of more than 150,000 volunteer-led Little Free Libraries in more than 100 countries. With the goal of eliminating barriers to book access, these small-but-mighty libraries are accessible to readers of all ages 24 hours a day, seven days a week. 
At Kihei Charter School, Haleakala Chapter DAR members worked with senior Rhiannon Garnier, who chose the Little Free Library as the focus of her senior-year project. DAR purchased the structure from Little Free Library and bought a stack of books to line its shelves. Garnier took care of the rest: She dug a hole, placed the wooden post in the ground, and laid paving stones to create a walkway for library patrons and donors. A blessing ceremony for the newly installed Little Free Library was held on Nov. 28. Among those in attendance was a group of Kihei Charter School third graders who could barely contain their excitement when they were told to choose a book from the library to take home, Kenrich said.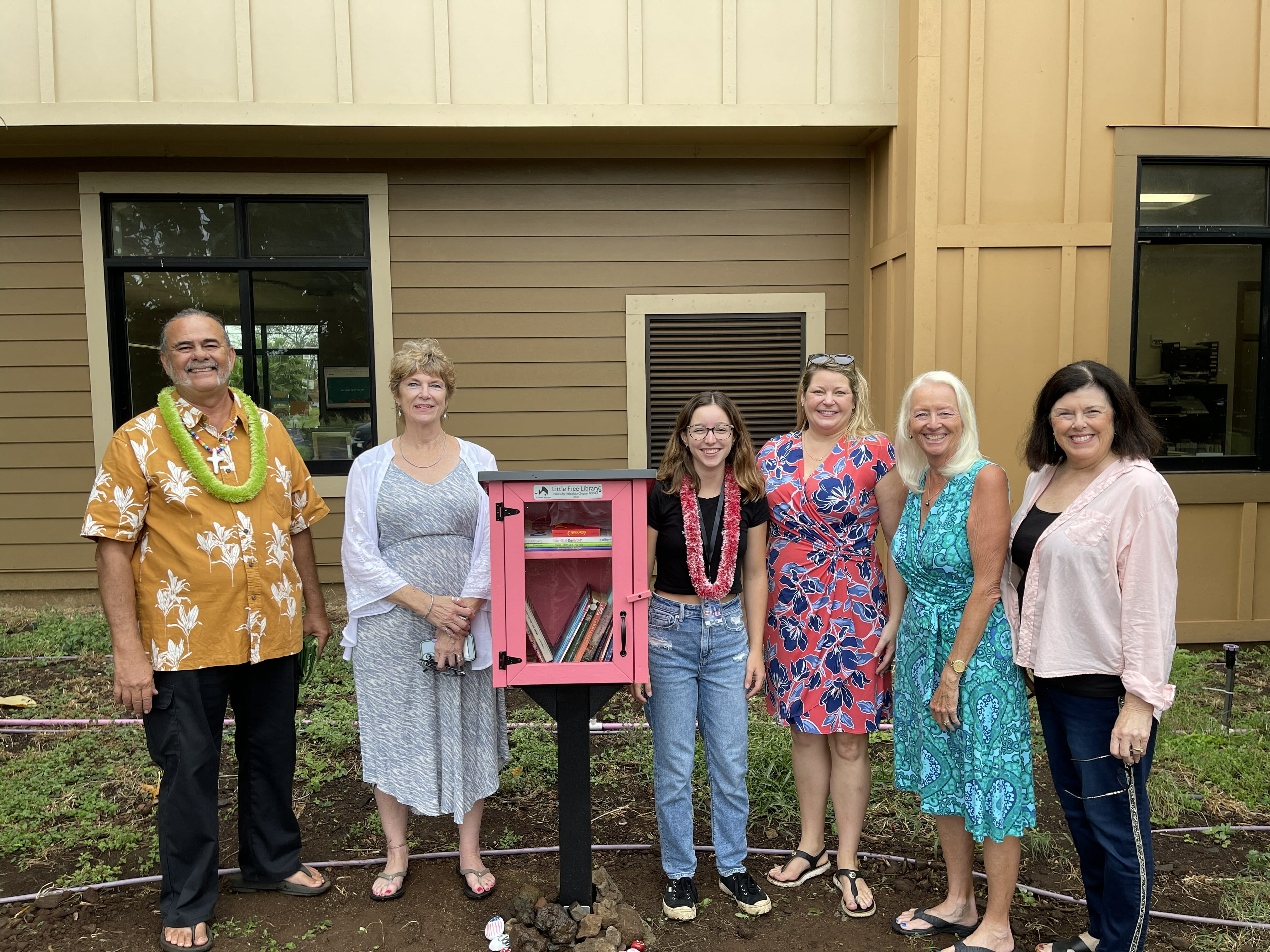 Realtors Association of Maui member and Haleakala Chapter of the Daughters of the American Revolution (DAR) Chapter Regent Barbara Kenrich (second from right) poses with (from left) Ka'ahumanu Church Pastor Wayne Higa, DAR member Deborah Williams, Kihei Charter School senior Rhiannon Garnier, and DAR members Lauren Kashtan and Rosetta Hiranaga at a blessing ceremony for Kihei Charter School's new Little Free Library on Nov. 28. 
Photo courtesy Barbara Kenrich
In addition to the Little Free Library projects, Haleakala Chapter DAR members routinely volunteer at the Kihei Youth Center and supply books for Maui's Holoholo Bookmobile. In 2021, to commemorate the centennial of the Tomb of the Unknown Soldier, chapter members installed a rock garden and reflection area at the Maui Veterans Cemetery in Makawao. Most recently, they gathered at Kahului Airport on Veterans Day to greet local veterans returning home from Washington, D.C., as part of the Honor Flight Network. 
Founded in 1890 and headquartered in Washington, D.C., the National Society Daughters of the American Revolution is a nonprofit volunteer women's service organization with 3,000 chapters and more than 185,000 members nationwide. The Haleakala Chapter was established in 2014 and currently has 24 members, including Kenrich, who meet monthly. DAR membership is open to women 18 years of age and older who can prove lineal, bloodline descent from an ancestor who aided in achieving American independence through military, civil, and/or patriotic service. Documentation must be provided for statements of birth, marriage, and death.
To learn more about the Haleakala Chapter of DAR, to inquire about membership, or to suggest a location for a new Little Free Library, contact Kenrich at (808) 264-1016 or visit https://hawaiistatedar.wixsite.com/haleakalachapter.
Do you know a Realtors Association of Maui member who should be recognized for their contributions to the community? If so, send your story idea to Sarah Ruppenthal at missruppenthal@gmail.com.