The holiday season is officially here, and for many Realtors Association of Maui (RAM) members, the season wouldn't be complete without a generous helping of kindness. That's why you'll find many of them preparing and serving meals at the Ka Hale A Ke Ola (KHAKO) Homeless Resource Centers in Wailuku and Lahaina during the holiday season and throughout the year. 
On the evenings of Nov. 3 and Nov. 7, two groups of volunteers from Better Homes and Gardens Real Estate Advantage Realty Valley Isle took over the kitchen at KHAKO's Wailuku facility. There, they prepped and served two meals: spaghetti, garlic bread, salad, and apple and pumpkin pie on Nov. 3, and chili, hot dogs, rice, salad, and brownies on Nov. 7. The team of volunteers included Beth Apo, Cherie Attix, Traci Marie Bean, Michelle Bosque, Erin Clapper, LoreLee Robello, Lauren Nottage Hogan and Amy Sword. 
It's not the first time Realtors from Better Homes and Gardens Real Estate Advantage Realty Valley Isle have volunteered at KHAKO and it won't be the last. The company routinely hosts two dinners per year, one in the spring and one in the fall. In response to the COVID-19 pandemic, KHAKO now has five-person limit in its kitchens, and as result, the company had enough volunteers to cover two dinners this fall, Clapper explained. 
"Serving alongside my fellow colleagues as we tried to do our part in making a difference is always so fun," she said. "But serving dinner, such an important part of the health of our community, is definitely the most rewarding thing." 
Robello also found the experience to be gratifying. "We had two newborn babies come through the line and my heart was definitely touched by both of the mothers—they were in need and were so grateful," she said. 
For Sword, the highlight of the evening was "seeing the smiles on people's faces and the cheerfulness of their spirit… even when times are hard, we can always find something to be grateful for." 
Hogan says the highlight of the evening was a compliment. "One guy told me that our spaghetti dinner was the best dinner he had ever had," she said. "That comment was heartwarming."
It was a highlight for Attix, too. "One fellow remarked that our dinner was the best he had ever eaten. I'll always remember that," she said. "Nourishing food is a basic necessity of life. To be able to share something so vital that we prepared with care was heartwarming and sobering at the same time. Handing someone in need a large plate of delicious food is a truly an honor."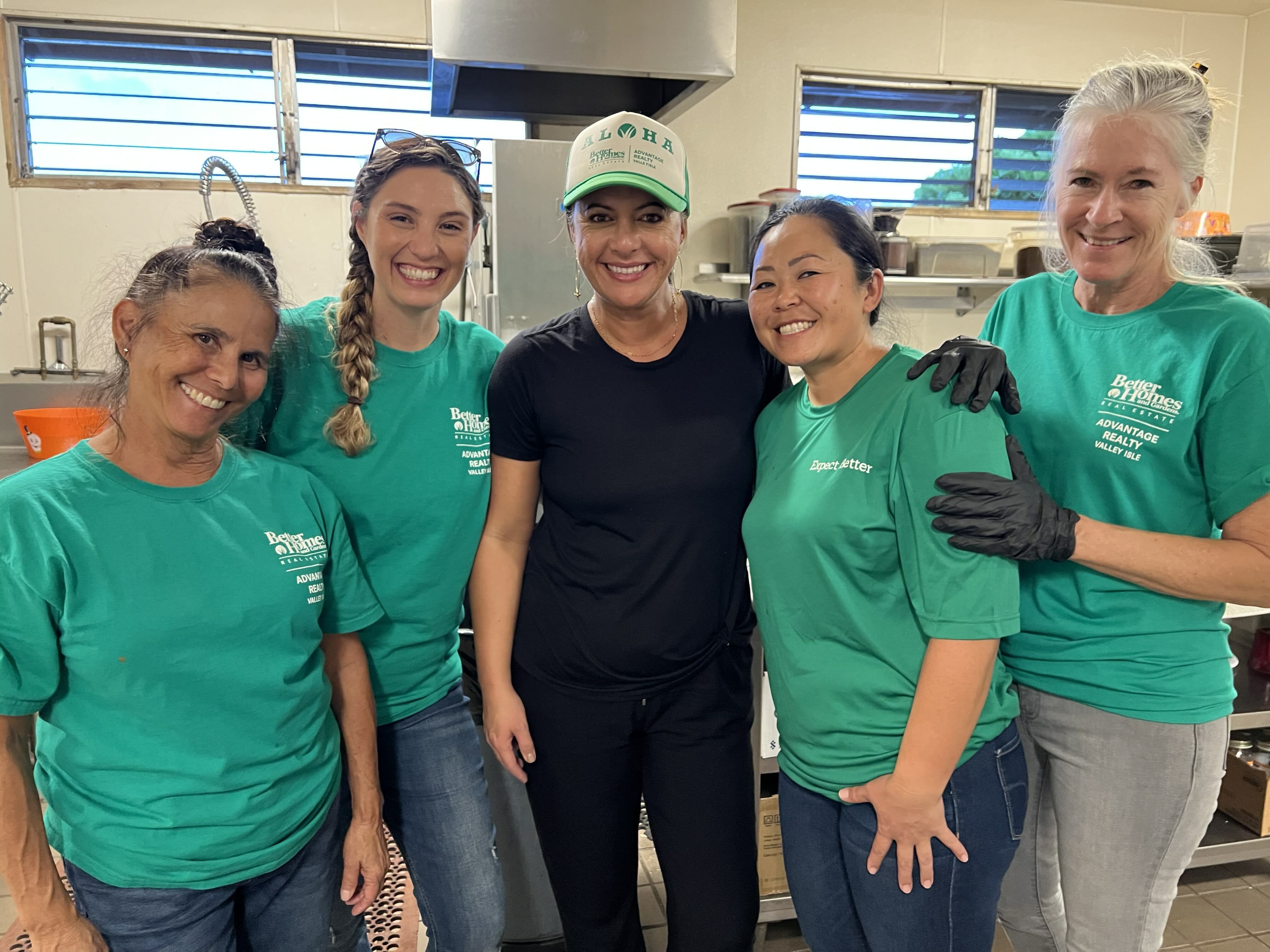 Realtors Association of Maui members (from left) LoreLee Robello, Amy Sword, Erin Clapper, Beth Apo and Lauren Nottage Hogan served dinner to residents staying at the Ka Hale A Ke Ola Homeless Resource Centers facility in Wailuku last month. 
Photo courtesy Erin Clapper
Hogan says she is both humbled and honored to serve Maui's unsheltered community. "No one knows the individual stories and we need to remember that everyone matters, no matter what their circumstance is," she said. 
Sword encourages others to consider signing up for a volunteer shift at KHAKO. "I would highly encourage anyone considering volunteering or donating to KHAKO to do so," she said. "This is a way to directly impact the lives of people living here on the island that need it most. Knowing that you were able to help your community is rewarding in a very special way." 
Robello couldn't agree more. "Please volunteer for this--you will walk away appreciating everything you have," she said. 
KHAKO is a comprehensive resource center that prepares families and individuals for permanent housing while providing emergency shelter, counseling services, addiction recovery management and adult education and training, as well as a primary care medical clinic and childcare facilities. The nonprofit provides thousands of meals to men, women and children every year and volunteers are always needed to lend a hand at its two facilities. To learn more about food donation or volunteer opportunities, call (808) 446-8137. For more information about KHAKO or to inquire about donor opportunities, visit www.khako.org or call (808) 242-7600.
Do you know a Realtors Association of Maui member who should be recognized for their contributions to the community? If so, send your story idea to Sarah Ruppenthal at missruppenthal@gmail.com.