Every year in the United States, billions of plastic bottles are used and discarded, but only a small fraction are recycled. In 2018, the U.S. Environmental Protection Agency reported that Americans generated 35.7 million tons of plastic waste. Of that, more than 26 million tons were sent to the nation's landfills. And according to the Ellen MacArthur Foundation, a staggering 8 million tons of plastic ends up in our oceans each year—equivalent to one garbage truck dumping its contents into the ocean every minute. That number is expected to double by 2030, and if it continues to go unchecked, plastic in the world's oceans will outweigh all fish pound for pound by 2050. 
These statistics inspired Matt Daniells of Fine Island Properties, LLC to do his part to combat plastic pollution. In late 2019, he debuted Silverback Hawaii LLC, a Maui-based company that makes men's and women's ocean wear from Repreve, a performance fiber made entirely from recycled materials, including post-consumer plastic bottles and pre-consumer waste. Silverback Hawaii's line includes UV-protective jerseys, rash guards, leggings and hoodies, all of which are certified, traceable and manufactured in the U.S.
"If you spend any time in the ocean you can see the substantial amounts of plastic waste on the beaches and in the water," Daniells said. "Just in the last 10 to 20 years, I have seen a massive proliferation of ocean and shoreline pollution. It's tragic and painful to see. I care about the ocean. I care about the world. I want my daughter and her children to inherit a better world." 
The ocean has been Daniells's second home for as long as he can remember. He was born in Guam, lived in Palau as a small child, and has spent his remaining years on Maui engaged in all things aquatic, making a name for himself as a competitive windsurfer. In 2015, Daniells decided to give outrigger canoe paddling a try and instantly fell in love with the sport. 
Apart from the joy of being out on the water, paddling provides a sense of community, fellowship, and comfort. That's why Daniells actively supports Pu'ali Koa Kahiko (Brave Older Warriors), a Maui-based grassroots organization that helps military veterans cope with post-traumatic stress disorders through paddling. 
Last month, he donated custom-made, specially designed jerseys to the members of Pu'ali Koa Kahiko. The donation, Daniells said, "Was inspired by my appreciation for what these people have done for me, for us, by putting their lives on the line for us and putting themselves in horrifying circumstances that most of us can't even imagine."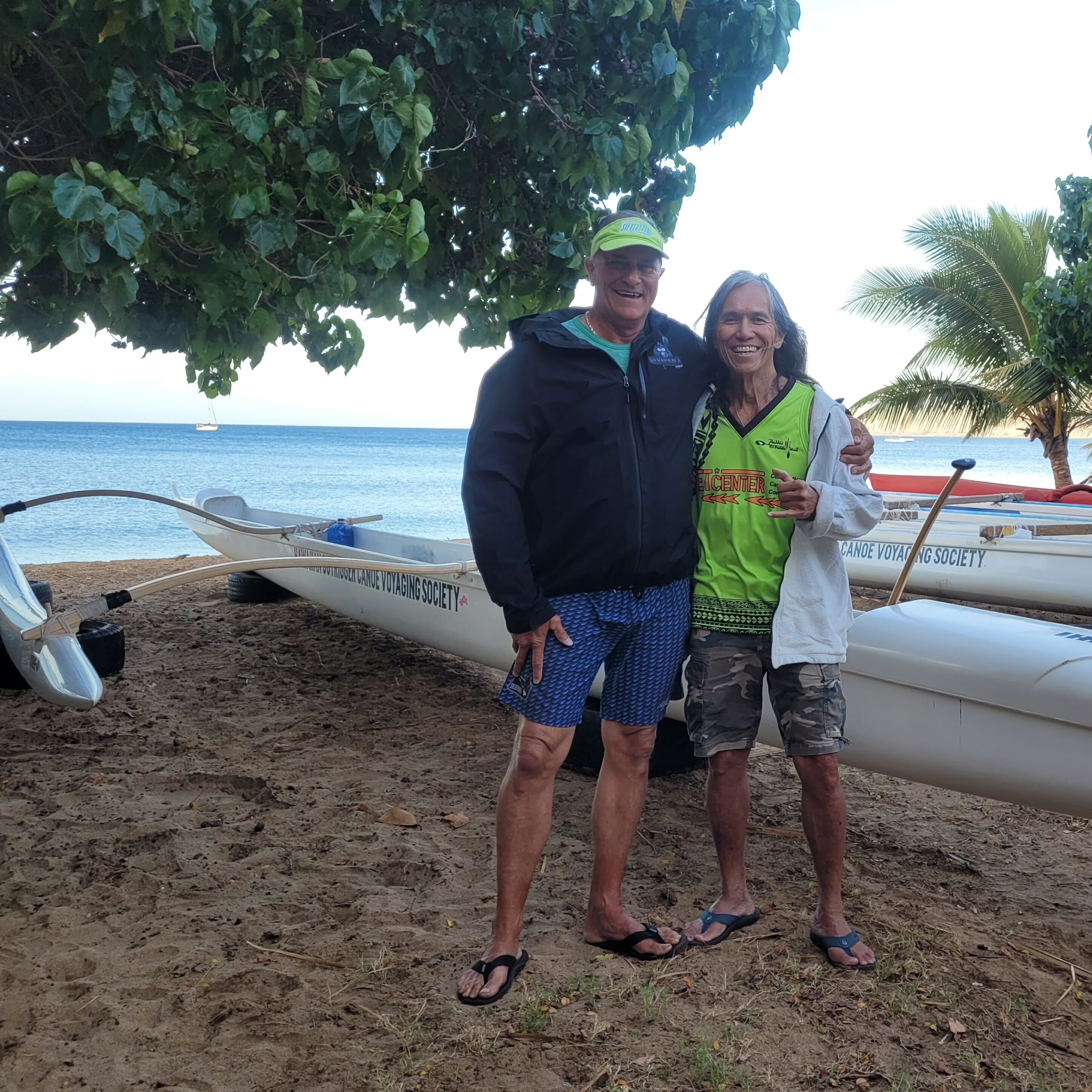 Realtors Association of Maui (RAM) member Matt Daniells (left) poses with Wendell DeVera, president of Pu'ali Koa Kahiko, a local grassroots organization that helps military veterans cope with post-traumatic stress disorders through outrigger canoe paddling.
Photo courtesy Matt Daniells
With the jerseys, the veterans now feel like a cohesive unit, said Wendell DeVera, a Vietnam veteran and longtime paddler who serves as president of Pu'ali Koa Kahiko. "When the vets all wear the jerseys, it is worn with the pride that we all had while serving our country," he said. "The appreciation that was felt by the vets when they were made aware that Silverback had donated our present jerseys was boundless."
For Daniells, the greatest reward is knowing he can bring a bit of happiness to this group of heroes. "These are people who I see and interact with every day," he said. "We need to remind ourselves and show appreciation for what they have sacrificed—sometimes a huge part of themselves—in their duty."
This isn't the first time Daniells has stepped up to help his community. Through Silverback Hawaii, he has donated face masks to local teachers, the Maui Police Department and Maui Humane Society; custom hoodies to Love the Sea, a local nonprofit that recovers ocean plastic from inaccessible coastal areas; T-shirts and masks to SHARKtastics; custom jerseys to the Hawaiian Canoe Club's paddling teams; and auction items to Maui Huliau Foundation and the Paia Youth and Cultural Center. On top of that, Daniells also sponsors a race in the annual Maui Paddling Hui race series and donates products to be used as prizes and giveaways.
And the best part? These donated items are made from materials that may have otherwise wound up in landfills or the ocean. Turning waste into wearable products like jerseys and face masks may be a small step toward a plastic pollution solution, Daniells said, "But it's the right step in the right direction."  
To learn more about Silverback Hawaii, visit www.silverbackhawaii.com.