When Alan Birnie arrived at the Realtors Association of Maui's (RAM) annual installation luncheon on Friday, Sept. 23, he never imagined he'd be a part of the day's agenda. 
So, when he heard his name announced as RAM's 2022 Affiliate of the Year, Birnie says he did a double take. "I was stunned," he said. "This recognition is beyond words. To be recognized by people who I respect and admire is a great honor."
That day, Birnie was honored by RAM for his business accomplishments, as well as his spirit, character, professionalism, and volunteer work. He was honored alongside 2022 Realtor Broker of the Year Gina Duncan and 2022 Realtor Salesperson of the Year Alex Abreu.  
RAM's affiliate members include, and are not limited to, mortgage loan officers, escrow professionals, attorneys, home inspectors, insurance agents, landscapers, home stagers and pest control specialists. These affiliate members may not be engaged in the actual real estate profession, but they are actively engaged otherwise. Many routinely participate in RAM membership events, fundraisers, and other community-centric events and activities. 
Birnie is one of those active affiliates. He's the owner of Smooth Moves Maui, a local company that provides moving and packing services throughout Maui County. If the thought of packing up your home or business—and then unpacking it all days later—makes your head hurt, you're certainly not alone. Moving can be a very stressful event, no matter if it's a short distance or thousands of miles away. As someone who grew up in a military family and attended nearly a dozen schools before his senior year, Birnie knows this firsthand. 
"I was brought up in an Air Force family, so we moved often," he said. "I know the stresses that can come with moving. It's a great sense of accomplishment knowing we took a lot of the stress away from the customer. That is our main goal. It's not uncommon to see customers in tears once the move is over, full of gratitude." 
And as an antique collector and former antique store owner, Birnie takes "fragile: handle with care" very seriously. For every move his company handles, all possessions—large, small, antique or otherwise—receive the white-glove treatment. 
As a business owner, Birnie is (quite literally) always on the move, yet he still finds time to give back to his community. He supports several local nonprofits, including the Maui Academy of Performing Arts, Habitat for Humanity Maui, Friends of the Children's Justice Center of Maui, Maui Food Bank, Maui OnStage, ProArts Playhouse, and the Toys for Tots program.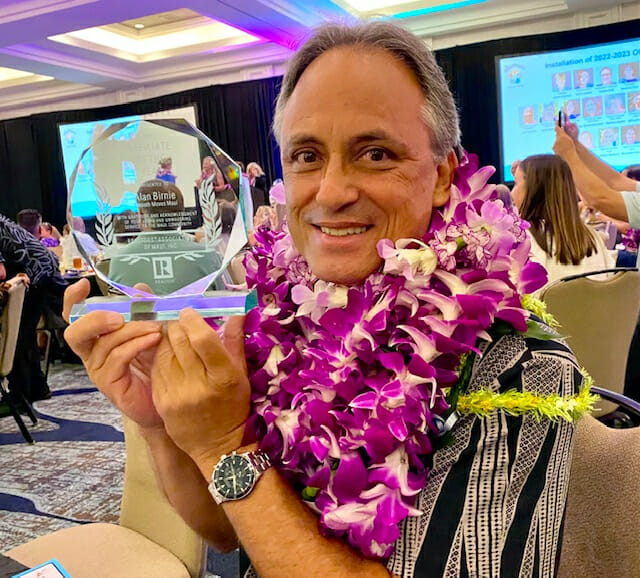 The Realtors Association of Maui (RAM) recently honored RAM affiliate member Alan Birnie as its 2022 Affiliate of the Year. He was recognized for his business accomplishments, as well as his spirit, character, professionalism and volunteer work.
Photo courtesy Alan Birnie
Birnie has also stepped up to help the RAM Community Foundation's Wishing Well… for Maui Students program. On one occasion, he volunteered to transport a donation of bulky office furniture from a South Maui business to Iao Intermediate School in Wailuku. Birnie and his Smooth Moves Maui crew disassembled the larger items in Kihei, loaded everything into a moving truck, and drove it all to the school's campus. There, they unloaded and reassembled the donated furniture.
Birnie says he is proud to be a RAM affiliate member. "RAM has been such a major part of my success," he said. "We have a wonderful, respectable organization in RAM. I'm honored and blessed for the opportunity to have moved many clients and homes of Realtors, affiliates, and staff." 
Looking back at all he's achieved over the years, Birnie says his greatest accomplishments are his two sons: Kalan, who recently graduated from the University of San Francisco, and Pono, who is currently a sophomore at Chapman University. "Both have grown to be fine respectable young men with good heads on their shoulders," Birnie said. "I am proud to be their father." 
Do you know a Realtors Association of Maui member who should be recognized for their contributions to the community? If so, send your story idea to Sarah Ruppenthal at missruppenthal@gmail.com.