Paragon MLS and Paragon Connect: What's the Difference?
On the RAM Dashboard you might have noticed a newer icon called Paragon Connect.  Perhaps you have been curious and clicked on that icon to try out Connect.    Let's take a moment to understand the differences in each application.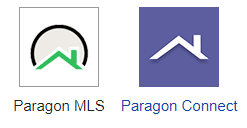 Paragon MLS is the primary MLS system that has been around RAM for several years.  This is the main MLS program that is used by nearly 2,000 Subscribers each month.   It offers robust search capabilities, CMA tools, ability to print, share and text listings to clients, Collaboration Center for buyers, ability to add listings and syndicates listings to thousands of websites each month.
Training opportunities for Paragon MLS and Connect are available each month for RAM MLS members.  To sign up for a class please visit our Education Calendar and search by Category: Paragon Classes.   MLS classes are currently hosted online only with plans to offer in-person trainings again in 2023.   Paragon classes are typically taught by the Paragon Trainer, Gary Arnett, or local MLS director, Jeff Bratton.
Here are some recent articles and tips on using Paragon MLS.
Paragon Connect is the next generation of Paragon applications. Paragon Connect is a true web application, not just a mobile solution, allowing you to use the program on almost any device. There are a host of options included in Paragon Connect: full property search, contact manager, hotsheet search, and more.
Paragon Connect is not a mobile app that you download from iTunes or Android AppStore
Paragon Connect works the same on your mobile device, tablet, or desktop computer.
Take a moment to learn about the latest updates to Paragon Connect in this short video.
Recent articles and tips on using Paragon Connect.