Forty-two years ago, Chris Greicius, a 7-year-old boy with leukemia, had one wish: He wanted to be a police officer. Chris's community came together and made his wish come true. This collective act of kindness was the inspiration behind the Make-A-Wish Foundation, a nonprofit that has since granted more then 330,000 life-changing wishes for children with critical illnesses. Simply put, Make-A-Wish Foundation brings hope and joy to those who need it most. 
That's why Shauvon Young of The Agency Maui chose Make-A-Wish Hawaii as the beneficiary of a spring fundraiser hosted by Aloha Ladies Social Club, a group she founded nearly two years ago. "To make a difference in anyone's life, especially a child's life, just brings the biggest joy to my heart," she said. "I have a 6-year-old daughter, so I can relate to these parents and how we just want to see our children happy and blessed with fun and wonderful things they wish for, so to help contribute to a magical 'wish' for a child is the biggest blessing."
The "Maui Under the Stars" fundraiser, which was held in May at Gannon's in Wailea, celebrated Make-A-Wish Hawaii's 40th anniversary. And it wasn't the first time Aloha Ladies Social Club stepped up to support a worthy cause. Apart from Make-A-Wish Hawaii, there have been events for Village of Hope Maui, a nonprofit that supports Maui's foster care community, and Common Ground Collective, a local nonprofit that harvests and distributes produce that would otherwise go to waste. 
Young says Aloha Ladies Social Club was borne out of the pandemic. As she watched COVID-19 take a heavy economic toll on local businesses, particularly small businesses, Young said she could not sit idly by. She started thinking of ways she could use her background in journalism, public relations, and marketing to help local business owners. And that's when Young came up with the idea for the Aloha Ladies Social Club. 
"I reached out to businesses offering to help them for free on social media by helping their business get out to the community on my [Aloha Ladies] platform, while offering discounts and ways to save money for the actual community—it was a win-win," she said. "The businesses were getting exposure… and the community was getting to save money because the businesses were offering me a discount to post on Aloha Ladies. As Aloha Ladies kept evolving, very rapidly, businesses would reach out to me to offer an 'exclusive discount' for Aloha Ladies, and they would offer me free prizes to offer as giveaways …  it just kept growing and more people would find out about Aloha Ladies and want to be a part of it."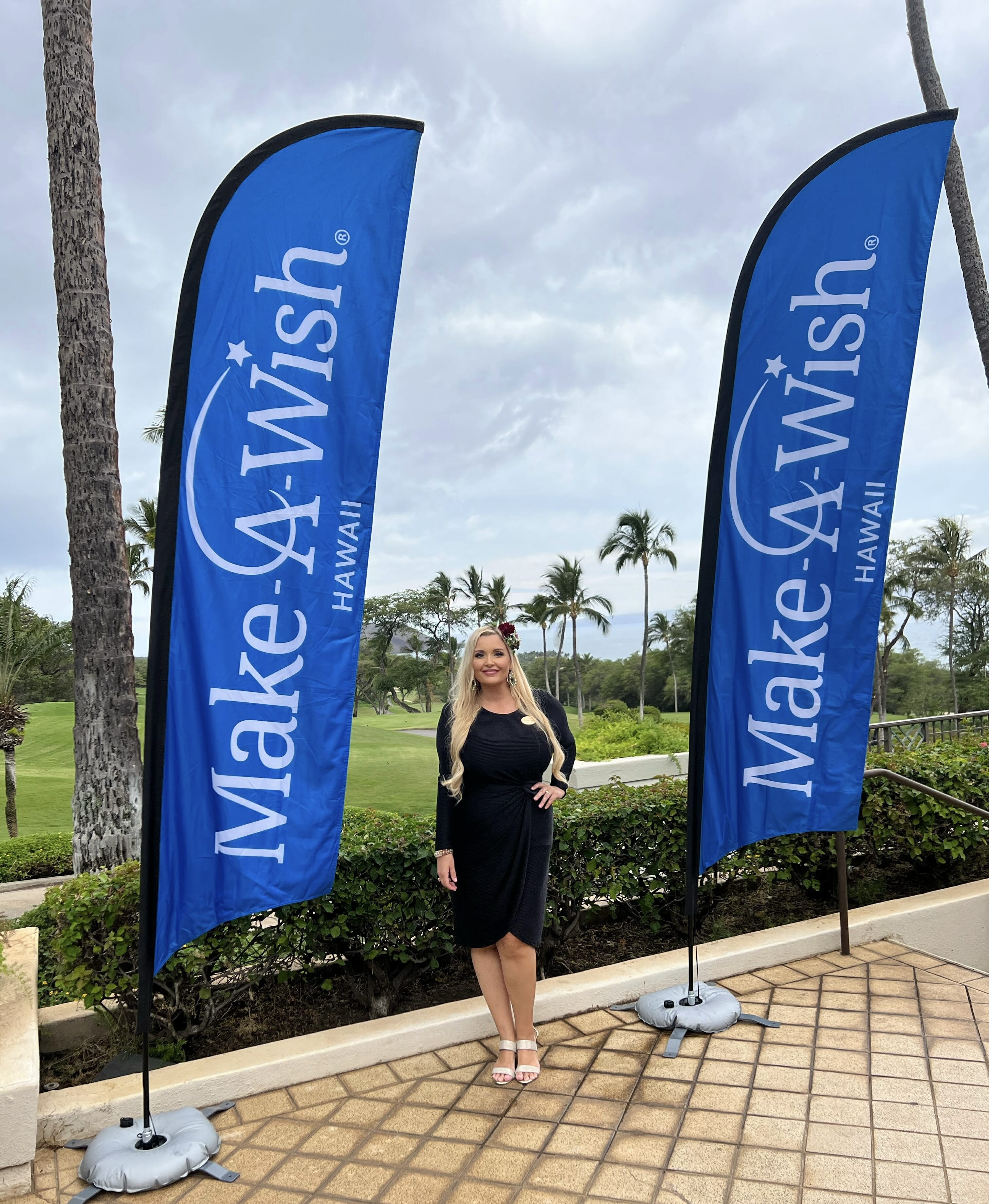 REALTORS® Association of Maui member Shauvon Young is the founder of Aloha Ladies Social Club, which will host a holiday event benefitting Village of Hope Maui on Dec. 11 at Ocean Vodka Organic Farm and Distillery. "This social club is meant to be fun, supportive and a great community space for everyone," she said.   
Photo courtesy Shauvon Young
Now more than 1,100 Facebook followers strong, Aloha Ladies Social Club is open to everyone and there's no cost to join. Perks include being the first to know about events and having access to discounts, giveaways, and exclusive specials for shopping, dining, activities, services, and more, Young said. And becoming an "Aloha Lady" is simple: Just follow @alohaladiesclub on Instagram and Facebook and you're all set. 
For Young, it's a labor of love. "Why do I spend all this time doing this for free? It's because of these little, possibly big impacts I'm making in people's lives, maybe impacts I'm not even aware of, but I know in my heart I'm helping so many," she said. Young has received a lot of thank yous over the past two years, and when she reads those messages of gratitude, she said, "That's all I need to know that I'm doing the right thing and really making a difference… and all my time doing this is well spent." 
Aloha Ladies Social Club will host a "Jingle & Mingle" holiday event benefitting Village of Hope Maui from 3 to 6:30 p.m. on Sunday, Dec. 11, at Ocean Vodka Organic Farm and Distillery in Kula. There will be food, drinks, a hula performance, holiday craft-making, a silent auction, and raffle prizes. Tickets are $75 per person. To purchase tickets, visit https://www.eventbrite.com/e/jingle-mingle-tickets-460509545447. To learn more about Aloha Ladies Social Club or the upcoming "Jingle & Mingle" event, email Info@AlohaLadies.com.