The CMA tools are an essential part of the Paragon MLS system at RAM. Paragon offers the ability to generate a Quick-CMA or a full CMA Presentation that includes a Cover Letter, Adjustments, and more. This week RAM MLS shares some helpful tips for creating CMA Presentations.
Let's start with CMA Tip #1: Before you even start your first CMA Presentation in Paragon it is recommended that you run the CMA Preferences Wizard from your Preference menu. Doing their 14 Wizard steps you will be able to fill in some of the blank sections of your Presentation pages like Cover Letter, Company Profile, and Final Comments. These sections are optional when designing a CMA Presentation but if completed can make the CMA more comprehensive for clients.
To run your CMA Preferences Wizard click on the Preferences Icon on the top of your Paragon screen and choose CMA Preferences Wizard. Give yourself a few minutes to complete that Wizard.
---
Setting up your Subject Property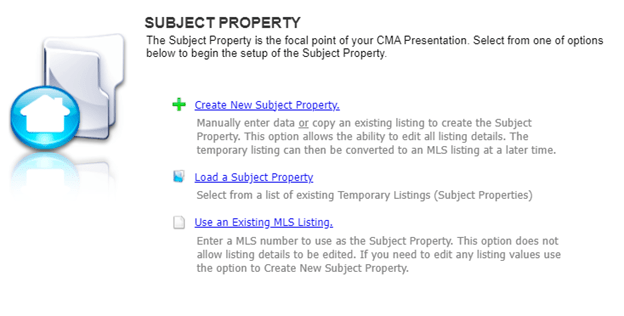 Paragon gives you several options for creating a Subject Property to start your CMA Presentation. Any method you choose will still involve adding a new listing or cloning an existing listing in the MLS. If you choose to create a new Subject Property the good news is you don't need to enter ALL the required fields as if it was going to a For Sale listing.
CMA Tip – Suggested fields that can be used when entering a Subject Property:
Address
City
District
View
Waterfront
Beds
Baths
Liv A SF
Year Built
Year Remodeled
Neighborhood
Subdivision
Price
Remarks
---
Choosing Comparables
Paragon gives you all available Search options for choosing your Comparables. Common Searches would be for Residential if your subject property is Single Family Residential, or Condominium if the listing is a condo.
CMA Tip: When you have added listings from your Search Results as Comparables they will remain as part of that Saved CMA Presentation.
It may be a good idea to refresh your comps you have saved there if you come back to work on that CMA a few weeks later. The Comparables section of the CMA Presentation will allow you to Remove existing compass and add new ones at any time.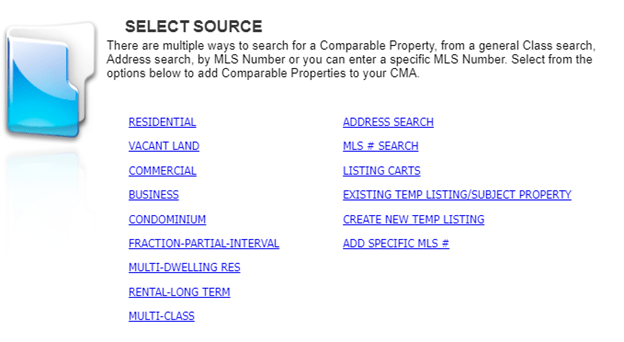 ---
Presentation Setup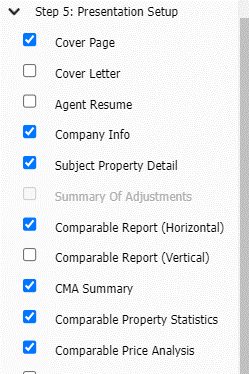 Step 5 is where you select all the pages you want to include in your CMA Presentation. Some of the pages in the Presentation may only contain generic language that may not be branded or updated to include in your CMA packet. It is suggested that you run the CMA Preference Wizard so that you can edit all the available Pages that can be included in your CMA Presentation. If you don't choose to complete the Cover Letter, Agent Resume, or Seller's Net Sheet, as examples, then you would not want to select those Pages in Step 5.
CMA Tip: If you just want to create a basic CMA Presentation the boxes you should have selected in Step 5 should be:
Cover Page,
Company Info,
Subject Property Detail,
Comparable Report (Horizontal or Vertical),
CMA Summary,
Comparable Property Statistics, and
Comparable Price Analysis.
---
Want to learn more about Paragon CMAs? Sign up for our October 25th CMA Class by clicking here.
Here is a short video below that goes into more detail about Creating a Subject Property.