RPR now Boasts a Better Buyer Tour
If you're an agent who works with buyers, you're pretty accustomed to weekend afternoon tours of homes for sale.
You line up a list of homes that meet their wants and needs (and budget, of course), and then you drive around and view each one. This list can be achieved through your hard work and research, but will also often come in the form of specific addresses from your online house-hunting clients. Either way, it's a process.
And that process is a whole lot easier with the RPR (Realtors Property Resource) Buyer Tour report, an app-exclusive that is only available via RPR Mobile™. And the app has recently been updated and improved to make your Buyer Tour experience that much better!
The new and improved RPR Buyer Tour
Simple in nature but comprehensive all the same, the Buyer Tour Report easily allows agents to select properties and determine an order to tour them. And under the "wait it gets better" category, it then lets agents create a colorful, client-friendly report to share with buyers. It's a great way to set up a schedule and keep a record of what was viewed, and what was liked.
If you're already familiar with the RPR app and using the Buyer Tour, we've got great news: the app was recently updated and now boasts some quality enhancements!
The most important (and requested) is the ability to "Add known property" to the tour you're building by address or listing ID. The ability to add properties manually versus running a search and using the map, is a big deal in the Buyer Tour user world. This has been the number one ask from our app users, and we're glad to deliver it.
The new Buyer Tour is also the only RPR report that allows you to feature more than one, single property.
Watch the new Buyer Tour in action
To see how the new Buyer Tour function works in the updated app, watch this step-by step video. It's just over three minutes long and will walk you through the necessary steps to properly set up a buyer tour.
And if you prefer written directions, or want to print something out to keep at your side, check out our handy Buyer Tour Printable Guide. It also has step-by-step instructions and some screen grab visuals to help you follow along.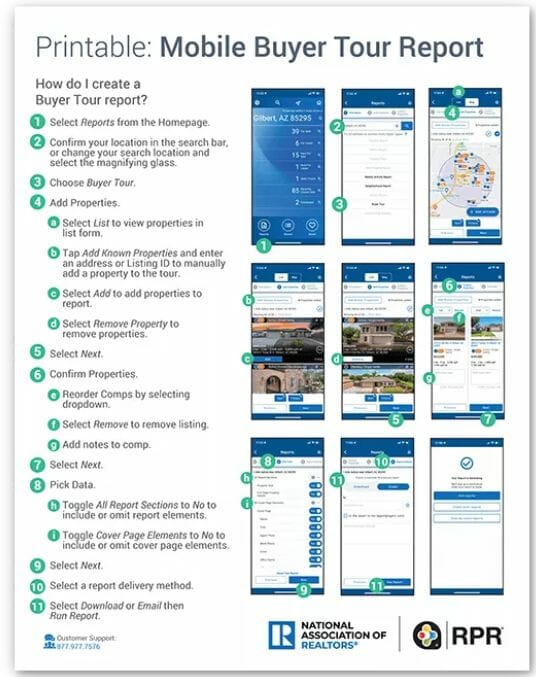 Take your buyers on a tour!
Reminder: The Buyer Tour is only available via the RPR Mobile app. Download and/or update your app today to experience all the new changes and features, including upgrades to the Buyer Tour function.
Set up appointments and tours, add or delete properties from the schedule, then follow up with a report that includes all the homes that were viewed. All from your phone and wherever you have service.