REALTORS® help keep Maui's beaches clean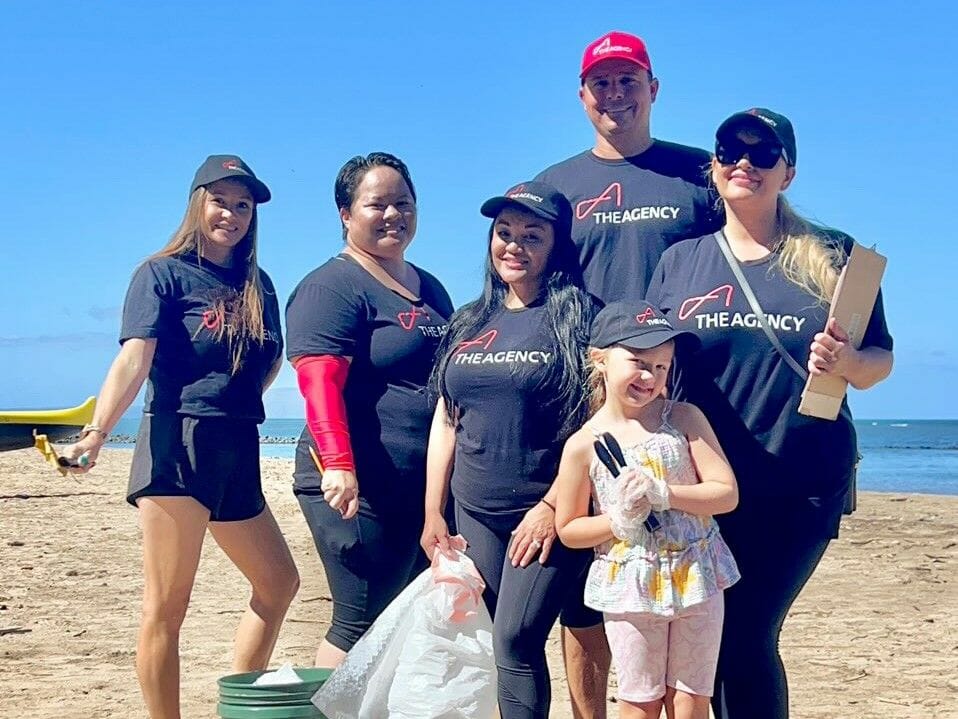 Imagine what would happen if every company, large or small, set aside one day out of the year to give back to their respective communities. What could be accomplished in a single day?
A lot.
Case in point: The Agency's Global Clean-up Day on Wednesday, Aug, 24. As part of the real estate company's annual event, volunteers from 21 locations around the world spent the day cleaning up coastlines, parks, lakes, sidewalks and other outdoor areas. The teams of volunteers—composed of The Agency agents—cleaned up sites in the United States, Canada and Mexico, including Downtown Los Angeles, the San Fernando Valley, Boston, New York City, Washington D.C., Montréal, La Paz, Los Cabos, San Miguel de Allende, and Maui.
Without question, the worldwide team effort was a collective success. "We had a total of 543 volunteer hours, 1,136.5 pounds of trash collected and one amazing day of teamwork," explained Kat Sirignano, a Realtor-Salesperson with The Agency Maui.
On Maui, Sirignano and her The Agency Maui colleagues decided to clean up Kalepolepo Beach Park in North Kihei. The group chose the beach due to its popularity among residents and visitors, with the overarching goal of inspiring others to follow their lead.
"In my personal opinion, it was important to pick a beach where we could impact the community and visitors on island the most," Sirignano said. "People tend to follow what others do, it's natural. To pick a beach where we can lead by example was a big part of why we picked this beach."
The team of volunteers included Sirignano, The Agency Maui Owner and Broker-in-Charge Gerrit Peterson, The Agency Maui Owner and Realtor-Salesperson Yvienne Peterson, Realtor-Salesperson Shauvon Young, Agent Experience Manager Shelby Lincoln-Shimotsu, and Young's 5-year-old daughter, Violette. By the end of the day, they had filled five bags with trash and removed two fishing nets from Kalepolepo Beach Park.
For Sirignano, this year's Global Clean-Up Day had its share of rewards. "The highlight of my day was getting together and giving back… and getting out and seeing what the beaches are looking like," she said.
Sirignano says another highlight was cleaning the beach park alongside the group's youngest volunteer, 5-year-old Violette. "I loved that Shauvon's daughter was so excited to help and learn," she said. "Just shows that kids are eager to learn when the opportunity is present. Next year I will 100 percent bring my little guy to learn and participate, as well as invite his preschool friends."
Sirignano encourages other companies—real estate or otherwise—to consider hosting their own clean-up event on any day of the year. "It is 100 percent great for our environment," she said. "What's the most fun is if you have multiple offices or locations to gather the details of the clean-up and see what you can accomplish as a whole unit."
And on top of that, she said, "It was a great experience for everyone involved," she said. "It builds great community relationships, shows that giving back matters, and is important to your brokerage."

The Maui News – September 9, 2022