MLS Photo rules and Tips for RAM listings
Take a moment to refresh your knowledge on the MLS photo rules pertaining to RAM listings in Paragon MLS. Digital images are an important part of the listing and get viewed by thousands of potential home buyers when the listing is posted on public websites and search portals.
Digital Photo Requirements
Paragon has size limitations on listing photos. If a photo is over 781K in file size, the image will be compressed to 781K. Note: this could result in a reduction in quality. For users who upload photos larger than the 781K limit, it is recommended that the images do not exceed 15MB in file size.
Image size refers to the resolution of the photo. Paragon requires a resolution of 3072 x 2304 or less. If a photo is under the 781K limit but has a resolution of image size larger than 3072 x 2304 , compression will occur. If a photo resolution is less than 640 x 480 it will not upload. In MS Windows, the image size of a photo can be accessed by mousing over the image—details will display in a pop up.
Photo Names
File Name Special Characters: Special characters, such as \/:*?"<>| etc., cannot be used in the photo file name. You don't have to name your listing photos. Sometimes your photographer might have already named them for you. If you don't rename a photo it will just have the file name from whatever camera or device you used that saved the original image.
Paragon Photo Limit
There is a limit of 30 photos per listing. If you took 50 photos you might want to decide with the seller the best 30 photos to start with on the listing, and adjust the images later on as needed.
Adding Digital images to a new listing
When add/editing on of your listings you will choose the Add/Edit Pictures option on the left menu.  This screen allows you to bulk upload images, change the order of the images, and add Label.  A Label is a short description that can be included with each image, kind of like public remarks for a photo.    The photo descriptions may not always appear online with the listing, but the photos will.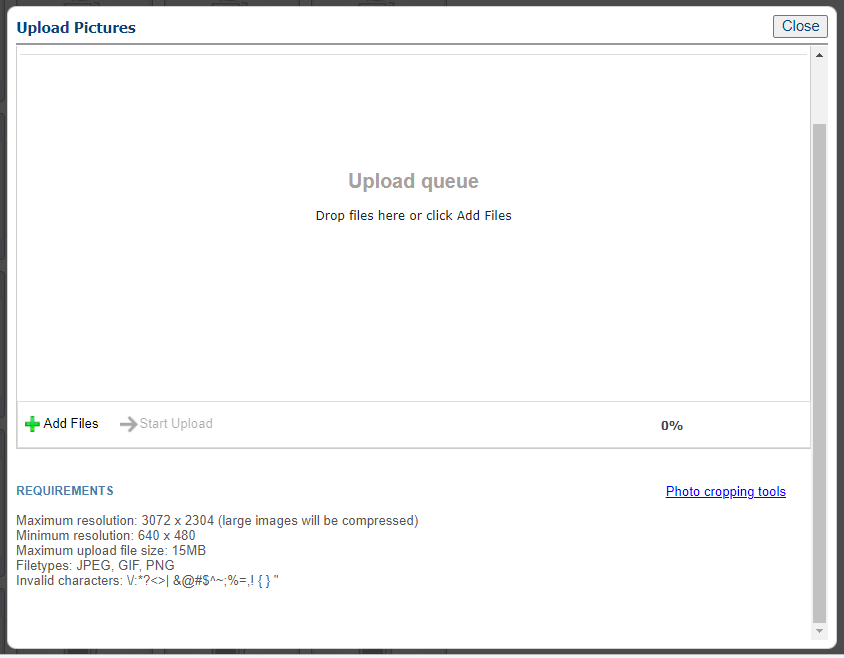 Policies on using photos from another agent's listing
It is not recommended to use the photos from a previous listing, unless you were the previous listing agent. Written permission should be obtained from the owner of the previous listing images, if you wish to re-use them again on the new listing.
Understanding copyright and ownership of Digital Images
Real estate professionals must be cognizant of copyright issues when it comes to listing content, most notably in connection with listing photographs. As original works of authorship, listing photographs are copyrighted, and the owner may dictate how the photos are used.
Improper use of listing content can create legal problems for agents, brokerages and MLSs. It's crucial that real estate professionals know their rights regarding listing photos and listing content, as well as risk management strategies that can be used to avoid copyright infringement. Complying with the Digital Millennium Copyright Act (DMCA) will also protect website owners from a third party's misuse of photographs within an IDX feed.
Do you know your listing content rights? Explore legal resources on copyright issues for real estate professionals.
MLS Rules for Photos (Signage, Missing Images)
Section 1.2 Detail on Listings Filed with the Service
Failure to input at least one photo/image of Subject Property that accurately depicts listed property (or view from Subject Property).    Fine is $25.00 per day that the photo is missing.
Section 9.3 talks about what you do if you find another RAM member using your old listings photos on their new listing.
Section 9.3 Complaints of Unauthorized Use of Listing Content
Any participant who believes another participant has engaged in the unauthorized use or display of listing content, including photographs, images, audio or video recordings, and virtual tours, shall send notice of such alleged unauthorized use to the MLS. Such notice shall be in writing, specifically identify the allegedly unauthorized content, and be delivered to the MLS not more than sixty (60) days after the alleged misuse was first identified. No participant may pursue action over the alleged unauthorized use and display of listing content in a court of law without first completing the notice and response procedures outlined in this Section 9.3 of the MLS rules.
If you encounter system errors while uploading images or have additional questions please reach out to the MLS Help desk at jeff@ramaui.com or call 808-873-8585 option 1.