RAM makes strides for Maui County youth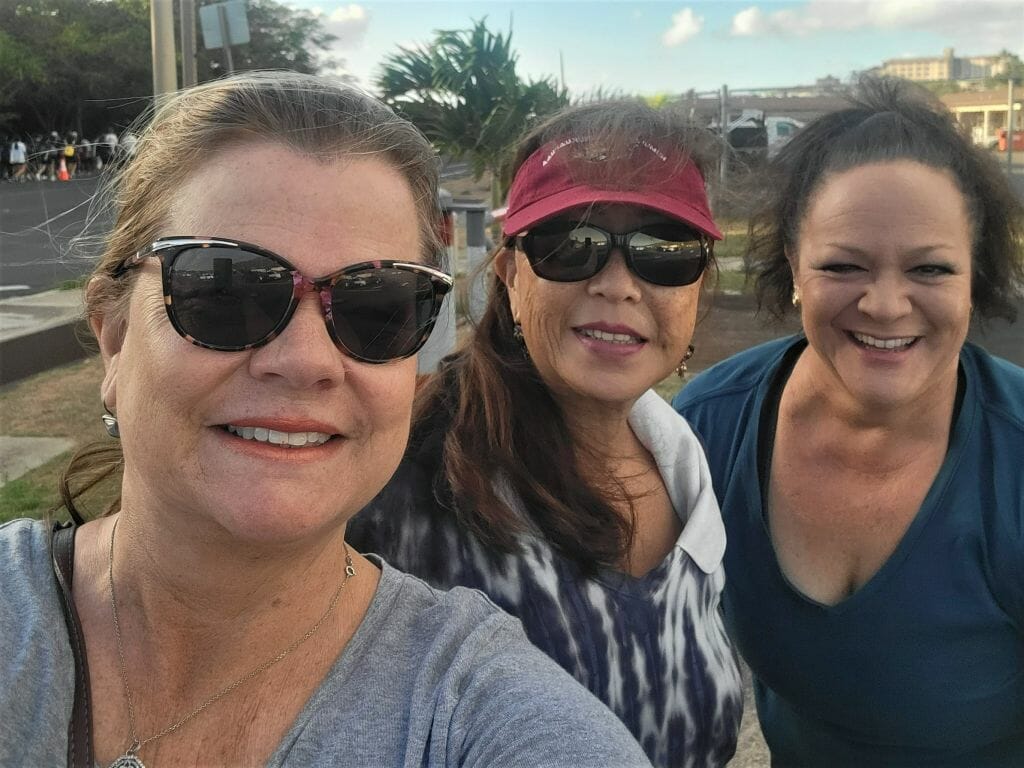 As the saying goes, one day can make a difference. Case in point: The annual Visitor Industry Charity Walk, known locally as the Maui County Charity Walk.
Hosted by the Maui Hotel & Lodging Association, the annual single-day fundraising event draws thousands of participants and benefits dozens of local nonprofits.
Held on the morning of Saturday, Aug. 20, this year's charity walk raised nearly $1 million. That morning, more than 1,300 registered walkers gathered at the War Memorial Sports Complex in Wailuku. Among them were three Realtors Association of Maui (RAM) members: Gina Duncan, Sandy Daniells and Gloria Ezera of Fine Island Properties.
Duncan, Daniells and Ezera have been down this road before. Literally. In 2019, they and several other RAM members collectively laced up their sneakers for the first time as "Team RAM" to raise money for RAM's academic scholarship program. Due to COVID-19, the charity walk transitioned to a virtual event in 2020 and 2021. To the delight of so many, the 2022 charity walk was held in person.
Thanks to the efforts of the walkers and the generosity of several donors, RAM raised more than $1,380 (along with a percentage match from the Maui Hotel & Lodging Association) for the Realtors Association of Maui Community Foundation (RAMCF), exceeding its initial fundraising goal of $1,000.
This year's donors included Daniells, Duncan, Ezera, Lesa Warner-Burke of Fine Island Properties, Mary Anne Fitch of Coldwell Banker Island Properties, Marcia Kalama of Fine Island Properties, Mike Trotto of Pali Kai, Inc., and Ann Williams of Keller Williams Realty Maui.
Incorporated as a 501(c)(3) nonprofit organization in 2007, RAMCF makes a difference for Maui County residents through the RAMCF Presidential Scholarship Fund, the RAMCF Wishing Well…for Maui Students program, and housing-related initiatives. Since 1989, the RAMCF Presidential Scholarship Fund has awarded $877,000 in academic scholarships to high school seniors and past scholarship recipients from Maui, Lāna'i and Moloka'i. (Past recipients can apply every year they are in school, up to four years.) Funds for the annual scholarship program are raised through events like the Visitor Industry Charity Walk, RAM's Got Talent and the RAMCF Presidential Scholarship Golf Event. Last month, RAMCF awarded $23,000 in scholarships to 23 college-bound students.
The RAMCF Wishing Well…for Maui Students program donates goods, supplies and services to public schools countywide. Run by volunteer RAM members and fueled by the generosity of community donors, it covers every public school on Maui, Molokai and Lanai, along with Ka Hale A Ke Ola Homeless Resource Centers (KHAKO), a nonprofit that shelters students in different grade levels at its Wailuku and Lahaina facilities. Throughout the year, volunteer coordinators collect and distribute "wish list" items—pencils, paper clips, rubber slippers and everything in between—to schools.
In 2018, RAM added housing concerns as an objective of the RAMCF. Among other things, RAM members raised nearly $30,000 to help KHAKO purchase a brand-new and much-needed playground for its facility in Wailuku and donated computers for students to use at KHAKO's Wailuku and Lahaina facilities.
Duncan says she, Daniells and Ezera plan to participate in next year's charity walk and they encourage others to join them. "This fundraiser is very special to our community and does such good work for Maui's charitable organizations," Duncan said. "It's an activity that everyone can participate in—and it's a lot of fun.:
To learn more about the Realtors Association of Maui Community Foundation and its programs, visit www.ramaui.com/foundation. For more information about the Visitor Industry Charity Walk, or Maui County Charity Walk, visit www.charitywalkhawaii.org/maui-county.

The Maui News – August 26, 2022