REALTORS® help students, teachers thrive in the classroom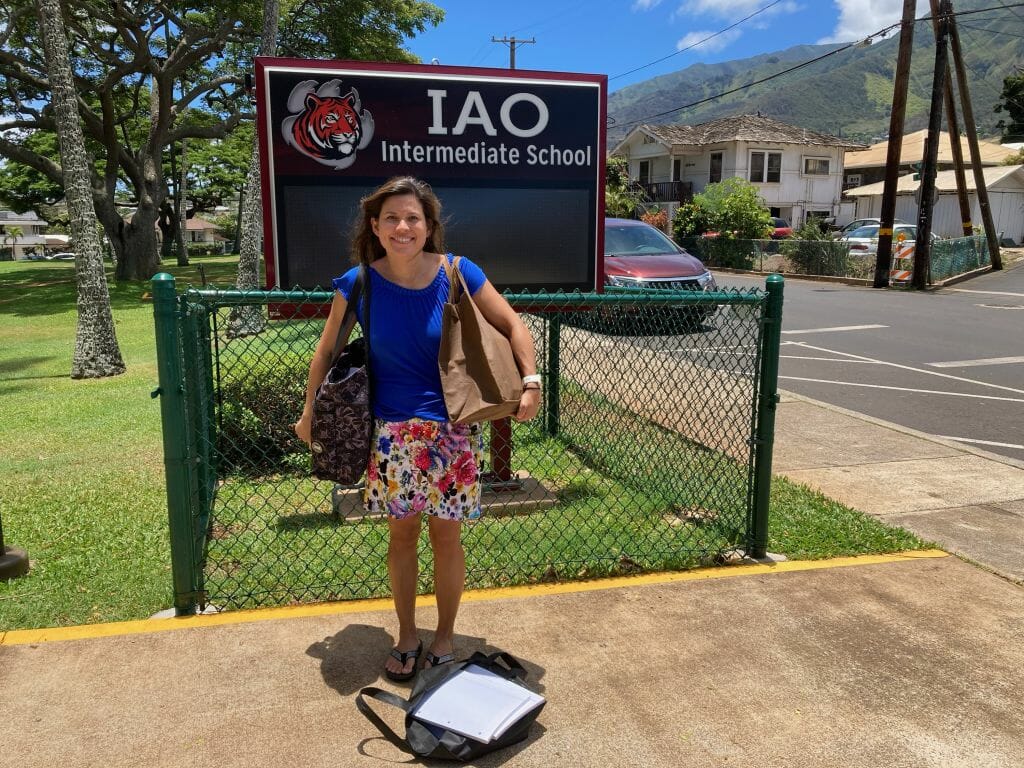 The 2022-23 school year is now in full swing, and for many teachers and students, it's off to an even better start thanks to the Realtors Association of Maui (RAM) Community Foundation's Wishing Well… for Maui Students program.
While the back-to-school season is coming to an end, there will still be a need for basic supplies in the coming months. The reality is, many students can't afford these items and their teachers often pick up the tab. In fact, according to a recent U.S. Department of Education survey, more than 90 percent of teachers reported spending their own money on classroom supplies without reimbursement.
That's where the Wishing Well program steps in to help. Since its inception in 2007, the program has donated goods, supplies and services to public schools countywide. Run by volunteer RAM members and fueled by the generosity of community donors, it covers every public school on Maui, Molokai and Lanai, along with Ka Hale A Ke Ola Homeless Resource Centers, a nonprofit that shelters students in different grade levels at its Wailuku and Lahaina facilities. Throughout the year, volunteer coordinators collect and distribute "wish list" items—pencils, paper clips, rubber slippers and everything in between—to schools.
In late July, RAM members and Wishing Well coordinators Kim Delmore and Sarah Sorenson met with teachers at Iao Intermediate School to see how the Wishing Well program could help them prepare for the new school year. "We left that day with 11 different teacher request forms," Delmore said. "The teachers there were so hungry for our help. More requests keep trickling in, and in two weeks, the Wishing Well has delivered several carloads and dozens of bags of requested supplies to the teachers there, fulfilling about 16 requests, and working on filling more of them."
Delmore says there were some new teachers at Iao Intermediate School who were unfamiliar with the program, but many had already benefited from it. "I was really impressed when principal Matt Dillon asked the teachers by a show of hands if they have ever been a recipient of a Wishing Well donation and it seemed more than half of the cafeteria of teachers raised their hands," she said.
When she dropped off the donations a few days later, Delmore said, "One teacher squealed in delight upon receiving several bags full of requested composition notebooks and several of them said it felt like Christmas." On that note, she said, "I feel like Santa when we get to drop off all the goodies. Knowing we have helped teachers to aid students in their education is the most rewarding thing about being a Wishing Well coordinator."
You can help Delmore and her fellow coordinators continue to make a difference for students, teachers, and parents this year. Whether it's cash, school supplies or office equipment, every little bit helps. Most-wished-for items include composition and spiral notebooks, sheet protectors, graph paper, colored pencils, dry erase pens, binders, paper clips, handheld calculators, electric pencil sharpeners, staplers, and plastic baggies of all sizes.
And the No. 1 most-needed item? Rubber slippers, particularly sizes 5-14. Throughout the school year, students often arrive on campus wearing broken slippers—or none at all. Others may lose or break theirs during the day and have no replacement. Other items like office chairs, area rugs, flat-screen TVs, folding chairs, file cabinets, bookcases and storage units are also frequently requested, so if you need to offload any gently used office supplies or furniture, call (808) 283-3969 to schedule a pickup service.
To learn more about the Wishing Well program, visit www.ILoveMauiSchools.com or call Sorenson at (808) 283-3969. If you're a Maui County public school teacher with a wish list for your classroom, contact Sarah Sorenson at (808) 283-3969.
The Maui News – August 19, 2022