RAM awards scholarships to 23 students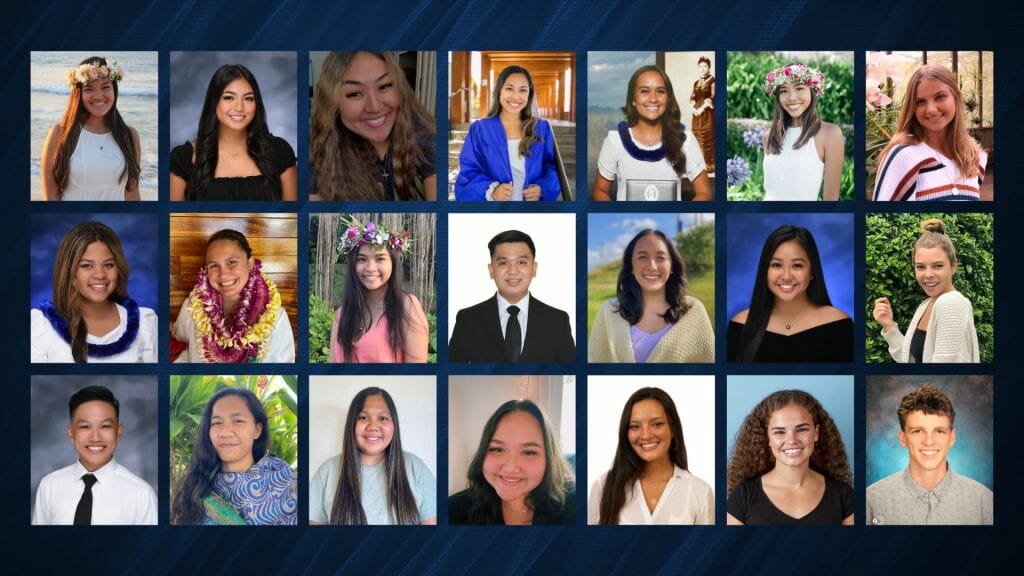 It goes without saying that academic scholarships can make the dream of college a reality for many students. Not only do scholarships help make higher education possible for those who can't afford to pay out of pocket, but they can also spare them the stress of beginning their professional lives with a heavy load of student debt.
Just ask the hundreds of graduates from local private and public high schools who are now pursuing degrees at colleges and universities across the country with the help of the scholarships they received from the Realtors Association of Maui Community Foundation (RAMCF) Presidential Scholarship Fund.
Since it was established in 1989, the RAMCF Presidential Scholarship Fund has awarded $877,000 in academic scholarships to high school seniors and past scholarship recipients from Maui, Lana'i and Moloka'i. (Past recipients can apply every year they are in school, up to four years.) Funds for the annual scholarship program are raised through Mea Kako'o, a group of sponsors who collectively donate money to the program, and events like the Maui Visitor Industry Charity Walk, RAM's Got Talent and the RAMCF Presidential Scholarship Golf Event.
This year, RAMCF awarded $23,000 in scholarships to 23 students. Ten of the recipients were honored at an awards ceremony on July 29 at the King Kamehameha Golf Club in Waikapu.
Among the 23 recipients of this year's scholarship is Collette Chapman, a 2022 graduate of King Kekaulike High School. This fall, she will be attending Northern Arizona University, where she plans to study biochemistry or molecular biology. "I am filled with joy and feeling extremely blessed that I have the opportunity to pursue a degree at a post-secondary institution," she said. "I'm glad that I have support from many people that are not only family and friends, but also those within my own community."
Like Chapman, Kaydence Lilio will be starting her freshman year this fall with help from RAMCF. The 2022 Kamehameha Schools Maui graduate will be studying nursing at Creighton University in Omaha, Nebraska. "It is such a blessing to be able to be one of the recipients this year," she said. "I am super grateful for the Realtors Association of Maui for helping me pursue my dreams of attending college to one day become a nurse."
Kayla Tuitele is a repeat recipient of the RAMCF Presidential Scholarship. This fall, the 2018 Kamehameha Schools Maui graduate will head back to Brigham Young University in Provo, Utah, where she is studying elementary education. "I feel honored to be awarded this scholarship, as it will relieve a financial burden off my shoulder and allow me to focus on using the resources at BYU to prepare to be the best teacher I possibly can," she said. "I would like to express my deepest gratitude for this monetary gift, which will bring me one step closer to reaching my educational and career goals."
To the members of RAM, Chapman said, "Thank you. Going forward into my first year of college has been stressful in all aspects, and finances are definitely a good amount of that stress for many students. Thanks to you, I have been greatly relieved of stress, frustration and doubt."
Lilio shares Chapman's sentiment. "I would like to say thank you from the bottom of my heart for choosing me as one of the recipients this year," she said. "Without you folks, it wouldn't be possible to pursue my dreams of attending college. I am just so grateful for the generosity and kindness that I am receiving through this scholarship."
Applications for next year's RAMCF Presidential Scholarship will be available in early 2023. To be eligible, students must be a high school senior or a former recipient of the scholarship from the previous three years and be in the process of applying or reapplying to an accredited college or university or trade school. Applicants must also be full-time Maui County residents who are currently attending, or have previously attended, a public or private high school in Maui County.
For more information about RAMCF or the RAMCF Presidential Scholarship Fund, visit www.ramaui.com/foundation.

The Maui News – August 5, 2022