Homesnap Showings – Benefits for listing agent and sellers
Fast, easy-to-use setup
Each agent has a unique schedule, each seller has unique expectations, and each listing has unique requirements. With Homesnap Showings, you can easily customize your listing to meet those needs. Set up a listing's rules in just a few clicks.
First, select the showing type that is right for you. Whether you need approvals from everyone, one person, or no approvals needed, you choose.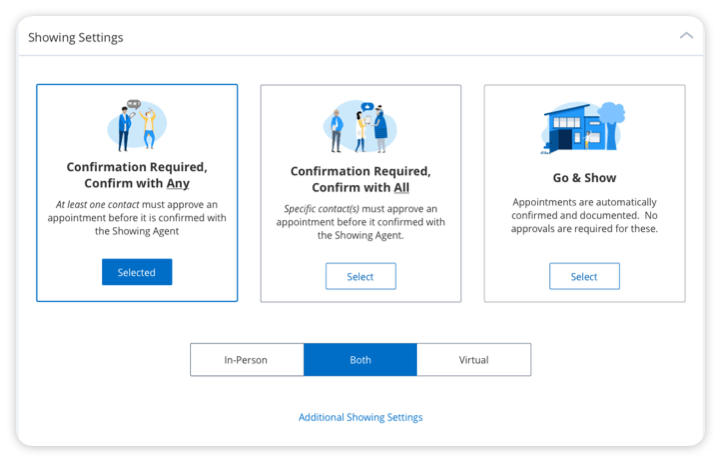 Go Live in One Click
Once you have customized your showing to your preferences, simply click the "Accepting Showings Requests" toggle to tell the world your listing is available! If you've accepted an offer and want to turn off showings, simply turn off showings in one click. If you have future showings scheduled, you can choose to keep or cancel them.
Manage approvals from anywhere
Being flexible has never been more important to agents. Whether in your car, at a showing, or at your desk, you can approve or decline showing requests directly from notifications. Simplify your daily workflow by setting your communication preferences and approve or deny requests directly from SMS, push notifications, email, or all three.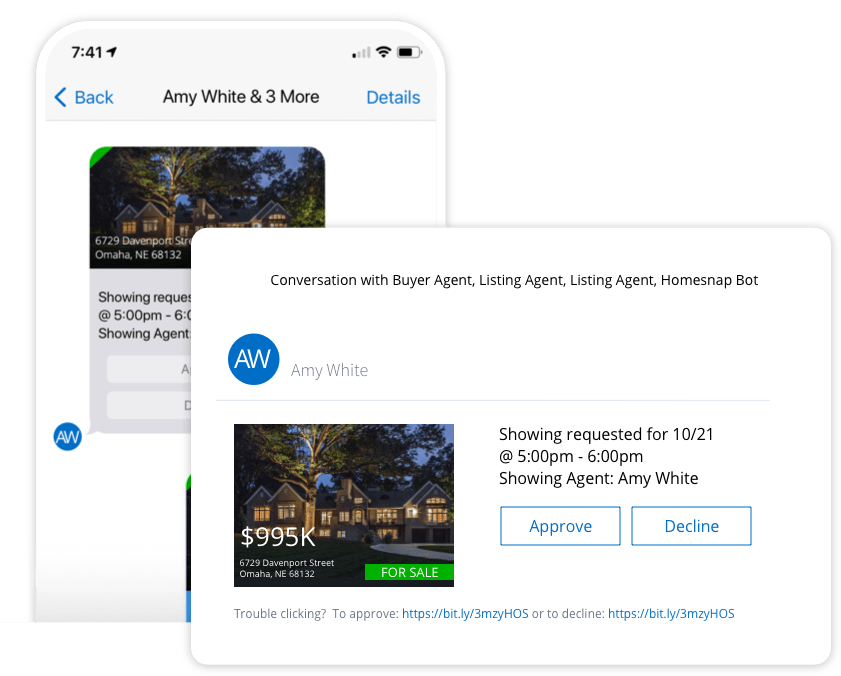 Manage approvals with ease
With Google calendar integrations, you have the power to see all of your requests in one place. When you have a pending request or a confirmed booking, it will automatically populate your calendar. Spend less time managing your schedule and more time doing the things you love.
Less follow-up. More feedback.
90% of agents interviewed and surveyed by Homesnap emphasized the importance of receiving feedback from buyer's agents after a showing. Listing agents also expressed how they spent countless hours sending follow-ups to buyer's agents to get feedback. Homesnap Showings handles those follow-ups for you. Strategically timed, automatic reminders are sent following the showing and increase responses from the buyer's side.
Once feedback comes through, you will be alerted instantly. You can view all your organized feedback on your listing report. You decide whether to share that feedback with your seller. Not all feedback is created equal, so you get to choose.
Streamlined reporting
Easily understand the outcome of your showing strategy, whether you have 1 or 100 listings. Keep tabs on your listing and showing trends over time. With easy-to-read reports, you can get a complete picture of your listing performance. Glean better insights to continuously evolve your listing strategy and set new best practices.
Click here to check out Homesnap Showings.
*Homesnap Showings is available for free to Homesnap Pro agents at RAM.