Teeing off for local youth, shelter animals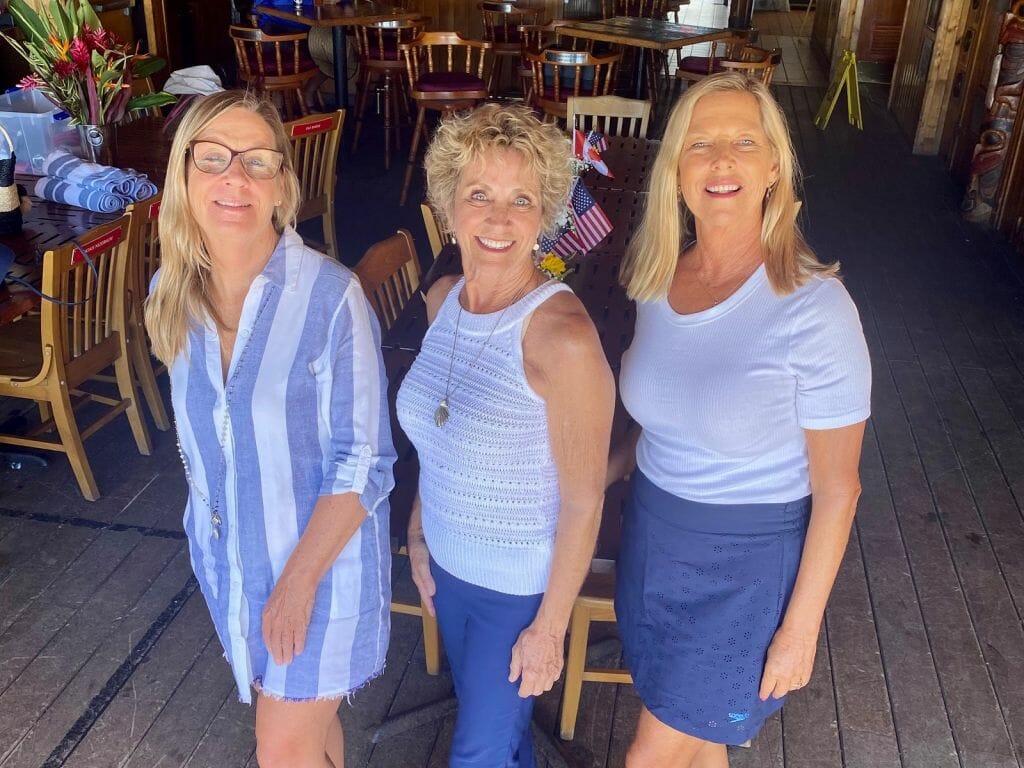 The fun will be in full swing at the Ka'anapali Kai Course on the morning of Saturday, Sept. 17. That's when dozens of golfers will hit the links for not one, but two good causes during the annual Lahaina Yacht Club Golf Tournament.
This year's tournament will raise money for two beneficiaries: The Lahaina Yacht Club's junior sailing program and the Maui Humane Society.
The annual event one of the many philanthropic activities hosted by the Lahaina Yacht Club, whose members include Lori Powers, Teresa Nelle and Anita White of Island Sotheby's International Realty. The club promotes yacht racing, cruising, power boating, fishing, and other marine activities and offers opportunities for its members to learn about all things nautical, from seamanship to navigation to safety regulations. (And everything in between.)
"Our main focus is getting people out on the water," Powers explained. That includes local youth, for whom the club offers summer programs and STEM-based school programs in partnership with the Maui Community Sailing Foundation, a nonprofit whose mission is "to provide access, education and understanding to sailing and maritime activities for the Maui community that will foster a lifetime of community, learning, self-reliance and leadership."
Apart from learning the fundamentals of seamanship, junior sailing program participants gain self-confidence and hone their teamwork and problem-solving skills out on the water. "It really exposes them to a new lifestyle that they can continue to develop over the years," Nelle said. In addition to the junior sailing program, the Lahaina Yacht Club hosts a free keiki fishing tournament for kids ages 12 and under at Lahaina Harbor and the front lawn of the Lahaina Public Library. "It's so fun to see the kids—and parents—excited about catching their first fish," Nelle said. "The club provides bamboo poles, bait, buckets, and even prizes."
White is one of the club's newest members, while Powers became a member 14 years ago. She has served on the club's scholarship committee since 2008 and has been on its membership committee for the past five years. Nelle joined the Lahaina Yacht Club 10 years ago and is active in its monthly ladies' sailing events. She also volunteers at the finish line for the biennial Vic-Maui International Yacht Race, which begins in Victoria, British Columbia and ends in Lahaina.
Throughout the year, White, Powers, Nelle and their fellow Lahaina Yacht Club members host special events, organize community service projects, and raise money for academic scholarships. The upcoming annual golf tournament is one of the club's signature fundraising events, and to date, it has raised nearly $300,000 for several local charities. The tournament is open to all residents—no club membership required—and the format will be a four-person team scramble. The cost to participate is $125 per person or $500 per four-player team. Among other things, the tournament will feature lunch, games, prizes, and the greatest reward of all: An opportunity to support two worthy causes.
The Lahaina Yacht Club is currently accepting new members and Nelle encourages others to consider joining. "You won't regret it," she said. "You will meet so many new and interesting friends from all over the world. It's also super fun to visit other clubs—90 percent of the clubs have reciprocal agreements with Lahaina Yacht Club."
And the only requirement to join, Powers said, "Is a love for volunteering."
To learn more about the Lahaina Yacht Club, visit www.lyc.us. To learn more about the club's junior sailing program, visit www.lyc.us/junior-sailing or email sailingdirector@lyc.us. For more information about the golf tournament fundraiser on Sept. 17, contact John Pope at (808) 264-1625.
To learn more about the Maui Community Sailing Foundation, visit www. www.mauicommunitysailingfoundation.org. For more information about the Maui Humane Society, visit www.mauihumanesociety.org, email info@mauihumanesociety.org or call (808) 877-3680.

The Maui News – July 29, 2022