RAM members bring the holiday spirit to KHAKO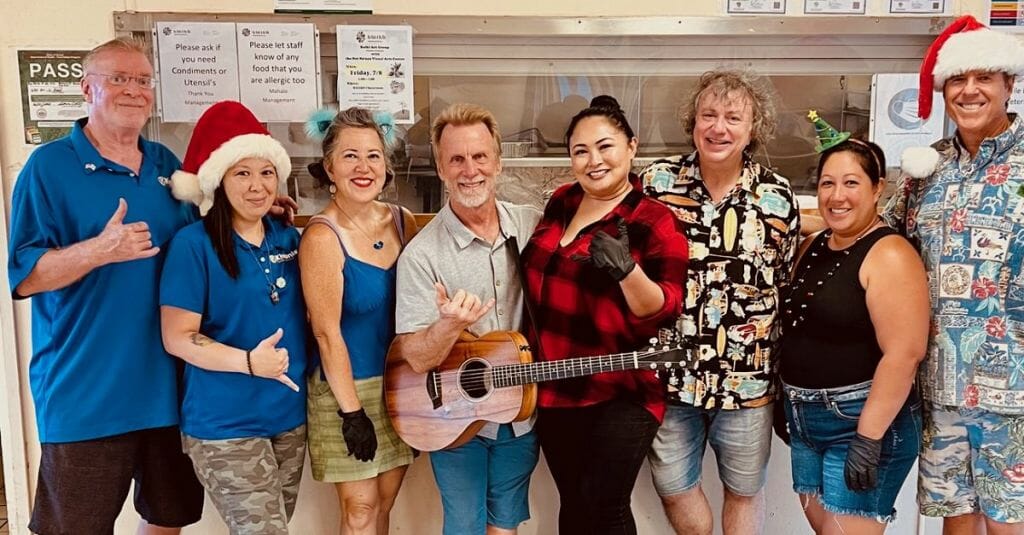 It was beginning to look a lot like Christmas at the Ka Hale A Ke Ola (KHAKO) Homeless Resource Centers Wailuku facility on Wednesday, July 6. That's when a group of Realtors Association of Maui (RAM) members and affiliates hosted a fun and festive Christmas in July-themed dinner for 51 residents staying at the shelter.
Sponsored by the Kiwanis Club of Kahului, the event had all the trimmings: hot dogs and burgers fresh off the grill, holiday decorations, gift cards, and live music performed by local singer-songwriter Brooks Maguire.
The very merry feast was made possible by RAM members and affiliates Patrick Kilbride of PK's Plants and Lawn Services, Howard Dinits of Dinits Realty, Anne Diola of Makai Mortgage, Bruce McDonald of Coldwell Banker Island Properties and Naomi Petterson of Maui Realty Company, all of whom are Kiwanis Club of Kahului members.
"KHAKO is so appreciative for the care and generosity of time, food and donations for the shelter families and singles," said KHAKO Executive Director Monique Ibarra. "Patrick and his group always make the participants feel so happy with great food and kindness! They continually strive to make our community better and better."
The group has prepared and served many meals at the shelter over the years, and every time, McDonald said, "It's nice to assist and see the joy of families and keiki."
Dinits has participated in the annual July dinner event for the past four years and says it is always a rewarding experience. "The reason I volunteer is that I see the joy it brings to the people who live at the shelter," he said. The highlight of this year's event, Dinits said, "Was getting to meet and sit with a family that lives at the shelter and just talk story."
Diola has lost count of how many times she's volunteered at the shelter. "It's been many years," she said. "Giving back to my community is something that has always been important to me. Being able to at least provide a delicious meal to those who are in a tough situation makes me feel that I'm at least doing my small part to help my community."
This isn't the first time RAM members have stepped up to support KHAKO. Since 1989, RAM members have sponsored monthly meals at the nonprofit's two facilities in Lahaina and Wailuku, gathering in KHAKO's kitchens to prepare and serve meals on a designated night. In 2019, RAM members raised nearly $30,000 to help the nonprofit purchase a brand-new playground for its Wailuku facility. And in 2020, KHAKO became a beneficiary of the Realtors Association of Maui Community Foundation's Wishing Well…for Maui Students program, which provides school supplies and other items to all of Maui County's public schools.
Diola encourages other groups or organizations to consider hosting a meal at KHAKO. "It's a great opportunity to showcase your cooking skills. However, the best part is helping people in need," she said. "The gratitude for a delicious, hot meal really puts things into perspective for me. Many of us deal with a lot of stress at home, school, work, etc., but the residents at the shelter are struggling with the basic human needs of a roof over the head, warm meals and more. Volunteering and sponsoring does not take too many resources. Ask your close friends and colleagues for help, both physically and financially. You'll be surprised at how easy it is to sponsor dinner at KHAKO."
KHAKO is a comprehensive resource center that prepares families and individuals for permanent housing while providing emergency shelter, counseling services, addiction recovery management and adult education and training, as well as a primary care medical clinic and childcare facilities. The nonprofit provides thousands of meals to men, women and children every year and volunteers are always needed to lend a hand at its two facilities. To learn more about food donation or volunteer opportunities, contact KHAKO food services manager Todd Kanoa at (808) 446-8137. For more information about KHAKO or to inquire about donor opportunities, visit www.khako.org or call (808) 242-7600.

The Maui News – July 22, 2022