REALTORS® help students thrive in the classroom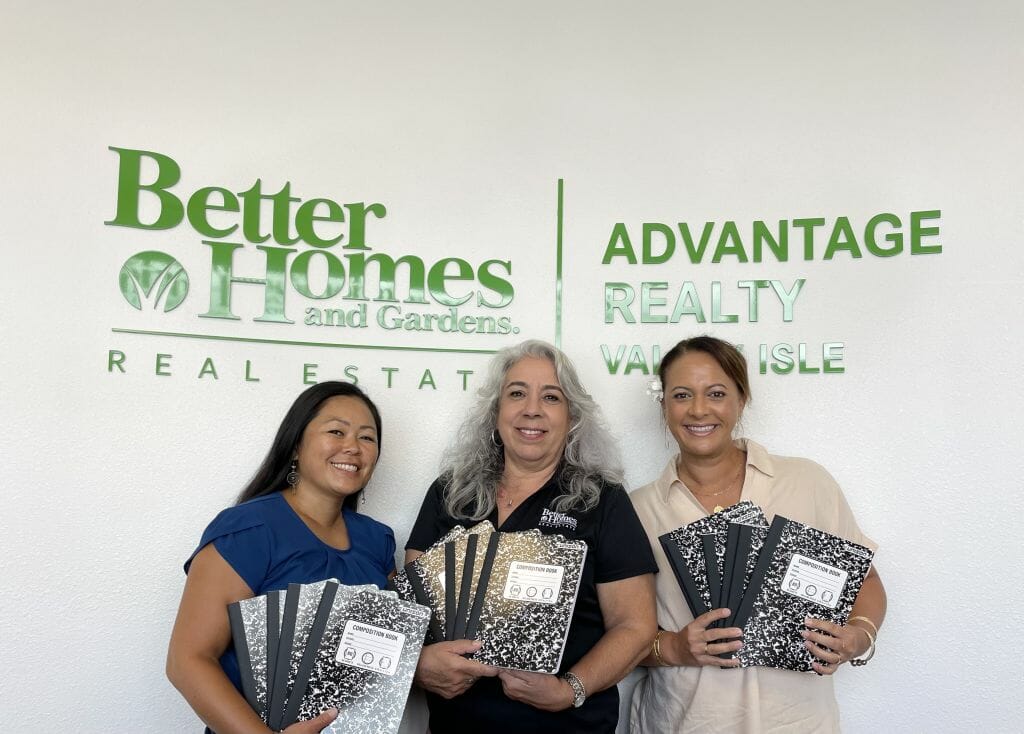 It may be hard to believe, but a few weeks from now, thousands of students across Maui County will head back to school. And for the second year in a row, the Realtors of Better Homes and Gardens Real Estate Advantage Realty Valley Isle will help make the new school year a little easier for many of these students.
Last summer, the agents collected and donated nearly 10,000 No. 2, mechanical and colored pencils for the Realtors Association of Maui Community Foundation's Wishing Well… for Maui Students program. This year, they've set their sights on collecting 1,000 composition notebooks for the program by July 29.
Why composition notebooks? "We wanted to make it simple for people to donate. By selecting just one item to collect, we thought it might make it easier for someone to grab a few extras," explained Realtor-Broker Erin Clapper. "We inquired with Wishing Well on what some of the most-needed items were, and composition books were close to the top of that list."
Since its inception in 2007, the Wishing Well program has donated goods, supplies and services to public schools countywide. Run by volunteer Realtors Association of Maui members, the program covers every public school on Maui, Molokai and Lanai, along with Ka Hale A Ke Ola Homeless Resource Centers, a nonprofit that shelters students in different grade levels at its Wailuku and Lahaina facilities. Each school has a volunteer Wishing Well coordinator who collects and distributes donated school supplies year-round. The program relies largely on donations from residents, visitors and businesses, which is why efforts like the composition notebook drive are so important.
"This means everything to me," said Realtor-Salesperson Traci Marie Bean. "I believe it takes a village to raise a child to their full potential. I have always supported public schools and this is a small way of doing my part."
"It feels great knowing that my donation will help the keiki of Maui," said Realtor-Salesperson Beth Apo. "With the right supplies, they will be able to focus on what matters the most, their education."
"I feel thankful that I am able to help in a small way and encourage others to help Maui County students as well," said Realtor-Salesperson Lauren Nottage Hogan. "All students should have an equal opportunity with tools they need to do their work and learn and be successful."
Clapper, Apo, Hogan and Bean encourage others to consider donating or hosting their own school supply drive this summer. "If you are able to donate or if you are thinking of holding your own school supply drive, please do as it is going to the keiki of Maui, who are our future," Apo said.
"Please help if you can," Hogan said. "Any and all donations, whether large or small, will be so greatly appreciated by our Maui students. I'll even pick up your donation."
Seemingly simple items like pencils, pencil boxes and composition notebooks can have a profound impact on a child's success in the classroom and in life, Clapper said. "Although it may seem like just another colored pencil, but that might be what a budding artist uses to create their first masterpiece," she said. "It may seem like just another composition book, but that book might be a keiki's creative writing outlet. It might seem like just another pencil box, but the pencil box might help a child learn to organize and be responsible for their own belongings. School supplies are so much more than what they might seem." You can help these Realtors meet their goal of collecting 1,000 notebooks this month.  Donations can be dropped off from 8:30 a.m. to 4:30 p.m. Monday through Friday at the Better Homes and Gardens Real Estate Advantage Realty Valley Isle office located at 54 Maui Lani Parkway in Wailuku. To learn more about the Wishing Well program, visit www.ILoveMauiSchools.com or call Sarah Sorenson at (808) 283-3969. If you're a Maui County public school teacher with a wish list for your classroom, contact Sorenson at (808) 283-3969.

The Maui News – July 15, 2022