RAM member helps nonprofit change lives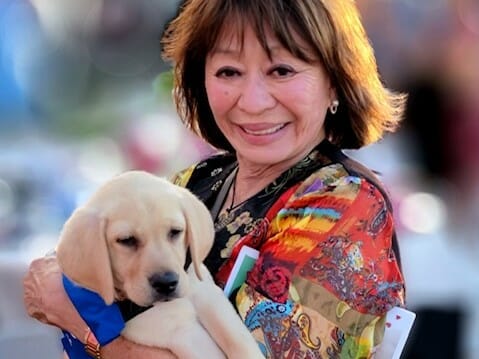 If you know Leslie-Ann Yokouchi, then you know she's a dog lover. Big time.
She currently has four furry, four-legged family members. There are three Labradors: Baxter, age 13, Cooper, age 11, and Dodger, who's 11 months. And then there's Sophie, a one-year-old Cavalier King Charles Spaniel.
It may come as no surprise, then, that Yokouchi has been involved with animal nonprofits like the Maui Humane Society, SPCA Maui, and Assistance Dogs of Hawaii (formerly Hawaii Canines for Independence), a fully accredited Maui-based nonprofit organization that provides professionally trained assistance dogs to people with physical disabilities and other special needs throughout Hawaii, free of charge.
For the past 13 years, she has been a major sponsor of the Assistance Dogs of Hawaii Valentine's Benefit Event, an annual fundraiser for the nonprofit. Additionally, Yokouchi and a group of agents from Better Homes and Gardens Real Estate Advantage Realty Valley Isle have completed service projects at the Assistance Dogs of Hawaii facility in Makawao.
It all began with a serendipitous encounter years ago between Yokouchi and Mo Maurer, executive director of Assistance Dogs of Hawaii. At the time, Yokouchi had a yellow lab, Kimo, who was an occasional escape artist. "He would get out and roam the neighborhood. Most of the neighbors knew him and would call me to tell me where to pick him up," she recalled. "One day, Mo called me and said she had Kimo."
Maurer had brought Kimo to the home of Mary King, a founding benefactor of Assistance Dogs of Hawaii, who lived nearby. When Yokouchi arrived at King's home to retrieve Kimo, she and Maurer met for the first time. That's when she learned about Assistance Dogs of Hawaii. "I sat with Mary and Mo and they explained their vision and their plans," she said. From that moment on, Yokouchi says she was determined to support the organization in any way she could. "Being that I am a Lab lover and a dog lover, what better way to help people—along with showcasing what dogs can do?"
In addition to training service dogs for children and adults with physical disabilities and other special needs, Assistance Dogs of Hawaii has trained full-time hospital facility dogs who now dole out love and snuggles to patients across the state, along with full-time courthouse dogs who give comfort and courage to victims and witnesses of crime.
The nonprofit also has several community outreach programs, including a therapy dog team program for nursing homes and rehabilitation facilities, a workplace readiness program that helps high school students with special needs gain work experience before they graduate, and a wounded veterans' program.
Assistance Dogs of Hawaii is also making its mark on canine medical scent detention research. Since 2014, the nonprofit has led several research studies determining a dog's ability to "sniff out" bacterial infections in human urine, thereby providing early detection of life-threatening medical conditions.
More recently, Assistance Dogs of Hawaii teamed up with the Queens Medical Center for a research study investigating dogs' ability to detect the presence of SARS-CoV-2 in humans. The study revealed that the specially trained dogs could sniff out the virus with an extremely high degree of accuracy; the results have been published in Oxford Journal's Open Forum Infectious Diseases.
"When you see the impact these dogs have made on the lives of people, there are no words that can express this satisfaction," Yokouchi said. "Through the help of these dogs, people are able to live better lives and feel the freedom these dogs bring."
To learn more about Assistance Dogs of Hawaii or to inquire about volunteer or donor opportunities, visit www.assistancedogshawaii.org, email info@assistancedogshawaii.org or call (808) 298-0167.

The Maui News – July 8, 2022