Overview of the RAM MLS Documents
Did you know that RAM MLS forms are only a mouse click away in your Paragon MLS?    There may be a time that you need to use one of these forms if your seller wants to waive the listing from MLS, have the seller authorize a price change,  or if you simply need to look up a specific MLS rule about photos, for example.
Accessing the MLS Documents can be done anytime you are logged into Paragon MLS and clicking on the MLS Documents link in the upper right corner of the screen.     Please take a moment to get to know your MLS documents.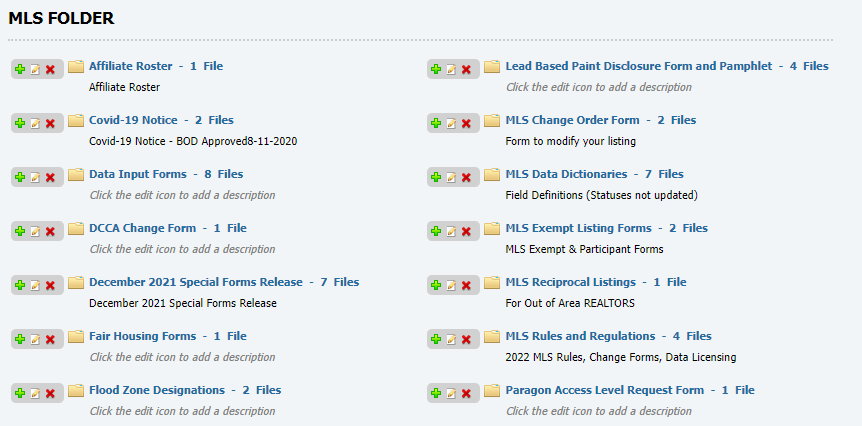 MLS Change Order Form – MLS form for Listing Agent and Seller to Modify the Status, Price, or other info on a listing. RAM will only require that the listing agent send in this form if you need changes made to an Off Market listing, or if requested by MLS for verification purposes.
MLS Exempt Listing Form –This form is required to submit to MLS, in the event the seller wishes to exclude the listing from MLS. If the seller will only be marketing the listing to the Listing Office (Office Exclusive) you would use the MLS Participant Only Listing Form.
MLS Reciprocal Listings – This form is used by out of area REALTORS on other islands that wish to submit a property for sale into the RAM MLS system.
MLS Rules and Regulations – The most current version of the RAM MLS Rules and Regulations is found here. Also will find the MLS Data License Agreement that allows brokers and agents to display MLS listings on their website.
Paragon Access Level Request Form – This form is used for the Broker at the office to grant permission to increase (or decrease) the Security Level for agents at that office. Security Level affects the ability for Paragon Users to enter listings for themselves, or to edit all office listings.
Paragon Assistant Application Form – This form used to for a non-licensed admin assistant to get their own Paragon login to support one or more agents at the company or firm.
Paragon Condominium List – These two documents identify the Condominium names on Maui and help listing agents know if it should be listed as a Residential or Condominium Property Type. This list is currently in the process of being updated but has the majority of Condo names.
Other Documents worth mentioning:
Data Input Forms – These are the standard input forms for each Property Type at RAM MLS, and include ability for seller to sign off for verification purposes.
HAR RAM Library – Don't forget that RAM also has the most current HAR transaction forms available in MLS Documents. These are the same forms you can find in your ZipForms or DocuSign accounts but do not include ability to integrate into your Transaction Management system directly.
RAM works to ensure these documents and forms are revised on a regular basis. Please contact jeff@ramaui.com if you have any questions about these forms or identify a typo on one of them.