REALTORS® step up to help Maui Food Bank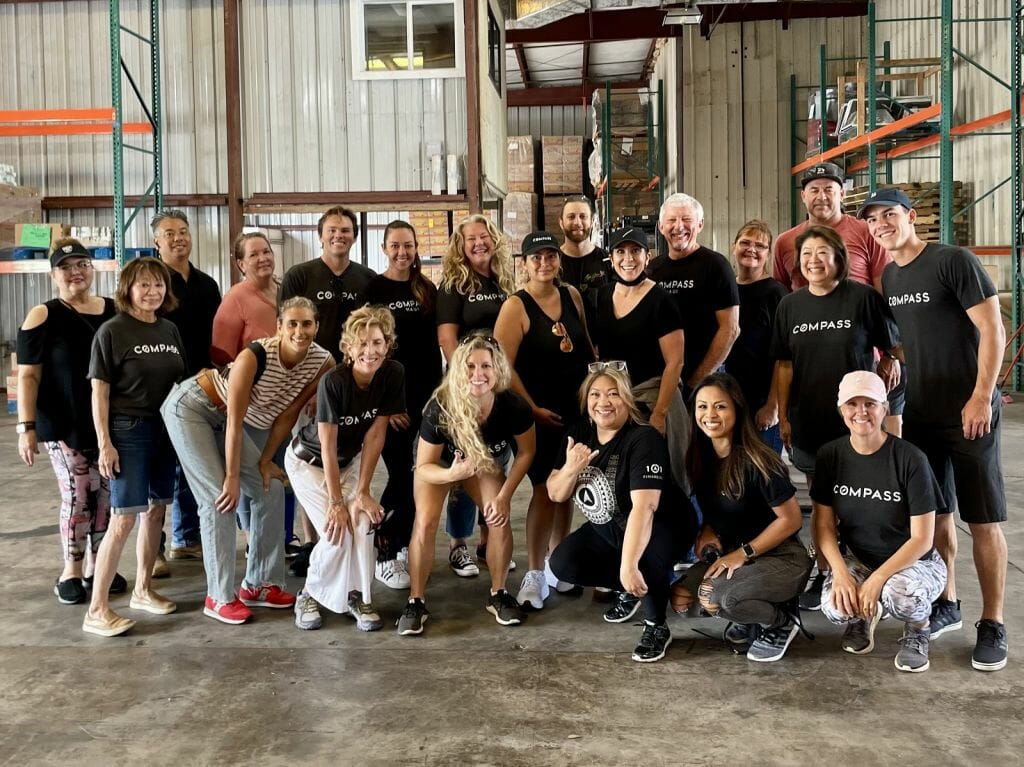 Right now, someone—possibly even a friend, neighbor, classmate, or coworker—is grappling with food insecurity in Maui County. The U.S. Department of Agriculture defines food insecurity as a lack of consistent access to enough food for an active and healthy life. It is a daily reality for many residents and the problem has only worsened due to rising food prices.
That's why a group of volunteers from Compass spent several hours at the Maui Food Bank on June 15 as part of a company-coordinated community service project.
That day, 25 Compass agents and Oahu-based Compass Regional Operations Manager Kathleen Daly filled 576 bags with food. The bags will be distributed through the Maui Food Bank's Senior Mobile Pantry and Emergency Food Bag programs.
"While it did make me feel good to be helping such a noble cause as the Maui Food Bank, I was overwhelmed by the magnitude of the state of hunger here on Maui," said Compass Broker-in-Charge Bob Lightbourn. "We know it's there, but we don't have to face it in our day to day lives very often. It made me thankful that I have enough to eat and reaffirmed my commitment to support the Maui Food Bank however possible."
"On behalf of the Maui Food Bank, we greatly appreciate the Compass team volunteering their time to help the Maui Food Bank pack 576 bags of safe and nutritious food to distribute to those in need of hunger relief," said Maui Food Bank Community Relations Manager Chelsey Ham. "We rely on the generosity and spirit of aloha that volunteers bring as they help us fulfill our mission to help the hungry in Maui County."
This isn't the first time Realtors Association of Maui (RAM) members have stepped up to help the Maui Food Bank. Over the years, many RAM members have held food drives, coordinated fundraisers, and served on the food bank's board of directors. At the height of the COVID-19 pandemic, RAM's public relations committee spearheaded the Got Rice? food drive with the goal of filling the Maui Food Bank's shelves with bags of rice. RAM members and non-members donated to the virtual campaign, and within two weeks, their collective donations yielded more than 14,800 pounds of rice.
And for the past decade, dozens of RAM members have participated in the St. Patrick's Day-themed Aloha BackPack Buddies Bocce Ball Fundraising Tournament. The annual tournament benefits the Maui Food Bank's Aloha BackPack Buddies program, which provides healthy weekend meals to students from food-insecure homes. Since the program began in 2012, it has received support from a long list of RAM members, both on and off the bocce ball field.
Compass Office Administrator and Agent Experience Coordinator Samantha Sinclair organized the Compass service project on June 15. She encourages other companies—real estate or otherwise—to consider coordinating a volunteer project of their own. "It's not hard work, but it requires a lot of volunteers at once," she said. "The feedback that I got from my agents was 'it was so much fun.'"
You can also help provide hunger relief to those in need by making a food or monetary donation to the Maui Food Bank. "Every little bit helps," Sinclair said. "Everything from small food donations to large monetary donations adds up to make the Maui Food Bank a success. They need community support at all times of the year, not just during the holidays."
The Maui Food Bank provides safe and nutritious food to anyone in Maui County who is food insecure. To learn more about the Maui Food Bank, to inquire about donor or volunteer opportunities, or for a list of food drop-off and distribution locations, visit www.mauifoodbank.org.

The Maui News – June 24, 2022