Taking the day off to give back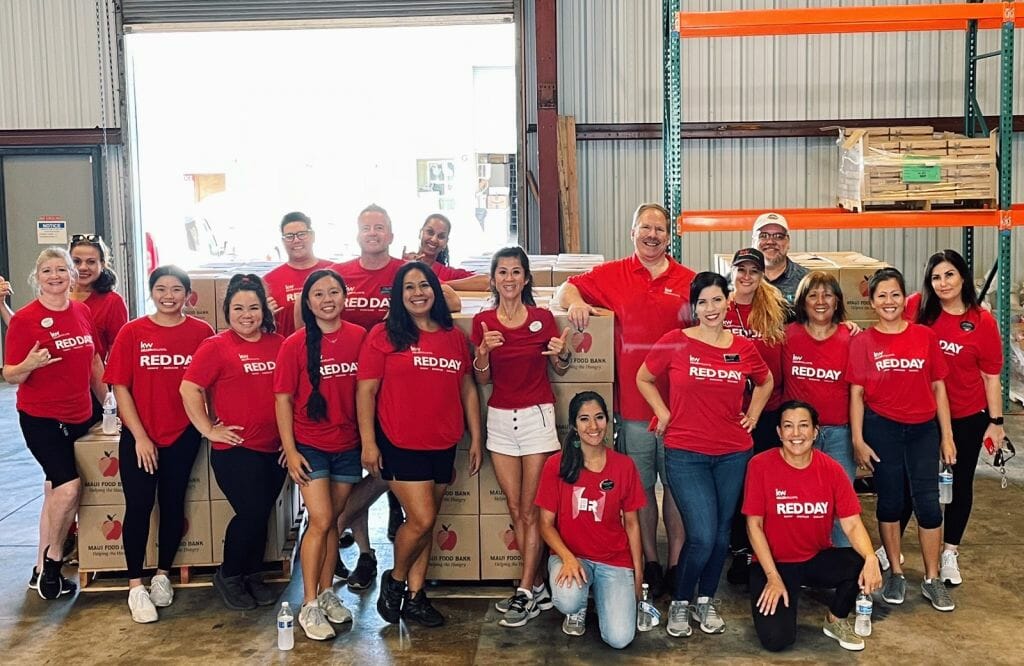 If you passed by any of the three Keller Williams Realty Maui offices on Thursday, May 12, you may have noticed near-empty parking lots, darkened windows or "closed" signs hanging on the front doors.
No, these agents and administrative staff members weren't playing hooky from work. To the contrary, they spent the day giving back to the community through three coordinated service projects.
Yes, that's service projects plural.
May 12 was Keller Williams' annual Renew, Energize and Donate Day, acronymically known as RED Day. Introduced in 2009 with the tagline "give where you live," RED Day is a global day of service held every year on the second Thursday of May to celebrate the birthday of Keller Williams' Vice President Mo Anderson. Every year, without fail, Keller Williams agents in the U.S., Canada and abroad set aside an entire day to "renew, energize and donate" within their respective communities.
Over the years, RED Day volunteers on Maui have cleared litter from beaches, held food drives, collected and donated protective masks to local health care workers, delivered fresh-from-the-oven pizza slices to unsheltered residents, and spruced up the Boys & Girls Clubs of Maui Central Clubhouse, among other things.
This year, Keller Williams Realty Maui agents and administrative staff took part in three RED Day service projects at three different locations.
The day began at the Maui Food Bank warehouse in Kahului, where 20 red shirt-clad volunteers spent the morning prepping and packing 250 boxes of food to be distributed to people in need. At the exact same time, another group of volunteers was working alongside Habitat for Humanity Maui crew members at a construction site in Kula. There, they helped build the concrete foundation of what will eventually be a 1,200-square-foot, three-bedroom Habitat for Humanity home. And miles away at the United Methodist Church in Lahaina, yet another group of Keller Williams Realty Maui volunteers spent several hours distributing food to residents in need through Feed My Sheep, a nonprofit that helps nourish low-income families, seniors on fixed incomes and Maui's unsheltered.
No two RED Days are the same, but every year, Keller Williams Realty Maui volunteers end the day feeling fulfilled and invigorated. And it's guaranteed that next year's RED Day will be no different.
Food banks across the country continue to face am increased demand for resources and the Maui Food Bank is no exception. That's why RED Day and other Realtors Association of Maui member-coordinated efforts to help the food bank are so important. Food and monetary donations are always needed to help feed those who are at risk of going hungry in Maui County. To learn more about the Maui Food Bank or to inquire about donor or volunteer opportunities, visit www.mauifoodbank.org or call (808) 243-9500.
Habitat for Humanity Maui works to provide strength, stability and self-reliance through shelter, and just like the RED Day volunteers, you can help the nonprofit achieve that goal by volunteering to help build, renovate or repair homes. To learn more about Habitat for Humanity Maui and its programs or to inquire about donor or volunteer opportunities, visit www.habitat-maui.org or call (808) 242-1140.
Feed My Sheep distributes food every week at designated sites in Lahaina, Wailuku, Kahului, Kihei, and Hana. For more information about Feed My Sheep Maui, to inquire about donor or volunteer opportunities or to view a list of distribution locations, days and times, visit www.feedmysheepmaui.com or call (808) 872-9100.
The Maui News – May 27, 2022