Young Professionals Network members educate, give back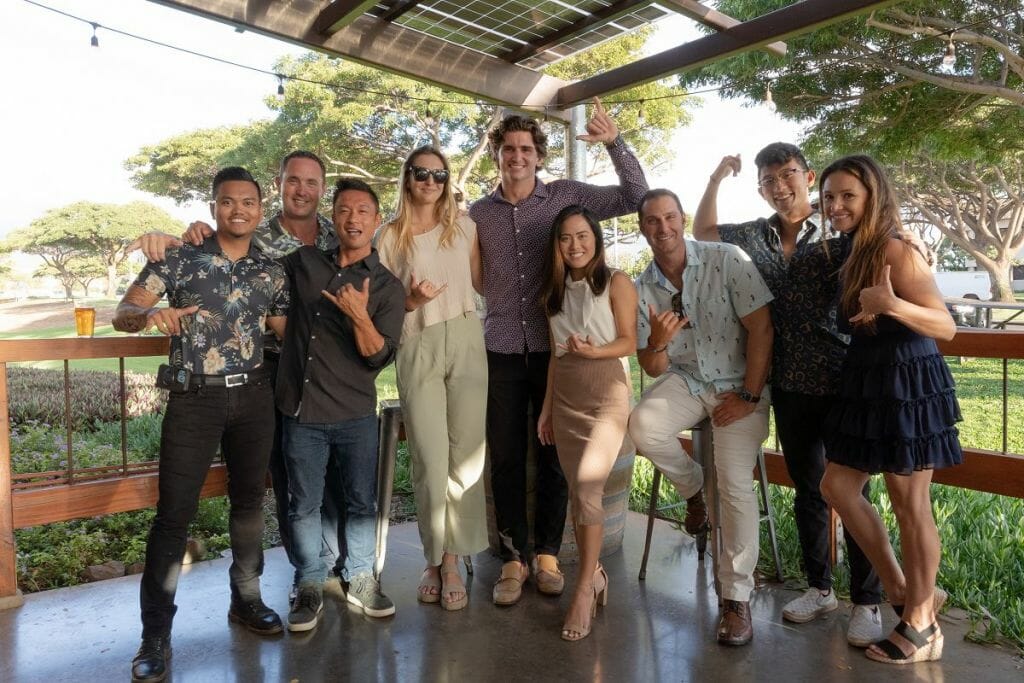 On the evening of Monday, April 11, a crowd of 60 gathered at the Maui Brewing Company in Kihei for a first-time homebuyer seminar hosted by the Young Professionals Network (YPN), which is composed of several Realtors Association of Maui (RAM) members.
It was the group's first-ever homebuyer seminar—and it won't be the last. "Going forward, we would like to plan more of these after seeing such a great turnout and so much interest," said Connor Carrigan of Keller Williams Realty Maui, who serves as the YPN chair. "We want to educate as many first-time homebuyers as we can, so definitely expect more of these events in the future."
The seminar featured five speakers, each of whom represented a different stage of the homebuying process. The first speaker was RAM affiliate Brady Spangler of Guaranteed Rate, who talked about the prequalification process and how first-time buyers can prepare their finances to purchase a home. Spangler was followed by Marlynn Tanji from Hale Mahaolu's Homeownership and Counseling Program. She talked about the first-time homebuyer courses offered at Hale Mahaolu and offered advice for those interested in the process. The third speaker was RAM affiliate Joel Navarro of Ho'okele Title & Escrow, who demystified the escrow process. He was followed by RAM affiliate Beau Petrone of A Sound Mind Home Inspection, who talked about the home inspection process, as well as important things to look for when purchasing a first home. The fifth and final speaker was Habitat for Humanity Maui Development Director Max Tornai, who shared information about the nonprofit's programs for first-time homebuyers.
Apart from educating attendees, the seminar also raised money to establish a scholarship fund in memory of the late Russell Adkins. Adkins was the chief financial officer for Maui Brewing Company and a beloved member of the Maui community. He passed away at the age of 38 in December of 2021.
This isn't the first time YPN members have stepped up to help others. During the holidays, they've hosted toy drives for the Toys for Tots program and donated gifts to local charities like The Salvation Army, Family Life Center, Mental Health Kokua, Ka Hale A Ke Ola Homeless Resource Centers, Pacific Cancer Foundation, Molokai Youth Center, and Aunty Jan's House of Blessings. And last April, a group of YPN members spent a day cleaning up a stretch of Sugar Beach in North Kihei, ultimately collecting an entire Toyota Tacoma truck bed's worth of trash.
The YPN membership roster includes Carrigan, Rich Wu of Hawaii Life Real Estate Brokers (who serves as the group's vice-chair), Brandon Force of Berkshire Hathaway Maui Properties, Rex Golden of Coldwell Banker Island Vacations, Josh Jerman of Hawaii Life Real Estate Brokers, Tamri Katsutani of The Agency Maui, Elisa Lipton of AvantStay,
Tucker Lyons of Keller Williams Realty Maui, Gray Marino of Ho'okele Title & Escrow, and Sailor Bockius, Genesis Buduan, Shelley Krynsen and Kat Sirignano of Coldwell Banker Island Properties.
Among other things, YPN gives its members the tools and encouragement they need to pursue leadership roles within Realtors associations, stay on top of industry news and trends, take an active role in policy discussions and advocacy issues, and give back to their community by volunteering for causes they feel passionately about. Although YPN stands for "Young Professionals Network," it also welcomes members who are new to the business of real estate.
Carrigan encourages others to consider joining YPN. "We would love to add to our team," he said. "Reach out to me or Rich [Wu] and we can connect and talk about an opportunity with YPN."
To learn more, contact Carrigan at carriganmaui@gmail.com or Wu at richwu@hawaiilife.com.

The Maui News – May 2, 2022