RAM members raise money for local keiki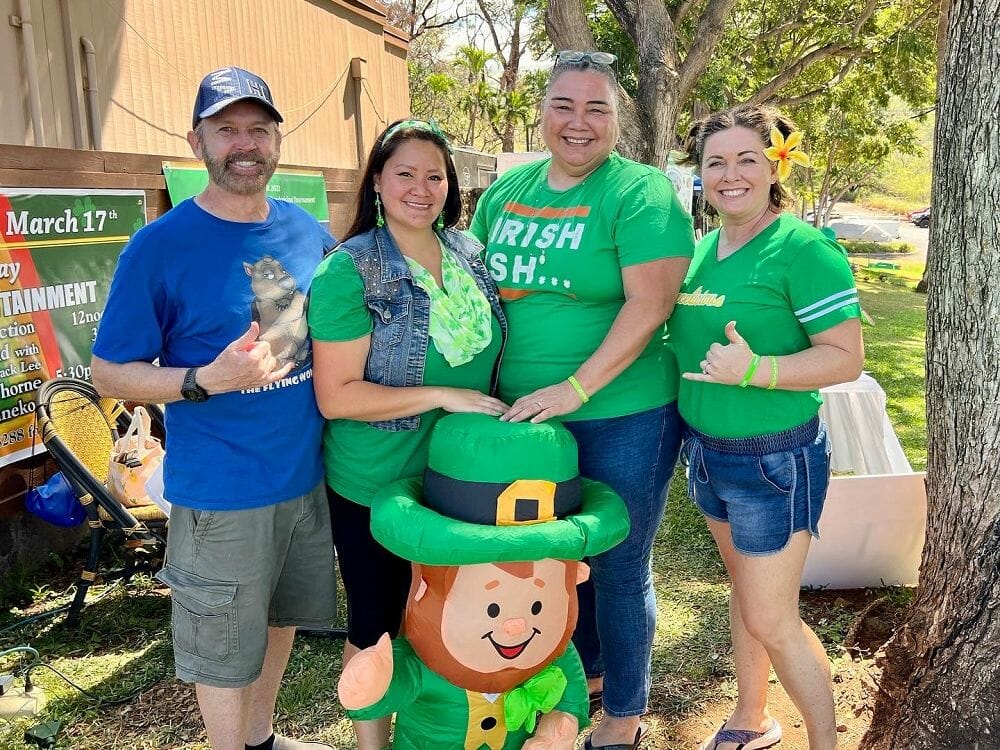 For the past decade, green-clad bocce ball players have taken the field at Mulligans on the Blue in Wailea on a designated morning in mid-March for the annual St. Patrick's Day-themed Aloha BackPack Buddies Bocce Ball Fundraising Tournament.
The tournament benefits the Maui Food Bank's Aloha BackPack Buddies program, which provides healthy weekend meals to students from food-insecure homes throughout the academic year. Since it began in 2012, it has received support from a long list of Realtors Association of Maui (RAM) members, both on and off the bocce ball field.
Under the direction of tournament committee chair and RAM affiliate Patrick Kilbride, the ultra-festive event draws nearly two-dozen cleverly named teams and typically sells out weeks in advance. The 2022 tournament on March 12 was no different. Like years past, it delivered plenty of fun and friendly competition. And the best part? This year's event raised $51,003 for the Aloha Backpack Buddies program, which will provide 10,201 backpacks and 61,206 meals. "Thank you to our 20 bocce ball teams, to our 40 generous tournament sponsors and to our 30 tournament volunteers for helping us raise $51,003 during our 11th Annual Aloha BackPack Buddies Bocce Ball Fundraising Tournament," Kilbride said. "And a special shout out to the 26 Maui County schools involved in providing children with bags of food to take home on the weekends. The children who are receiving meals from Maui Food Bank's Aloha BackPack Buddies program will become the next generation of living angels here on Maui."
"When Patrick signs up to volunteer, he puts his whole heart into it," said Maui Food Bank Development Director Marlene Rice. "Through his volunteerism, he inspires others to practice kindness every day. At the Maui Food Bank, we appreciate all Patrick does to help the hungry in Maui County."
A long list of RAM members participated that day, either as players, donors, sponsors or volunteers. Among them were Melissa Salvador of Old Republic Title, who volunteered as a scorekeeper, and bocce team captains Todd Hudson and Lee Wheeler of Keller Williams Realty Maui.
For Salvador, it was the first time in 10 years she hasn't been on the field as a player. "It was nice to take the competitive edge off and just enjoy the day, watch people having fun, and know that I'm contributing by scorekeeping and keeping the tournament moving along smoothly," she said.
Hudson has been a part of the annual event since it began in 2012. This year was especially memorable, as his team won the tournament. "I've been lucky enough to participate every year, though this year was my favorite so far. COVID took a toll on a lot of us physically and mentally, so to be outdoors and see friends and colleagues in person after almost two years made it so much more special," he said. "The tournament benefits a great charity and we get to have some friendly competition and bragging rights with others in our real estate community. It's great to have an event that benefits the kids and gets the community involved in such a fun event."
Wheeler and his teammates were this year's returning champions. "I had to come back to defend my title, having been the 'three-peat' winning captain for 2019, 2020 and 2021… three years in a row!" he said. "Though I didn't get the 'four-peat' this year, I will work on the 'fourth win' in 2023." At the end of the day, Wheeler said, it's all about the kids. "The Aloha Backpack Buddies is an important and worthwhile program, so it's easy to support," he said. "If someone is even remotely thinking about playing or volunteering next year, I would say, just do it. I think they will find it's more fun and social than competitive and it is an overall enjoyable day. Volunteers are truly needed to be judges and scorekeepers at each of the 10 courts. Help us help the kids."
Salvador agrees. "Bocce is for everyone, you don't need to know what you're doing," she said. "And the camaraderie of being around people that all have the same desire as you—to help food-deprived children on Maui—makes it all the better."
If you'd like to be a part of next year's event, mark your calendars: There will be two tournaments in 2023 on March 4 and 11 at Mulligans on the Blue. For more information, contact Patrick Kilbride at 264-4289 or patrickkilbride7@gmail.com.

The Maui News – April 11, 2022