REALTOR® takes action to help residents in need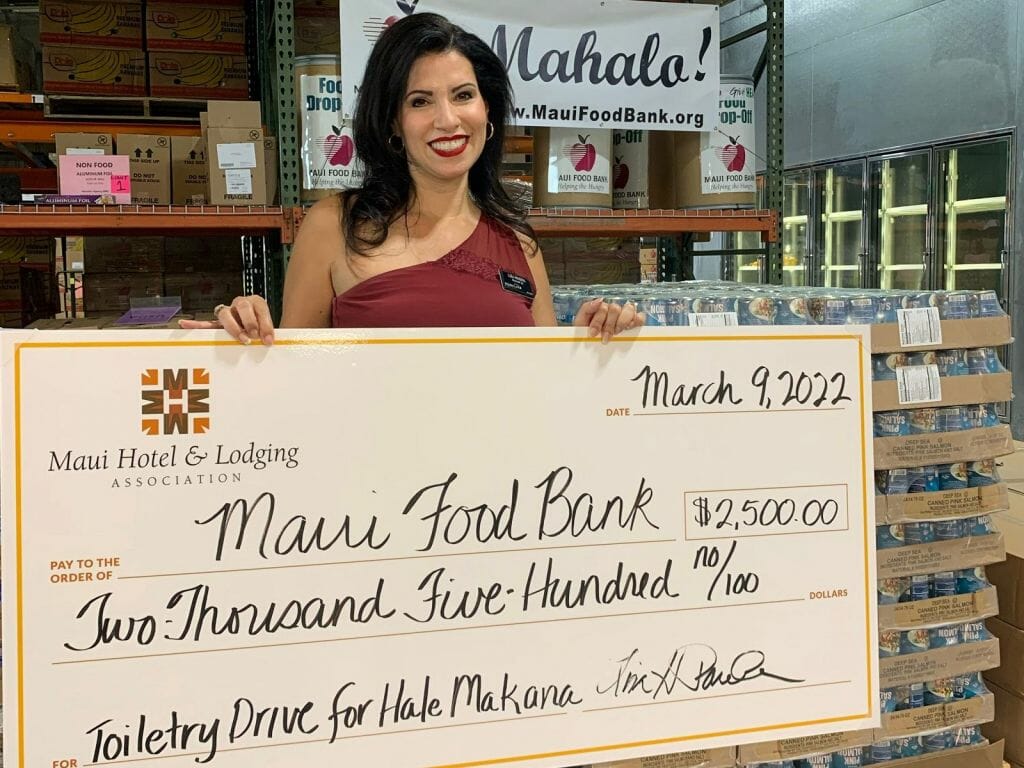 It's been nearly two years since Liza Rivera stepped up to help the Maui Food Bank as it navigated the challenges brought on by the COVID-19 pandemic. And she has no plans to stop anytime soon. "I'll do whatever I can to help," she said.
It all began in April of 2020. That's when Rivera, a Realtor with Keller Williams Realty Maui, says she couldn't sit idly by while the pandemic upended people's lives—she felt compelled to take action. First, she collected protective face masks for state Department of Land and Natural Resources officers who were working to keep Maui's beaches safe. After that, she set her sights on the Maui Food Bank. She picked up the phone and called Chelsey Ham, the nonprofit's community relations manager. "I told her: "I want to help—what can I do?" Rivera recalled. Over the course of two weeks, she and four helpers—her son, Jeremy, twin daughters, Anjolina and Olivia, and husband, Raymond—drove around picking up donations from family members, friends, clients and members of the Koa Puna Motorcycle Club.
The following month, Rivera coordinated a food drive as part of Keller Williams Realty Maui's RED (Renew, Energize and Donate) Day, an annual day of service held on the second Thursday of May. By the end of the month, she and her fellow volunteers had collected 1,222 pounds of food and more than $4,500 for the Maui Food Bank.
And that was only the beginning. In the fall of 2020, the Maui Food Bank assigned Rivera her own food distribution site, Hale Makana O Waiale, an apartment complex located next to Ka Hale A Ke Ola (KHAKO) Homeless Resource Centers in Wailuku. Once a month, Rivera, accompanied by her husband and sister, Rebecca Galvan, drives to the Maui Food Bank's headquarters in Wailuku. There, the trio picks up one of the nonprofit's vans and heads to Hale Makana, where they distribute food, including bags of produce, canned goods, boxes of cereal, and loaves of bread.
On one of Rivera's first visits to Hale Makana, a young mother politely asked if there was any soap, shampoo or toothpaste available. Rivera only had food items on hand, but the inquiry sparked an idea: A toiletry drive to collect personal care products for anyone who needed them. Times have been tough for so many people, Rivera said, "So if there's something I can do to alleviate some financial pressure… why not do it?" When she got home that day, Rivera sent an email to all of her Keller Williams colleagues, and practically overnight, donations began to pour in.
It was Rivera's first-ever toiletry drive—and it wouldn't be her last.
Two months ago, Rivera was at Hale Makana when a woman approached her: She was staying next door at KHAKO and needed some feminine hygiene products. In that moment, Rivera said, "I knew it was time to do another toiletry drive." Once again, she reached out to her colleagues, clients, friends and family members. She also contacted Lisa Paulson, executive director of the Maui Hotel & Lodging Association; Rivera figured Paulson might have access to travel-size toiletries that could be given to unsheltered residents. Rivera says what happened next still gives her chickenskin. On March 9, Paulson, on behalf of the Maui Hotel & Lodging Association, presented a $2,500 check to the Maui Food Bank for the toiletry drive. The food bank will use the funds to purchase some of the most-needed personal care items, which will be distributed to Hale Makana residents sometime next month.
Rivera's toiletry drive ended on March 25, but it's not too late to make a contribution. She will continue to collect and distribute items like shampoo, conditioner, soap, laundry detergent, feminine hygiene products, toothbrushes, toothpaste, deodorant, toilet paper and adult diapers to Hale Makana and KHAKO's Wailuku shelter. To donate, contact Rivera at (808) 281-1320.
The Maui Food Bank provides safe and nutritious food to anyone in Maui County who is food insecure. To learn more about the Maui Food Bank, to make a donation, or for a list of food drop-off and distribution locations, visit www.mauifoodbank.org.
The Maui News – March 28, 2022